Park City Meeting Moves Industry Forward
Date posted
August 3, 2021
Originally Published by: SBCA Magazine by Sean Shields — August 3, 2021
SBCA appreciates your input; please email us if you have any comments or corrections to this article.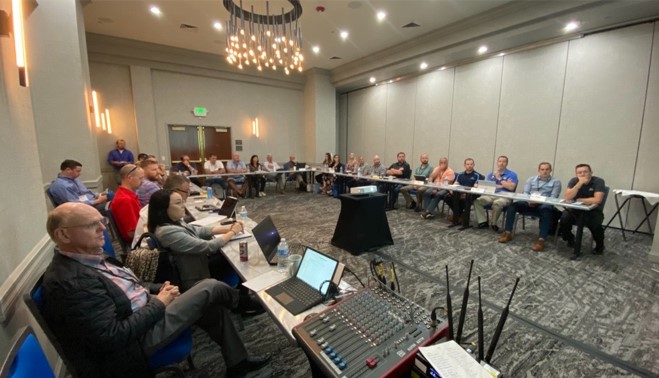 In 2002, Park City, Utah hosted the winter Olympic games. Almost twenty years later the city hosted 90 members of the Structural Building Components Association (SBCA) for its latest Open Quarterly Meeting (OQM). While no gold medals were handed out, attendees were awarded a few excellent days of networking and opportunities to strengthen their businesses, as well as move the organization and the industry forward.
Of particular note, SBCA progressed on its strategic planning goals by jump starting Strike Forces 5, 6, and 7. Strike Force 5 is focused on identifying opportunities to expose our industry to technological solutions that could make our businesses more efficient and profitable; Strike Force 6 is focused on developing more opportunities to bring company leaders face-to-face to learn from each other in non-competitive environments; and, Strike Force 7 is evaluating all the training and resource materials SBCA has developed and create better ways to organize that information so it is easy to find and benefit from.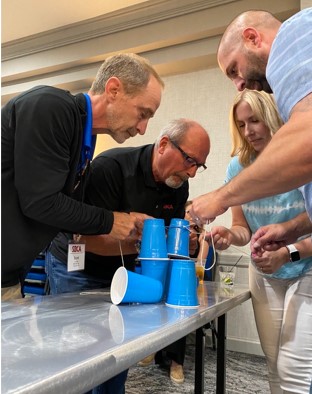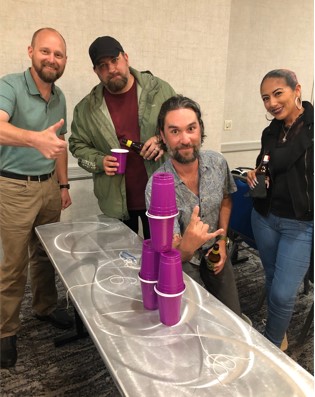 The group also listened to a proposal from former SBCA president Kendall Hoyd to create a financial management training program specific to the component manufacturing industry. The goal is to create an extensive series of training videos through SBCA's Academy that would be augmented through live webinars. In addition, SBCA's Emerging Leaders Committee hosted a presentation by Justin Binning of American International Forest Products (AIFP) on how he has worked to change the culture within their company to attract and retain a whole new generation of lumber traders. The EL Committee also presented their ideas on how to evolve their group to entice even more new leaders into the association and offer a tangible return on investment for any company willing to send their next generation of leaders to OQMs in the future.
Finally, a lot of fun was had by all as attendees competed in a unique, cooperative game of cup stacking with a twist. Teams were randomly created and the groups had to work together to stack solo cups without touching the cups or talking out loud. The results was an action-packed flurry of activity full of plenty of laughs, cheers, and groans.
Everyone is encouraged to join us at the next SBCA Board meeting after BCMC in Omaha, Nebraska, on Friday, October 8!