Peaking at the Right Time
TCM's journey in starting a new truss plant is full of insight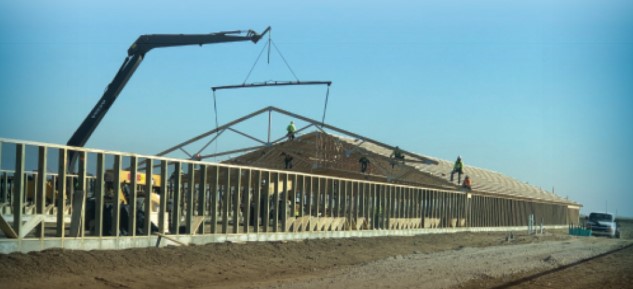 Summit's new facility supplies wood roof and floor trusses for a wide variety of projects, from large
post-frame buildings to sprawling multi-family projects.
Operating a successful component manufacturing operation in today's build environment takes forethought, tenacity, and flat-out gritty determination. Imagine starting a truss plant from scratch, after what your own company has been through over the past six months. Whatever you can imagine, you're probably just scratching the surface of what the leadership behind Summit Structural Systems has navigated as they got their new operation in Lincoln, Arkansas, up and running earlier this year.
"Had we known what was going to happen with the lumber market this year, we may have changed our pace just a bit," chuckles LD Harris, the driving force behind Summit's creation. "However, with just a few months under our belt I am very excited about what we have been able to accomplish and where we are headed."
Their journey to start a brand-new operation is instructive to everyone in the industry in that it provides a unique perspective on what it takes to enter the industry, what needs to be considered, and most importantly, who you can turn to for help.
Understand the Need
LD is the vice president of operations for TCM Enterprises, one of the region's fastest-growing commercial metal and wood framing contractors. Their turnkey framing operation has had a growing portfolio of work and was buying more and more wood roof and floor trusses from multiple component manufacturers (CMs) for their projects.
"As we looked at the trend lines and what we were going to need in the future, we decided we wanted to control our own destiny when it came to the wood framing," says LD. "We saw that not only will we need more wood roof and floor trusses, but there will be plenty of new business in our region to support the additional capacity Summit brings."
"When it comes to the wood framing, our turnkey operations can do a lot more volume if everything is component framing. The material and cycle time savings allow us to take on even more projects." —LD Harris
In other words, TCM got into the game not because they didn't like the product they were getting from other CMs, but because they knew the long lead times they were already dealing with were only going to get worse. Further, LD and the rest of the TCM leadership had learned from experience there was a lot to gain from converting traditionally stick-framed roofs and walls in their market to component framing. "When it comes to the wood framing, our turnkey operations can do a lot more volume if everything is component framing," says LD. "The material and cycle time savings allow us to take on even more projects."
Certainly, bringing a large book of business to a start-up manufacturing operation eliminates one of the major challenges any business faces. Another big challenge is getting into a field you know little about. "We had certainly worked with a lot of manufacturers, and we had certainly come to appreciate what we liked most about the roof and floor trusses, but we knew we had a lot to learn about how to actually fabricate them ourselves," says LD.

Gather All the Data
Neither LD, nor TCM's founder Jon Tuggle, had any background in the truss industry. They are contractors by trade. "So we did some analysis," says LD. "A lot of analysis. Both on what we could learn on the type and volume of work that was coming to the area through national builders and other developers, and then we learned as much as we could about how different component manufacturers (CMs) provide product for that type of work."
Early in this process, LD met Dustin Johnson, district sales manager for Alpine, an ITW Company, "I was excited about what LD and his crew wanted to accomplish," says Dustin. "They didn't want to take business from anyone, they wanted to convert projects and grow capacity for the future growth they knew was going to happen. I wanted to help them in any way I could."
Dustin started by connecting LD with several CMs. "There's no better way to learn the business than to walk through the operations of others and ask them a million questions," says Dustin. So LD and his team went on a whirlwind tour of several CMs across the country. While walking through the facilities, LD peppered everyone with questions ranging from material throughput to best practices for handling, storage, and transportation.
"Between all the tours and Dustin's expertise, I learned a lot about the industry and got answers to important questions I wouldn't have necessarily known to ask," says LD. The plant tour that sealed the deal in LD's mind was with Donnie and Bo Powers at Panel Truss in Henderson, Texas. "They were so open and helpful, and hearing all their lessons learned on equipment solidified a lot of thoughts on our initial approach," says LD.
After taking a hard look at several operations, LD developed a set of pro forma financials, or forecasts, to determine the size of the operation they should build. "Dustin was an incredible resource, he was incredibly helpful in figuring out the ROIs on all the investments we had to make."
Make the Leap
One of the main things LD focused on in all his tours was figuring out how much physical space and production equipment they would need to produce the volume they had in mind. "We were looking in several locations throughout the region and then a building just fell in our laps," says LD. The former Sunny Fresh egg plant in Lincoln, Arkansas, became available at the right price. "The building was in rough shape, but it fit our needs and we were able to move in and start renovating it immediately," says LD. In addition, TCM was able to purchase ten additional acres of land right across the street to enable future expansion.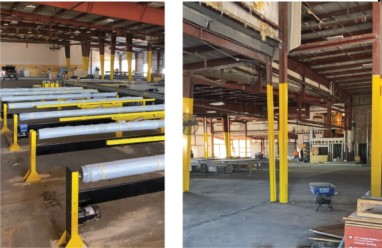 TCM's crew completed a six-month rehab in two months, and equipment was installed even before the power was turned on.
The TCM team quickly set to work renovating the 40,000 square-foot facility, pulling out all the stops to finish what should have been a six-month rehab project in a little over two months. The biggest hold-up on the whole renovation was installation of new electricity infrastructure. "We were actually able to install all the machinery without any power in the building," says LD. "Everyone at Alpine provided excellent customer service, and in the end the lack of electricity only set us back a couple of days. It was amazing."
Summit's facility is initially set up to produce roof and floor trusses, but LD says the company is committed to producing wall panels too, likely adding that product line in the not-too-distant future. "Beyond TCM's needs, we've had several of our customers ask us to make wall panels, so we know the need is there," says LD. "We know that wall panels are tough to do right, so we're going to get a few quarters of experience under our belt and ease into it slowly."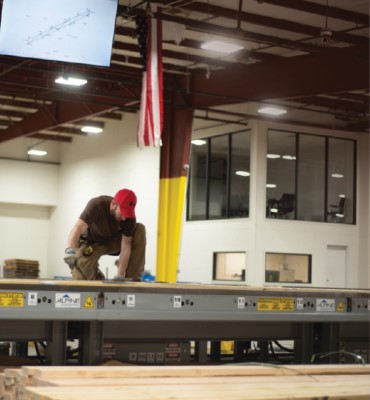 Summit utilizes the latest technology to facilitate the most efficient and accurate production possible.
Build the Team
The other big challenge was assembling a top-tier team to get Summit off the ground and be successful out of the gate. "Our initial contacts, who helped us understand component manufacturing, were instrumental in connecting us with people throughout the industry and help us identify experienced people we could bring in right away," says LD. To that end, Summit boasts on their website they already have over 100 years of truss industry experience employed to help customers, whether it's for a commercial, single-family, multi-family, or agricultural building.
All of that experience was put to the test early as equipment was installed the first week of January 2021, and the first trusses were loaded onto new roll-off trailers bound for a jobsite by the fourth week of January. Then the lumber and steel markets erupted, material became scarce, and all those early forecasts suddenly looked too optimistic. "I'm proud of how this team has handled all that adversity," says LD. "Five months in and we are really surging ahead with a bright future ahead."
Bottom Line
Whether you're looking to launch a whole new operation like Summit, or simply looking to expand your current operations, TCM's journey is instructive. First, gather as much information about future needs as you possibly can. Next, find a partner like Alpine who can connect you with other component manufacturers to learn from. Finally, make sure you're assembling the right team to get the most out of the capacity you bring on line.