Phoenix OQM Was Cold, But the Discussions Were Red Hot
Date posted
January 30, 2023
Originally Published by: SBCA Magazine — January 27, 2023
SBCA appreciates your input; please email us if you have any comments or corrections to this article.
Attendance at the SBCA Open Quarterly Meetings continues to swell, and with the increase in participants so does the value these meetings offer to those who invest the time. Held in Phoenix, Arizona, it may have been unseasonably cold outside, but the conversations inside the hotel were full of energy and passion.
SBCA Strategic Plan
The OQM started with a group of dedicated CMs, framers, and staff spending the day finalizing recommendations to the Board for the association's next five-year strategic plan. The group spent several structured hours discussing the areas SBCA should focus its time and resources towards based on member feedback. These recommendations will be finalized in the coming weeks and will be presented to the SBCA Board of Directors for approval at the May OQM in Nashville, Tennessee.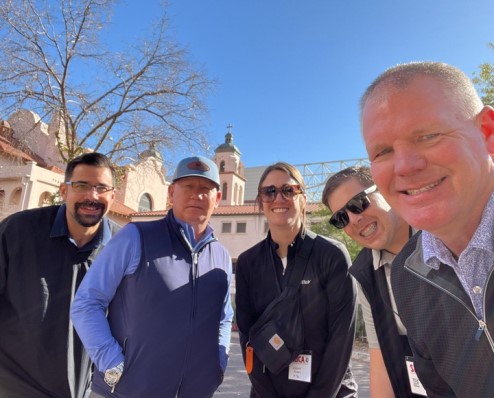 Phoenix OQM Teambuilding Event
Roundtables Galore
Building upon the success experienced at the Boston OQM last July, the Phoenix meeting started with a series of concurrent industry roundtables where participants chose the topics and questions that intrigued them the most, including: Building upon the success experienced at the Boston OQM last July, the Phoenix meeting started with a series of concurrent industry roundtables where participants chose the topics and questions that intrigued them the most, including:
Continuous Improvement: What does this look like in 2023 for your company?
Recovering from Rapid Growth: What did you learn that you're going to apply going forward?
Optimizing Training and Culture: How are you enhancing your workforce for the future?
Centralized Maintenance Management System: How are you maximizing your equipment uptime?
Automation Best Practices: Where do you start in evaluating your needs?
Efficient Job Scheduling: What are all the elements that need to be incorporated into doing this well from start to finish?
Relationships with Local Building Officials: How are you proactively influencing your local officials?
Digital QC Implementation Best Practices: What are the best practices you've identified as you start using this digital approach to QC inspections?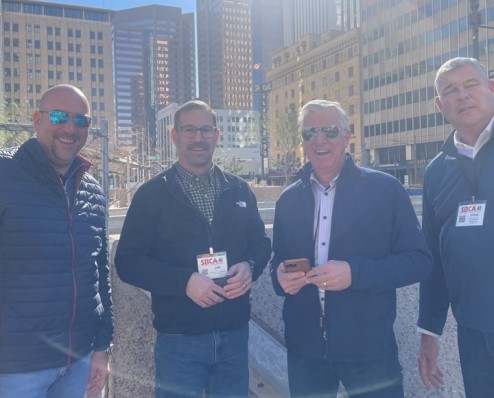 Phoenix OQM Teambuilding Event
SBCA Committees
Eight of SBCA's standing committees then met to review their mission, issue focus, and primary areas of responsibility as it pertains to making recommendations to the Board. They also established their core membership, meeting schedule (both in-person and virtual), and frequency they will formally report back to the Board. The goal of these meetings was to establish expectations for members of each committee, develop a list of interested observers who want to attend meetings, and clarify scopes of work and priorities to eliminate potential double-work.
Defining Offsite Construction
OQM participants also broke up into tables to tackle a pressing topic in our industry: offsite construction. Each table was asked to define offsite construction and then discuss how the component manufacturing industry fits within that definition. After lively discussions, each table shared their thoughts. The exercise led to healthy debate throughout the rest of the OQM and provides a good foundation to build from as SBCA seeks to broaden this popular concept to be more inclusive of the products and services our industry provides.
Board Meeting Updates
During a three-hour marathon Board meeting, a lot of exciting opportunities and initiatives were discussed. Some of the highlights included details on the activities surrounding celebrating SBCA's 40th anniversary in 2023, including the creation of a video focused on the history of the association and a celebration dinner to be held on the Tuesday of BCMC | Framers Summit week (September 18-22, 2023). The SBCA Foundation & Endowment was also discussed, with the announcement that over $1.25 million has already been raised in seed contributions to get this charitable 501(c)(3) organization up and running. It was also announced that SBCA will be partnering with Habitat for Humanity Northern Virginia to build a house on the National Mall in June as part of the Innovative Housing Showcase hosted by HUD and NAHB.
Relationships & Networking
The OQM wasn't just work, there was a fair amount of fun to be had as well. The Emerging Leaders (EL) Committee hosted a social event at the Phoenix Suns basketball game. It was an exciting evening that allowed committee members to get to know each other better outside of the work they do on behalf of the association and industry.
Most of the OQM attendees also participated in a social event on Wednesday afternoon, traveling all over downtown Phoenix to take pictures as part of a photo scavenger hunt. It was one part team-building, one part exercise, and three parts humorous fun. Labeled as a fierce competition, five teams tied for first place. Honorable mention goes to the team of Michael Schwitter, Kevin Kraft, Josh Hendrickson, Zach Shepherd, and Luke Wiesen for their excessive creativity in capturing the images required by the scavenger hunt.
Nashville OQM
Don't miss the next SBCA OQM in Nashville, Tennesse, May 1-3, 2023. Check out the entire OQM schedule for 2023 and make your travel arrangements today!