Post-Merger, BFS Records Huge Growth in Q1 Manufacturing
Originally Published by: Builders FirstSource — May 6, 2021
SBCA appreciates your input; please email us if you have any comments or corrections to this article.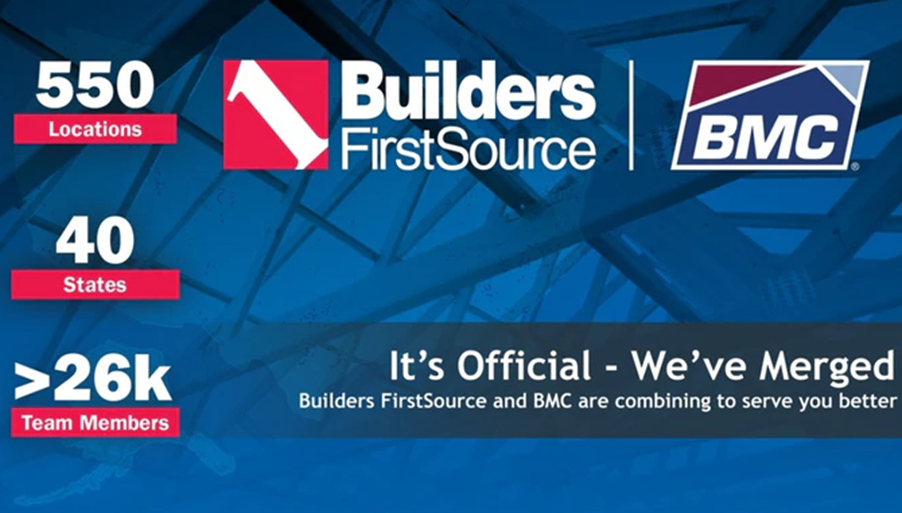 With one quarter under its belt after the company's merger with LBM giant BMC in January, Builders FirstSource (BFS) reported stronger than expected results for Q1 2021. Net sales of $4.2 billion during the first quarter mark a 133.6% increase on a year-over-year (YOY) basis when compared to the dealer's sales in the first quarter of 2020. On a pro forma basis, combining BFS and BMC historical operating results as if the businesses had been operated together on a combined basis during prior periods, net sales increased 54.1% YOY, according to Dallas-based BFS's quarterly earnings report.
On a pro forma basis, organic sales, which excludes acquisitions, commodity price fluctuations, and differences in selling days, increased 22.0% YOY in the first quarter while price inflation added 31.3% to net sales on a YOY basis. The dealer reported 41.5% growth on a YOY basis in its manufactured products category and noted "robust" national demand was somewhat hindered by material availability constraints. Core organic sales increased in both the single-family and repair remodel markets when compared to the first quarter of 2020 while core organic sales in the multi-family market decreased on a YOY basis.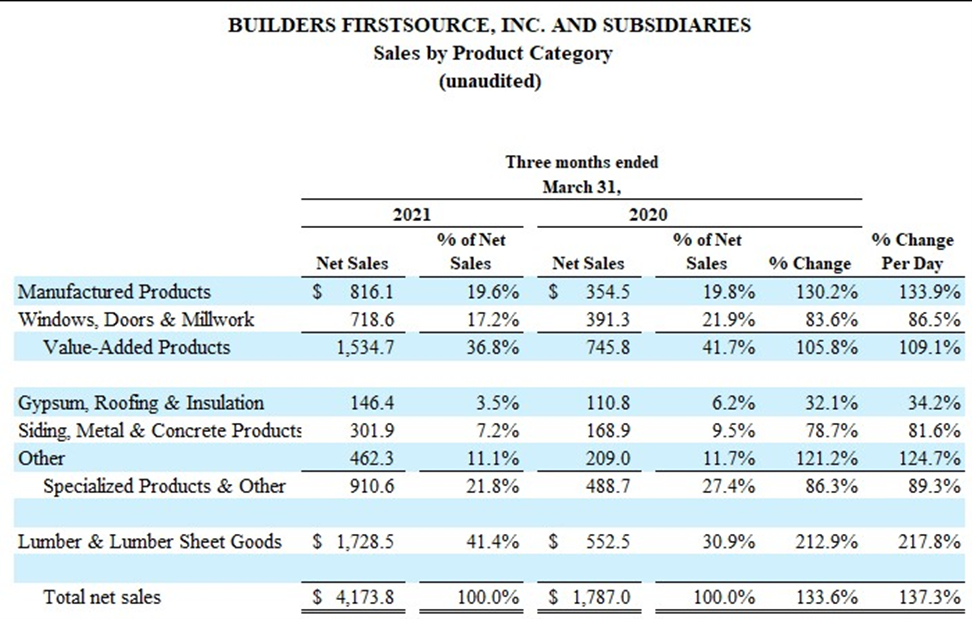 "The positive momentum in our business continued with record first quarter results," BFS CEO Dave Flitman said in a prepared statement. "We are working closely with our customers to reduce cycle times amid material availability constraints and capitalize on strong underlying demand in the single-family residential housing market."
BFS reported gross profit of $1.1 billion in the first quarter of 2021, an increase of 52.1% compared with the combined pro forma prior year period. The dealer's margin decreased 40 basis points pro forma YOY to 25.6%, primarily due to a one-time purchase accounting adjustment.
BFS posted a net income of $172.6 million during the first quarter, compared to a combined pro forma $30.8 million in the same period a year ago. The dealer reported adjusted EBITDA increased 186.8% on a pro forma basis to $455.2 million, driven by strong demand across single-family and repair and remodel/other customer end markets, commodity inflation, and cost leverage. BFS's adjusted EBITDA margin improved to a record 10.9% in the first quarter of 2021.
The dealer provided an update on its merger with BMC in its earnings report. Flitman said integration efforts between the companies are "ahead of plan" and BFS remains confident in achieving cost synergies of $130 million to $150 million by the end of 2023.