Recruit Your Framers into the NFC; Join the Club!
Originally Published by: SBCA Magazine by Sean Shields — May 18, 2021
SBCA appreciates your input; please email us if you have any comments or corrections to this article.
While the component manufacturing industry embodied the concept of off-site construction decades before it became a popular buzzword, the way in which this concept is being implemented throughout the light-frame construction industry today gives component manufacturers (CMs) an opportunity to take advantage of an emerging business model.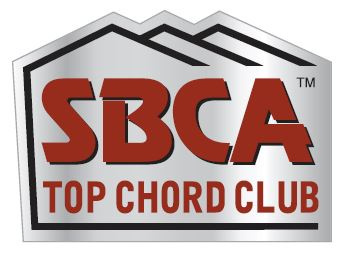 "I've been in the truss industry for 28 years, and a framing contractor even longer," says Scott Stevens, president of Modu-Tech and past president of the National Framers Council (NFC). "It's clear that turnkey framing is growing rapidly, and more and more component manufacturers are going to find the framing contractor is their primary customer." As framers increasingly buy their components directly, it becomes more vital for the CM and the framer to have a collaborative relationship.
To that end, the leadership of the NFC and SBCA are actively taking steps to prepare and support both industries to thrive from this trend. One approach is integrating NFC member recruitment into SBCA's Top Chord Club (TCC). The TCC program was developed by SBCA decades ago to foster continued growth of the association's membership. Over the years, many individuals have become Diamond Club and lifetime members of the TCC, which hosts an annual dinner at BCMC to recognize new members and the most prolific membership recruiters.
Whether you are a CM who recruits the framers in your market to join the NFC and get them tied into their network of professional framers, or you're a framing contractor who convinces a general contactor (GC) to join and learn more about the jobsite benefits of the FrameSAFE program, you can now earn TCC points and become a member of this exclusive club of recruiters!
Gene Frogale, president of Annandale Millwork and Allied Systems and a TCC Diamond Club member, has been a driving force behind the expansion of this program. To him, it just makes sense for CMs to be focused on bringing more of their framers into the NFC. He says, "It's great if you make a high quality truss that's exactly to spec, but if it's damaged or not installed right by the framer, you're going to look bad. The same is true for an experienced framer who installs a poorly made product."
To Gene, both the CM and the framer have a lot to gain by getting more framing contractors and GCs tied into the NFC. The TCC will now recognize those who put effort into making it happen.