SBCA & NFC House Gets Over 3,000 Visitors
Originally Published by: SBCA Magazine — June 14, 2022
SBCA appreciates your input; please email us if you have any comments or corrections to this article.
SBCA participated in the second "annual" Innovative Housing Showcase this past weekend on the National Mall in Washington, DC. Originally held in 2019, IHS brings together a number of systems-built housing solutions to highlight the future of housing. Returning after a 3-year hiatus due to Covid, IHS is a joint effort of National Association of Homebuilders (NAHB) and US Department of Housing and Urban Development (HUD). IHS allowed proponents of modular, tiny homes, 3D printed housing, and components to display the benefits to each of the solutions and how they can drive affordable and attainable housing throughout the United States.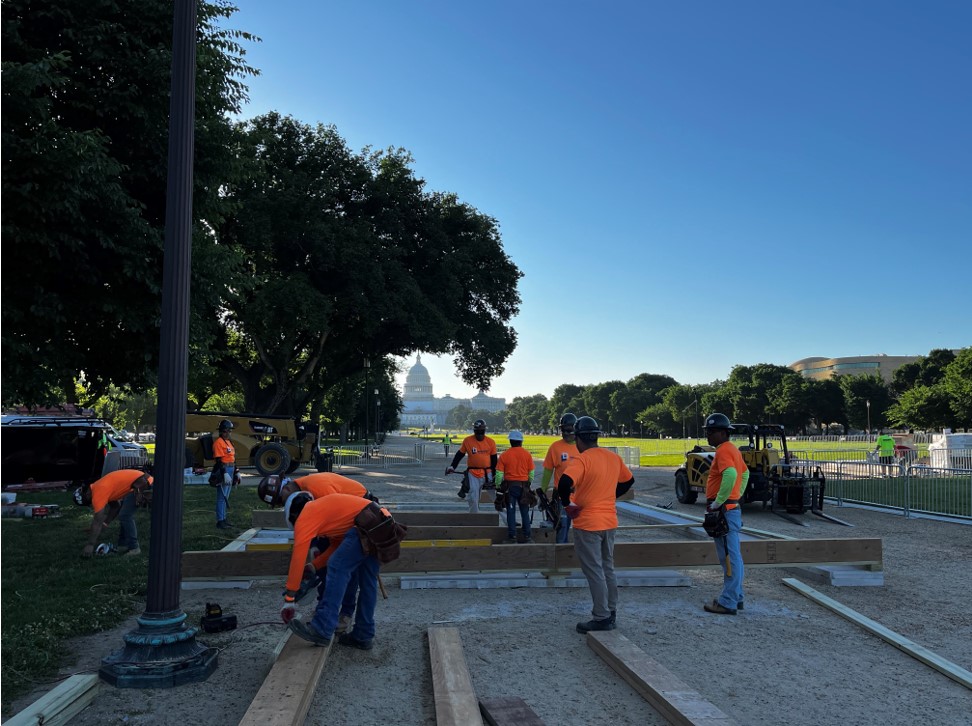 The highlight of the exhibits was SBCA's two story component-built house which was framed in an amazing 9 hours. Attendees could experience a framed house firsthand, drawing attention to the quality, efficiency, and resourcefulness of components. The structure featured panelized floor cassettes, wall panels with factory applied insulation and windows, and roof trusses sheathed and braced on the ground and lifted into place.
Official HUD statistics conservatively showed just over 1,000 people viewed SBCA's structure each day of IHS with unofficial numbers reportedly much higher. Attendees included HUD Secretary Marcia Fudge, Deputy Secretary Adriane Todman, several HUD officials including Todd Richardson and Mike Blanford. NAHB was also well represented with a number of builders and staff touring the home including Third Vice Chair Buddy Hughes of Hughes Construction and Devin Perry, NAHB's Executive Director of Business Improvement Programs which oversees its Building Systems Council.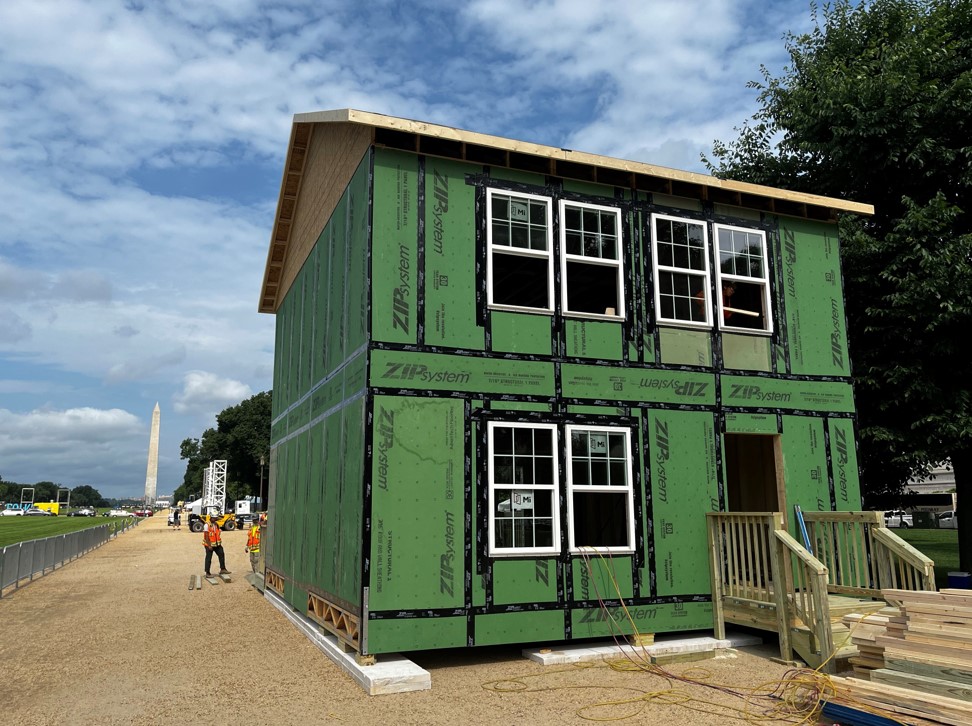 Everyone who entered the house was impressed by the power of components, appreciating the time they save onsite, their efficient use of materials, and concepts of bringing offsite manufacturing to traditional built housing. Attendees were further intrigued with the technology involved with components at all levels including the powerful design software and automation incorporating robotics involved in manufacturing.
Consumers who visited the exhibit were surprised by the flexibility available with components and appreciated the environmentally friendly approach of lumber as the primary building product. Many quickly understood the value of wood as a renewable resource and carbon sequestration through replanting harvested trees as a benefit to the environment over alternative products.
Of equal importance to those who visited the house is the speed of which the project went from gravel to completion. Most people are used to construction projects taking many months to complete with several weeks dedicated to framing. The expert framers who erected a well thought out set of components allowed for SBCA's project to be the buzz of the showcase. This was highlighted by the time lapse video playing in the structure showing exactly how the house was built. This time lapse was posted to several social media channels over the weekend drawing attention to the project well beyond Washington, DC.
One of the key takeaways was the number of young people who expressed interest in joining the construction industry once they are through with schooling. Ranging from a 23-year-old Marine looking to find a career after completing his service to a high school student wanting to learn beyond the coursework of his shop class to a 12-year-old girl who visualized every element of the finished structure with the aptitude of a seasoned architect. Communicating with the young people who toured the home shows that the construction industry will be well served in the future, the industry just needs to promote itself in the correct manner.
The National Mall provided a great backdrop with stunning visuals but also connected Americans of all ages with the future of construction. SBCA and NFC showed just how efficient and effective component framing can be, doing its part to drive wood frame construction forward and proving it is the best way to frame.