Taking the Safe Route
Date posted
January 10, 2022
ZyTech's incredible safety record is no accident
1745 days.
4.78 years.
13,960 shift hours.
It's a long stretch of time in which to manufacture a lot of roof and floor trusses. Amazingly, ZyTech Building Systems in Fort Worth, Texas, recently celebrated going that long without a reportable injury. That impressive safety record was was established through an intentional effort when the plant was brought online in 2015, and has been maintained through deliberate action by everyone from their top management down to their newest line worker. This overt approach has yielded the best possible result and may offer some insight to anyone looking to reassess their safety culture.
A Fresh Start
This journey starts with the experiences of two industry veterans. Todd Monroe, general manager of ZyTech's Fort Worth facility, and Manny Juarez, production manager, have been working side-by-side since 2003. They began working together at Idaho Truss in Meridian, Idaho, serving the growing Boise community. "While we were there, we learned a lot about what a good safety culture can look like and the effort it takes," says Manny. "It definitely left an impression on us as far as how much effort it takes and also the advantages of doing it."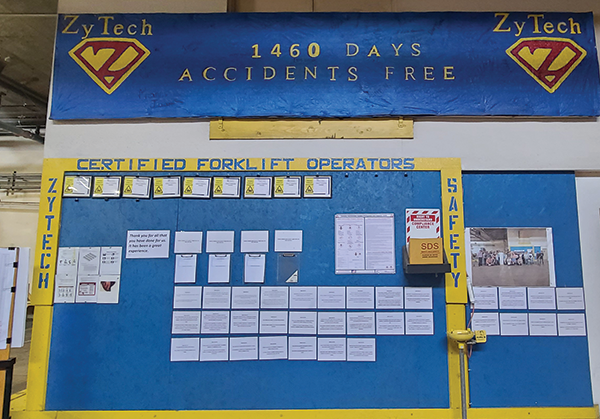 The whole shift in perspective started when Idaho Truss owner, Kendall Hoyd, challenged Todd by asking him to not only take over the operations management team, but to immediately focus on our safety program. "We started talking about how we could improve our safety record," says Todd. "Management started having these interactive meetings with the crews to talk through issues. Pretty quickly it was obvious Manny had a lot of ideas. The guys voted him to be their manager and it all grew from there."
The two of them might still be there today if Idaho Truss hadn't fallen victim to the prolonged housing downturn and slow economic recovery of the Boise market. Both Todd and Manny stayed in the industry, looking for the right opportunity. It finally came years later when ZyTech, a component manufacturer based near Calgary, Alberta, announced plans to open a facility to serve the Dallas/Fort Worth, Texas (DFW) market. "We saw a great opportunity to come in and apply everything we had learned in the industry," says Todd. "One of the things at the top of the list was establishing a focus on safety from day one."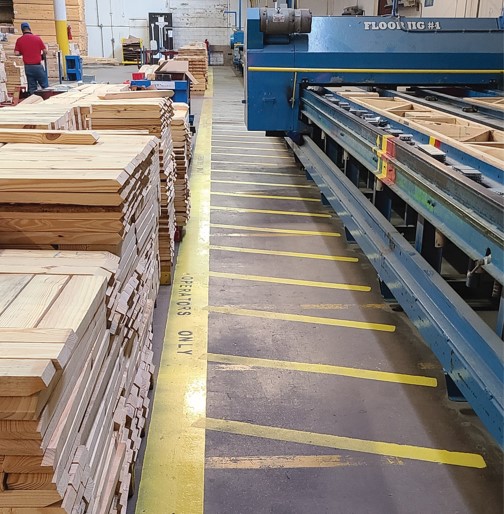 Safety First
To create the strong safety culture they wanted, the men knew they needed to approach it in an intentional way. "It had to be clear we were committed to walking the talk. We couldn't just say we wanted to focus on safety, we had to have our actions prove it," says Manny. That started by making caution areas and safety signage large and prominent.
It also meant showing the commitment of management. "We make it clear to every employee that we will never compromise on safety," says Todd. "We will never ask them to put themselves in a dangerous position for the sake of production."
They also instituted a fanatical approach to cleanliness. "Everything has to be clean," says Manny. "Cleanliness lends itself to better safety and greater efficiency on the shop floor." They borrowed a military term 'dress right, dress,' to convey the idea that everything has its place and orderliness helps everyone do their job better.
"This approach to safety is an investment. We commit the last fifteen minutes of every shift to cleaning," says Todd. "We've stuck with it because we know it has long-term benefits. Obviously, it has had an impact on injuries, which provides a significant savings on worker's comp costs." Manny adds, "It has also improved our shop floor efficiency. Everyone knows where everything is and there are never obstruction, barriers, or messes to navigate around. It also keeps morale high and builds loyalty among our workers because they feel cared for."
Regular Maintenance
"You can't just say you don't want to have any accidents," says Todd. "Beyond the initial safety measures and policies, we knew we needed regular buy-in from every employee to ensure a strong culture focused on safety."
Collaboration is one key to their approach. Each week, management meets with crew foremen and supervisors to identify opportunities for improvement. "We also created a 15-member safety committee that regularly reviews action items. When the safety commit isn't meeting, we have an ad hoc process for dealing with things as they come up," says Manny. In these meetings, Manny doesn't let anyone sit on the sidelines. "I call on each of them to share what they think," says Manny. This intentional approach to listening to every voice has led to very interactive meetings.
"It isn't about doing everything they ask us to do," says Todd. "It's about giving them an opportunity to share their concerns. That allows us to get at what the underlying problems are. We can't fix something we aren't aware of, so these regular meetings ensure we learn of issues early on, hopefully before they become serious problems."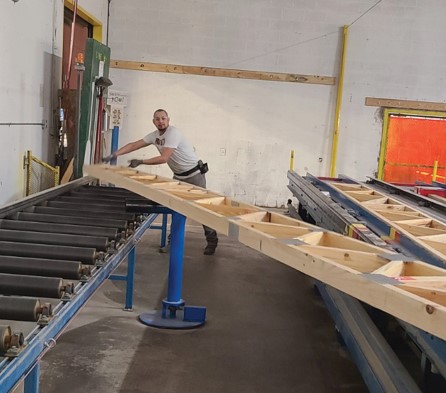 Zytech's management regularly gathers and implements ideas from their production teams to reduce opportunities for injuries.
Given their safety record, it would be natural to assume they've got it all figured out. But recently, Manny and the safety committee came up with a list of 57 actionable items they felt could be improved. "We are always trying to stay on top of things and yet we were still able to come up with a list of 57 things to work on," says Manny. "You're never done."
Implementing Ideas
Todd, Manny and the rest of management don't just listen, they take action on the input they receive. For instance, it can get pretty hot and muggy during the summer months. "Our stackers are outside all day long and they can get pretty worn out in the sun," says Manny. "We got together with the production supervisors and worked out how and where to build an enclosure where they can rest in the shade."
In addition to the shelter, they installed misting fans when their production crews suggested adding them. They also installed additional machine guarding on their saws and gated off areas around the gantry tables and rollers to ensure no one enters an area where they could get injured without first checking to make sure the way is clear and safe to enter.
"If you haven't been taking feedback in the past and you decide to start, be prepared to be inundated," says Todd. "It will feel like a lot in the beginning. Start with the things that appear to be the biggest risk to worker safety and work down from there."
They've developed a budget to implement ideas as they come up. "We know what we're saving on our worker's comp, and we understand the financial savings we realize from the efficiency and loyalty," says Todd. "We turn around and spend some of that on continual improvement and some of it on treating the employees to cook outs or dinner out." He is quick to point out that none of it would have happened if they hadn't had the support of forward-thinking management, men like Kendall Hoyd, Glenn German, Steve Stroder and Mike Powell. "Those guys have allowed us to manage as we needed in order to make the required changes. Safety has to start at the top, and it did with them," says Todd.
Bottom Line
ZyTech hasn't gone almost five years without a reportable injury due to luck. They have approached safety as one of their top priorities and they have established budgets, policies, and procedures to ensure safety remains top of mind for every employee and issues are addressed in a timely fashion. They continually seek input from employees on how to improve and they follow through on those suggestions. As a result, they know that commitment to a strong safety culture has resulted in a solid return on the investment through lower worker's comp costs, greater efficiency, and employee loyalty. "We have become the preferred employer in our area," says Todd. "Word has gotten out and our reputation has brought good people in the door."