The Year BCMC Returned to its Roots
Date posted
August 31, 2023
BCMC 2012 was an inflection point for SBCA and the industry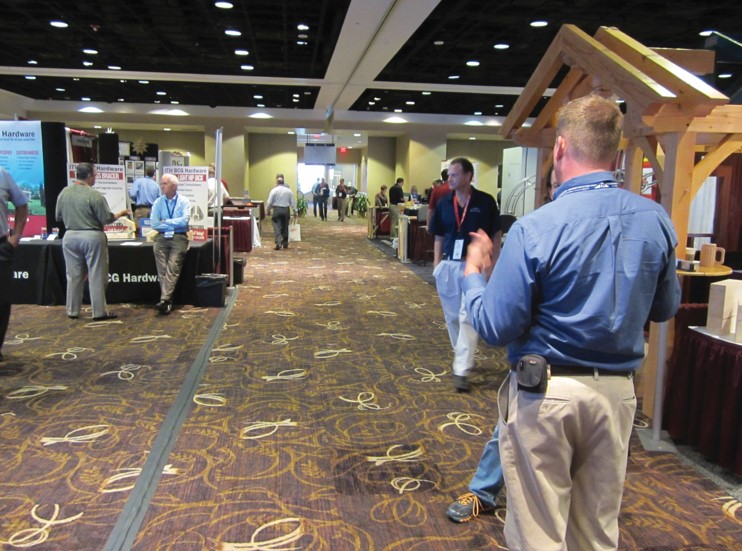 If you read the SBCA-TPI timeline article (page 17 of digital edition), you may have noticed that the Building Component Manufacturers Conference (BCMC) originally alternated between equipment shows and tabletop shows. However, once SBCA took over BCMC full time in 1993, the show became equipment-focused every year thereafter. The one exception was 2012.
A Difficult Decision
Steve Stroder, who became president of SBCA at BCMC 2011 in Indianapolis, wrote in his May President's Message, "Last year, a couple of BCMC Committee members, a past president, and I were approached by a few long-standing supporters of the show. We were asked to consider scaling back BCMC in 2012. Their idea was to focus more on the educational and networking aspects of the show rather than bringing equipment. Shifting BCMC's focus this way would help cut costs for vendors during these trying economic times."
It was a hard decision to make, but only 278 component manufacturers (CMs) attended the BCMC show in Indianapolis. By comparison, 1,518 CMs had attended BCMC only five years earlier. The housing downturn lasted far longer than anyone had ever expected, and by 2011 most CMs were not coming to BCMC looking to buy new equipment.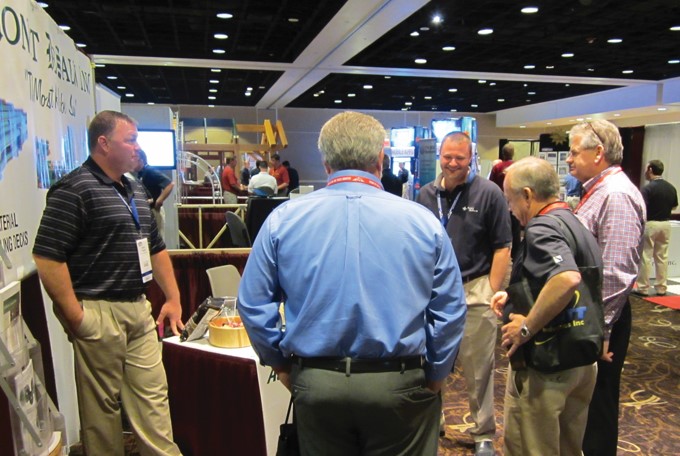 Transporting equipment and setting it up at the show floor were very costly and, with diminishing returns, it's not surprising that the exhibitors in Indianapolis were beginning to question whether the sales potential was worth the investment. They still wanted to support the show and its mission to bring the industry together, but were looking for a way to do so in a more cost-efficient manner.
Steve echoed these sentiments in his September President's Message: "We didn't want to take away from the effectiveness of the show, but we did want to take some of the added cost off our loyal suppliers and industry supporters during these difficult economic times. It took a lot of work to downsize this year's show the right away. Very quickly, we realized that the changes required would call for a new venue.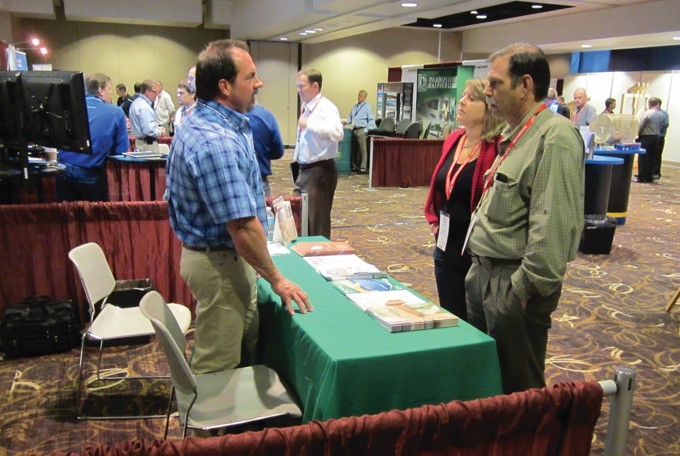 This put everyone involved into overdrive and, thanks to the hard work from staff and our BCMC Committee, we were able to nail down one of the most exciting venues, New Orleans."
Education Takes Center Stage
In moving away from an equipment-focused show held in a large convention center, the BCMC Committee chose a hotel in downtown New Orleans with a ballroom spacious enough to accommodate an 8,100 sq. ft. "tabletop" show. To augment the smaller exhibit space, more energy was put into the education sessions for attendees.
Education topics that year ranged from lumber manufacturing and visual and mechanical grading to metrics for managers and efficient truss design. By bringing education to the forefront at the New Orleans show, the organizers cemented it as the key element of future BCMC shows and shifted the focus towards largely peer-led presentations.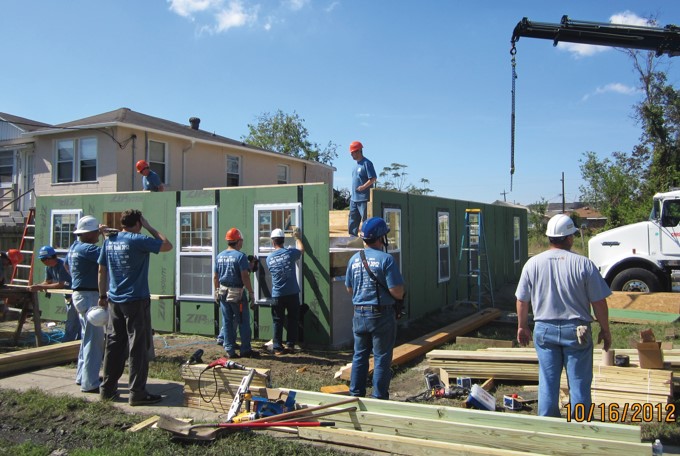 That model endures today, as CMs bring their perspectives and experiences to BCMC each year in the hopes of giving others ideas they can take back home and implement in their own facilities. At BCMC | FS 2023, supplier-led education sessions will finally be reintroduced on the Tuesday afternoon before the show floor opens (see p. 41 of digital edition)
BCMC Build Takes Hold
While driving to work one morning in 2009, Dan Holland was thinking about the challenges SBCA and BCMC faced as the housing downturn dragged on longer than anyone had anticipated. As more and more member businesses closed and purchasing activity at BCMC slowed, it was difficult to ascertain the best path forward. Holland thought about how SBCA could continue its legacy of channeling the component manufacturing industry's energy into doing something to advance it beyond just buying and selling machinery at the show.
Holland landed on the idea that became BCMC Build, an annual endeavor to fully frame a house using donations and volunteer labor on the weekend preceding BCMC in the host city.
The first BCMC Build project was held in 2010 in Charlotte, North Carolina, with a small group of dedicated component manufacturers working with Habitat for Humanity to frame a house for a local family. The Ksor family, who received the completed house through Habitat, attended BCMC and won the hearts of many of the attendees. The charity build event was deemed a huge success. As a result, BCMC Build partnered with Eli Lily in 2011 in Indianapolis, Indiana.
While the show attendance may have been disappointing to the exhibitors, BCMC Build participation grew significantly.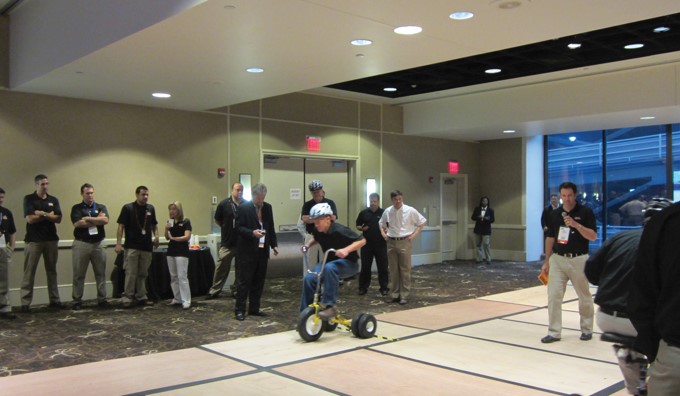 This was fortunate because the project expanded partway through the year, during which BCMC Build actually framed two houses a block apart over the traditional three days! It was a monumental undertaking, and helped spur the development of several best practices that were followed in all subsequent BCMC Build events.
By the time BCMC 2012 moved to New Orleans and BCMC Build partnered again with Habitat for Humanity to help build a home in an area devastated by Hurricane Katrina, a core group of component manufacturers and suppliers had coalesced around the mission of this philanthropic event. It was not long before BCMC Build became a "tradition" during the show week.
Building Community, Making Connections
When BCMC | FS was started in 1980, it was called the Building Component Manufacturers Conference. Over the years, as the reputation and value of the show were cemented, it was largely referred to by its acronym. However, in 2012 as the BCMC Committee was revamping the show and putting a greater focus on education and networking, the idea of rebranding the acronym gained momentum.
In a brilliant stroke, it was suggested that BCMC should also stand for "Building Community, Making Connections." After all, the show was about bringing the industry together and fostering an environment that built relationships and sparked conversations and connections. BCMC Build was a shining illustration of this concept, but it was certainly not the only example during a week of interaction on and off the exhibition floor.
In many ways, BCMC 2012 in New Orleans was an inflection point for the industry and for SBCA. It served as a powerful reminder of the role the association and its trade show played in building a community of component manufacturers and suppliers.