Tum-A-Lum Re-Opens Flagship Retail Location in Oregon
Date posted
April 19, 2022
Originally Published by: HBS Dealer — April 14, 2022
SBCA appreciates your input; please email us if you have any comments or corrections to this article.
Tum-A-Lum Lumber's Pendelton, Ore. store has stood the test of time.
The location is 96 years old and has continued to serve the community from the same historic building and lumber yard since its opening.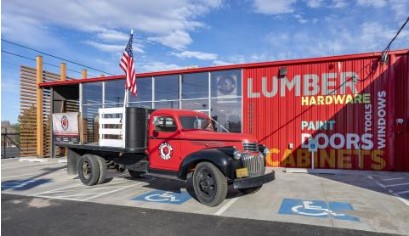 Tum-A-Lum Lumber's 96-year-old location has been remodeled with a modern twist.
But Tum-A-Lum opened the doors to a new, modern, remodeled, flagship location in February.
An updated Pendleton store, featuring a unique design focused on an inspirational shopping experience, celebrated a grand opening on April 1. The event included a ribbon-cutting ceremony along with festivities that drew more than 1,000 customers and neighbors.
Attendees enjoyed a free steak lunch, special deals, product demos, kids' activities, and raffle prizes.
"We appreciate the decades of support and are thrilled to celebrate our flagship store with the city of Pendleton," said TAL Holdings CEO Jason Blair. "The new store will enhance their community and serve the surrounding area for many years to come."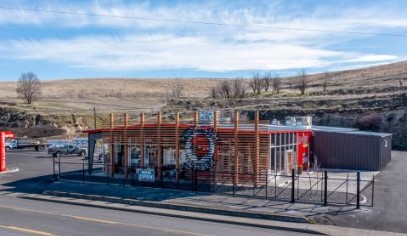 Another view of Tum-A-Lum Lumber's remodeled Pendelton, Ore. store and lumberyard. (Photo by Rick Keating.)
Featuring 11,300 square feet of retail space, as compared to the old stores' 2,000 square feet, the updated store sits on a 4-acre lot with 3.5 acres of paved space for the new lumber yard.
There is a full-line hardware store that includes a design center with cabinets, countertops, doors, and windows. There is also a lawn and garden care center, including a full nursery outside.
Tum-A-Lum partnered with Bouten Construction, local subcontractors, and award-winning Graham Baba Architects to create a modern building materials center that is a one-stop-shop for the community, the dealer said.
TAL Holdings, the parent company of Tum-A-Lum, said the history of the City of Pendleton and the business are intertwined. Special memorabilia from the original store has been integrated into the updated location.
The new store showcases historic pieces, including a large graphic of the old store on the back wall. The iconic wooden logo will also be taken apart, refinished, and reinstalled in its new home.
As the Tum-A-Lum Lumber Pendleton employees look to the future, they said they are hoping the flagship store will be more than just a typical hardware store.
"By incorporating years of excellent customer service with an updated shopping experience, they anticipate the new store will be a cornerstone to the community's growth and success," the company said.
Based in Vancouver, Wash. TAL Holdings is a family-owned company that operates 24 home improvement stores and yards located throughout the Pacific Northwest.
TAL's family of brands include Badger Building Center, Bayview Building Supply of Elma, Best Built Builders Supply, Browne's Home Center, Gerretsen Building Supply, Lake Chelan Building Supply, Marson and Marson Lumber, Midway Building Supply, Mount Vernon Building Center, and Tum-A-Lum Lumber.