US LBM Buys 6-Location Mid-Cape Home Centers
Date posted
September 7, 2021
Originally Published by: HBS Dealer — September 1, 2021
SBCA appreciates your input; please email us if you have any comments or corrections to this article.
In another major industry consolidation move, US LBM has struck heavy again, reporting that it has acquired Mid-Cape Home Centers.
Based in Middleborough, Mass., Mid-Cape is a building products and home improvement company with six locations in the southern coastal region of Massachusetts.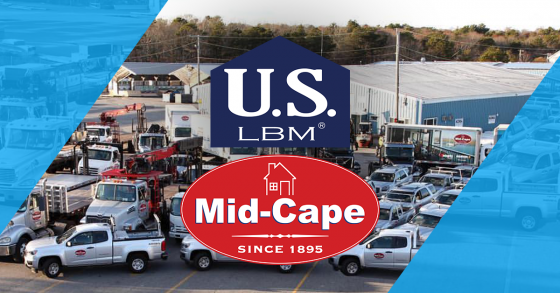 Mid-Cape Home Centers traces its roots back to 1895, and today supplies professional builders, remodelers, and homeowners in Massachusetts' South Shore, Cape Cod, and the Islands with lumber and specialty building materials. Financial terms of the acquisition were not disclosed.
"With a proud legacy of more than 125 years, Mid-Cape Home Centers and its team's passion for people and the local community make them a great addition to US LBM," said US LBM President and CEO L.T. Gibson. "Mid-Cape expands US LBM's reach into the southern coastal communities of Massachusetts, strengthens our presence in New England, and solidifies our network of leading building materials suppliers along the East Coast."
Operating an extensive delivery fleet and providing services such as kitchen and bath design and custom millwork, Mid-Cape's broad mix of products include roofing, siding, doors, windows, decking, railing, flooring, paint, hardware, countertops, and cabinetry.
"We're excited for this partnership with US LBM, which shares our focus on quality, service, community involvement and people," said Mid-Cape President and General Manager Jack Stevenson, who will continue to lead Mid-Cape's day-to-day operations. "Together, Mid-Cape and US LBM will set an even higher bar, as we remain committed to our loyal customers, local communities, and mission to be the supplier of choice in Southeastern Massachusetts. Our customers will have access to a wider range of technologies, materials, and offerings while relying on the team they know and trust."
With the addition of Mid-Cape, US LBM now operates 25 locations across New England under several banners, including Deering Lumber, East Haven Builders Supply, Poulin Lumber, Ridgefield Supply, Universal Supply and Wallboard Supply.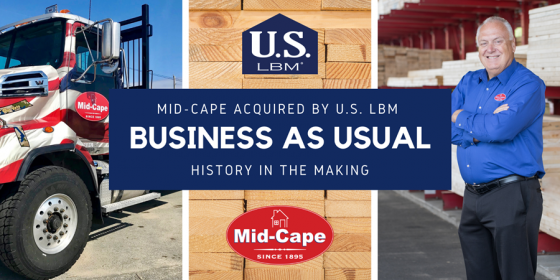 Mid-Cape Home Centers and company President Jack Stevenson said it will be "Business as usual" following its acquisition by US LBM.
In an additional announcement from Mid-Cape and sent to customers via email, Stevenson said, "With the goal of prioritizing the company's longevity, our proud owner and friend Jeff Plank has chosen to step away and align Mid-Cape Home Centers with a national leader."
"Recognizing the consolidation trend in our ever-changing industry, with careful consideration and due diligence, Jeff and I selected US LBM as the owner best fit to help us continue our mission to be the building materials supplier of choice in Southeastern Massachusetts," Stevenson noted.
Mid-Cape has also described its operations moving forward as, "business as usual."
"The Mid-Cape team and I would like to assure you that it is both Mid-Cape and US LBM's goal to make this transition as seamless as possible for you," Stevenson said. "We don't expect this to bring about any significant changes to our day-to-day routine or the way we operate and serve you. Everything from the smiling faces at the counter to the mailing of payments will remain as is here at Mid-Cape."
This acquisition follows US LBM's previous major acquisitions in 2021, including American Construction Source, Brand Vaughn Lumber, Higginbotham Brothers, and Gilcrest/Jewett, among others.
Anchor Peabody served as the exclusive advisor to Mid-Cape Home Centers.
Based in Buffalo Grove, Ill., US LBM operates more than 400 locations across the nation.