Webb Analytics' Says 150 Largest LBMs Saw Sales Soar 19.2%
Originally Published by: Webb Analytics — May 17, 2022
SBCA appreciates your input; please email us if you have any comments or corrections to this article.
High-flying lumber prices helped drive a 19.2% revenue increase by this year's Construction Supply 150, with vast differences in growth depending on how much wood a company sold, Webb Analytics announced today. The 52-page PDF report is now available for download at https://www.webb-analytics.com.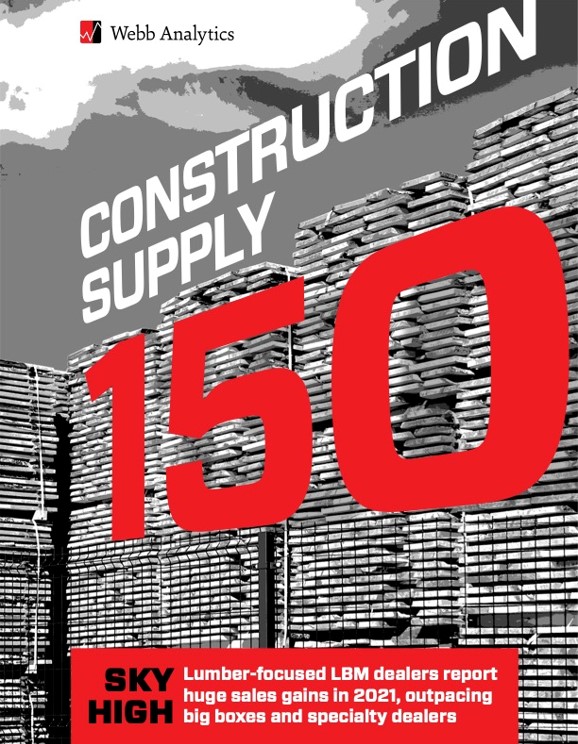 The group, which arguably accounts for the lion's share of construction product sales in America, took in $373.73 billion last year from their U.S. operations. CS150 members' operations in Canada and Mexico added another US$20.57 billion, pushing the total to $394.30 billion, also a 19.2% gain from 2020.
The number of branches in the U.S. run by CS150 members grew 7.6% to 13,711, while there was a 32.1% increase in Canadian and Mexican branches, bringing the non-U.S. total to 847 and pushing the North American count to 14,558.
"The increase looks similar to the 18.6% rise in sales during 2020 that was reported by pretty much the same CS150 membership. But top-line appearances deceive," said Craig Webb, President of Webb Analytics and author of the report.
Largely because of softwood lumber's 116% price increase between January 2020 and January 2022, according to the Producer Price Index, lumberyards with manufacturing operations saw their revenues shoot up 58.6% in 2021 from the year before. This group--one of five subcategories tracked in the CS150--gets a lion's share of its revenue from sales of framing lumber as well as from manufacturing wood-based components like trusses, wall panels, and custom molding. Thus, a huge amount of what these dealers stock sold for drastically more than it did just a few years ago.
Other subgroups benefited from lumber, too; Lumber sales at The Home Depot rose 18% in the year ended Jan. 31, 2022, while at Lowe's the lumber section's revenue grew 16.5% and contributed one-fifth of the big box's total revenue gain. But most other home centers and hardware stores don't count on lumber as much to keep the doors open. As a result, overall sales for this subgroup increased just 11.1%. That's half the increase that this same group achieved in 2020, when COVID struck and launched a home improvement boom.
Meanwhile, specialty building dealers—companies that primarily sell non-lumber products, such as roofing, siding, and drywall—recorded a 26.5% gain in sales.
In 2020, CS150 companies that generated less than 70% of their revenues from professional builders and remodelers saw their sales increase nearly twice as much as CS150 companies that made over 90% of their sales to pros. But last year, the numbers reversed, with pro-oriented stores of all types seeing a 62% gain in revenue vs. a still-not-shabby 28% climb at more retail-oriented outlets.
The CS150 is a tale of two cities based on how you measure the group, Webb Analytics noted. The list's 17 home centers and hardware store chains are only 11.3% of the membership but account for 67.9% of the revenue—the result of having The Home Depot and Lowe's in the group's ranks. In contrast, the 48 lumberyards that don't have manufacturing operations accounted for 39.3% of the companies on the list but only 1.7% of the revenue.
As with many other industries, Webb Analytics' survey found CS150 members reporting challenges in attracting and retaining workers. For instance, nearly half the companies rated finding truck drivers a 10 on a 1-to-10 scale of difficulty.
Just under 50% of CS150 companies who told Webb Analytics about their benefits said they have started letting some employees work from home permanently. Roughly one-third of respondents said they have increased the number of days a worker can take off, and one-third have stopped requiring a year of employment before a worker can go on vacation.
And while all this work finding workers has been going on, there's been remarkable increase in ecommerce activity and electronic communications. In last year's Construction Supply 150, 56.7% of respondents said their customers could check their bills online. In this report, 72.7% say they can do the same. Through 2020, a customer could pay online at 42.3% of the CS150 members who revealed their status. This year, that share is 58.6%. Meanwhile, the percentage of dealers who said their customers can check whether a product is in stock more than doubled to 29.8%. And BOPIS--short for Buy Online, Pick up In Store--was possible at 39.8% of this year's responding dealers, up from 22.7% last year.
How representative is the CS150 of all companies that sell construction supplies to professional builders and remodelers? "I get asked all the time about how big the LBM market is," Webb said. "The truth is, nobody knows for sure. You normally would rely on federal data to get a sense, but gaps in how the government classifies reports from dealers makes it hard to size the market. In this new report, Webb Analytics gives a breakdown that we believe indicates CS150 members' $373.73 billion represents about three-quarters of all sales at building material and supplies dealers, excluding paint stores."
Here are the 25 biggest companies on the Construction Supply 150, ranked by U.S. sales. Most numbers cover calendar year 2021, but som­e are for fiscal years ending in January 2022. A few numbers are estimates. See footnotes in the report for explanations.
| | | | | | | | |
| --- | --- | --- | --- | --- | --- | --- | --- |
| Rank | Company/City/State | Primary business emphasis† | 2021 sales ($ millions) | 2020 sales ($ millions) | Sales % change, 2021 vs. 2020 | Locations 2021 | Locations 2020 |
| 1 | The Home Depot, Atlanta, GA * | H | $138,920.0 | $122,158.0 | 13.7% | 2,006 | 1,987 |
| 2 | Lowe's, Mooresville, NC * | H | $90,348.0 | $84,503.0 | 6.9% | 1,737 | 1,734 |
| 3 | Builders FirstSource, Dallas, TX | M | $19,900.0 | $12,800.0 | 55.5% | 565 | 550 |
| 4 | ABC Supply, Beloit, WI | S | $14,800.0 | $12,100.0 | 22.3% | 839 | 799 |
| 5 | Menards, Eau Claire, WI * | H | $13,086.2 | $11,800.0 | 10.9% | 346 | 345 |
| 6 | Ferguson Enterprises, Newport News, VA * | S | $12,959.0 | $11,364.2 | 14.0% | 1,470 | 1,452 |
| 7 | US LBM, Buffalo Grove, IL | M | $9,220.0 | $4,265.1 | 116.2% | 441 | 280 |
| 8 | 84 Lumber, Eighty Four, PA | M | $7,900.0 | $4,700.0 | 68.1% | 272 | 262 |
| 9 | Beacon, Herndon, VA | S | $6,642.0 | $5,916.7 | 12.3% | 446 | 524 |
| 10 | Harbor Freight Tools, Calabasas, CA | H | $6,000.0 | $5,400.0 | 11.1% | 1,200 | 1,087 |
| 11 | SRS Distribution, McKinney, TX * | S | $5,755.3 | $3,796.3 | 51.6% | 595 | 405 |
| 12 | GMS, Tucker, GA * | S | $3,636.7 | $2,670.0 | 36.2% | 337 | 234 |
| 13 | Floor & Decor Holdings, Atlanta, GA | S | $3,433.5 | $2,425.8 | 41.5% | 162 | 135 |
| 14 | UFP Industries, Grand Rapids, MI * | ML | $2,698.4 | $1,695.7 | 59.1% | 65 | 57 |
| 15 | Foundation Building Materials, Santa Ana, CA * | S | $2,652.0 | $1,077.3 | 146.2% | 221 | 125 |
| 16 | Carter Lumber, Kent, OH | M | $2,565.0 | $1,750.0 | 46.6% | 168 | 167 |
| 17 | Kodiak Building Partners, Highlands Ranch, CO | M | $2,490.5 | $1,876.2 | 32.7% | 111 | 103 |
| 18 | Northern Tool + Equipment, Burnsville, MN * | H | $1,950.0 | $1,450.0 | 34.5% | 121 | 120 |
| 19 | Sutherland Lumber, Kansas City, MO * | H | $1,450.0 | $1,306.3 | 11.0% | 50 | 50 |
| 20 | McCoy's Building Supply, San Marcos, TX | M | $1,423.6 | $1,073.8 | 32.6% | 92 | 91 |
| 21 | Lansing Building Products, Richmond, VA | S | $1,326.2 | $991.7 | 33.7% | 114 | 114 |
| 22 | Service Partners (TopBuild), Daytona Beach, FL * | S | $1,272.2 | $926.7 | 37.3% | 155 | 75 |
| 23 | LL Flooring, Richmond, VA | S | $1,152.3 | $1,097.7 | 5.0% | 424 | 410 |
| 24 | Parr Lumber, Hillsboro, OR | M | $990.9 | $644.0 | 53.9% | 43 | 36 |
| 25 | Foxworth-Galbraith Lumber, Plano, TX | M | $927.0 | $588.5 | 57.5% | 35 | 35 |