TPSX File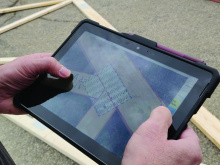 Component manufacturing quality control is being driven by a new program: SBCA'S Digital QC. It became clear early in the development process that a consistent file type is the best way to realize the full benefits of Digital QC, and with that, SBCA's IT Committee and Strike Force 1 got to work on a new file set-up now known as TPSX. The purpose of the TPSX file is to provide all of the information necessary to drive the Digital QC program to the next level. These truss details will provide consistency independent of design software.
SBCA staff realized early on that the various truss design software provider's output of their QC information was in many different, non-standardized formats. Today, the TPSX output standardizes the information allowing SBCA's Digital QC program to quickly and easily integrate the files.
Learn more about the process and final output in the following white paper:
For more details, download the Specification Details, JSON Schemata, and Sample Trusses [ZIP].