4Ward Announces Winners of BCMC 2022 Pinewood Derby
Date posted
October 4, 2022
Originally Published by: 4Ward Solutions Group — September 28, 2022
SBCA appreciates your input; please email us if you have any comments or corrections to this article.
The Pinewood Derby on the 4Ward Innovation Raceway at BCMC 2022 was a big success! Competitors registered to compete in this event ahead of time and brought their customized cars to the show with them. Spectators took in the racing action as participants raced for glory!
The 4Ward Solutions Group Innovation Raceway is part of the SBCA Emerging Leaders program, getting the next generation of leaders more involved in the Structural Building Component industry. To learn more about the Emerging Leaders program, please visit: https://www.sbcacomponents.com/emerging-leaders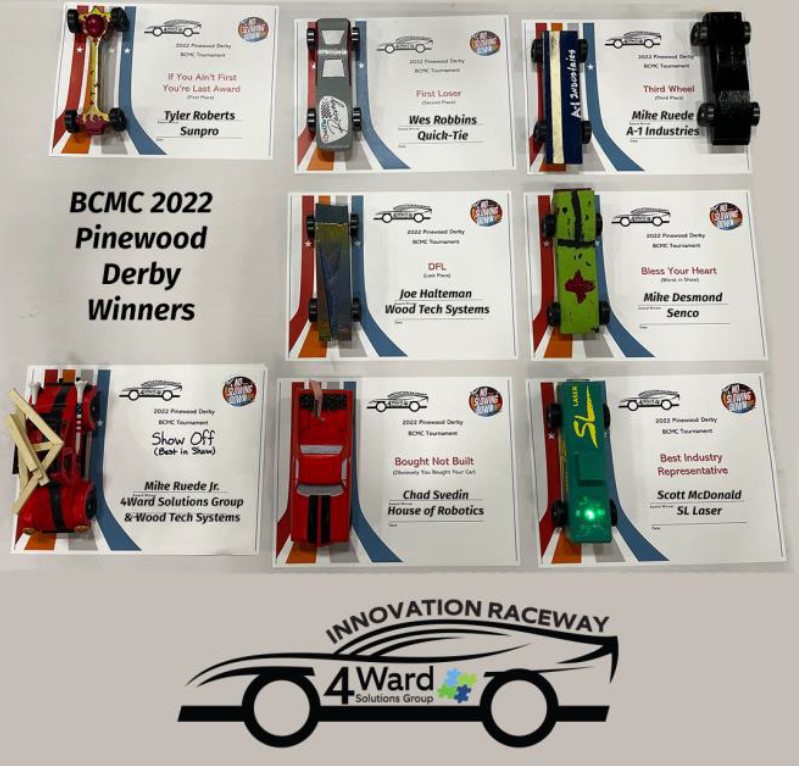 The winners are:
🥇 If You Ain't First, You're Last (1st Place) Tyler Roberts, Sunpro Corporation
🥈 First Loser (2nd Place) Wes Robbins, Quick Tie Products, Inc.
🥉 Third Wheel (3rd Place) Michael Ruede, A-1 Industries
DFL (Last Place) Joe Halteman, Wood Tech Systems
Bless Your Heart (Worst in Show) Mike Desmond, Senco Brands, Inc
Show Off (Best in Show) Michael Ruede JR, Wood Tech Systems / 4Ward Solutions Group
Bought Not Built (Obviously You Bought Your Car) Chad Svedin, House of Design Robotics
Best Industry Representative Scott McDonald, SL-Laser Systems LLC
4Ward CEO, Ben Hershey, said "It was exciting to see all the participants with their cars on the 4Ward Innovation Raceway! We are proud to not only be the track sponsor but to be a huge supporter of the SBCA Emerging Leaders Committee. Promoting activities like this is a part of who 4Ward is, supporting those who are starting in the industry and mentoring best practices and new ideas."