Big Companies Begin Rallying Behind FL Rebuild
Date posted
October 4, 2022
Originally Published by: HBS Dealer — September 30, 2022
SBCA appreciates your input; please email us if you have any comments or corrections to this article.
Big retailers Home Depot and Lowe's are making donations and lending help in the aftermath of Hurricane Ian.
Lowe's will donate $2 million to support relief efforts in Florida after Hurricane Ian left devastation across the state, causing catastrophic flooding and damage.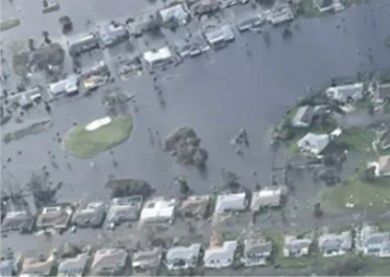 "It's heartbreaking to see the devastation and the impact on our customers and associates who have been affected by this storm. Their safety is paramount," said Marvin Ellison, chairman and CEO of Lowe's.
Lowe's said its donation will support disaster relief partners and nonprofit Pro customers, helping organizations provide emergency shelter, food and rebuilding supplies to those affected by the storm. Lowe's also will host relief events to distribute critical supplies.
"While we know recovery will take many months, we're here to help these communities return to some form of normalcy as soon as possible. We'd also like to thank the first responders and our associates who are serving these communities," said Ellison.
The Home Depot Foundation is committing up to $1 million to support immediate disaster relief and long-term recovery efforts in communities impacted by Hurricane Ian.
"Our thoughts are with the communities devastated by this catastrophic storm," said Shannon Gerber, executive director of The Home Depot Foundation.
Alongside nonprofit partners and Team Depot, The Home Depot's associate volunteer force, the Foundation said it is providing immediate assistance to communities in need by distributing water and relief supplies, delivering meals, providing shelter and removing debris in the impacted areas as soon as the storm clears.
"During this difficult time, we stand ready to assist all those who are dealing with the damage left behind. With the help of our nonprofit partners, we will be there to provide resources, relief and support not only in the days to come, but throughout the recovery process," said Gerber.
The Foundation is also shipping more than 1,800 disaster relief kits, containing N95 masks, cleaning supplies and more, to Florida to be distributed by Convoy of Hope and other nonprofit partners.