84 Lumber Outlines Plans to Build 4 Truss Plants in 2023
Date posted
January 31, 2023
Originally Published by: 84 Lumber — January 24, 2023
SBCA appreciates your input; please email us if you have any comments or corrections to this article.
84 Lumber, the largest privately owned building materials supplier in the U.S., currently operates 310 facilities which includes 234 stores, 14 component manufacturing plants, 28 engineered wood product centers (EWP) and 34 door shops. The company plans to open new facilities and make improvements to 54 existing locations to increase its market share by the end of 2023.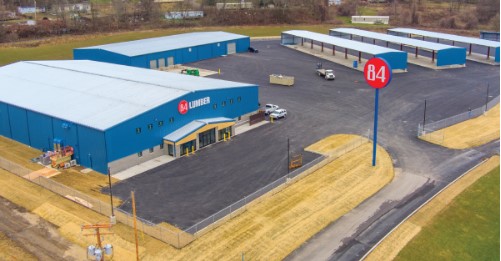 Pictured here is 84 Lumber's new Morgantown location, located at 3208 Earl L Core Rd., Morgantown, WV
The new store openings include Stockton, California; Denver, Colorado; and Greeley, Colorado. The company also is relocating existing stores to larger facilities in Morgantown, West Virginia and Sarasota, Florida.
In addition to new stores, 84 Lumber is opening component plants in Winter Haven, Florida; Columbia, South Carolina; Boise, Idaho; and a second plant in Atlanta, Georgia. Regarding new EWP facilities, the current Atlanta facility is being relocated to a larger location in Cartersville, Georgia and new centers will be opened in the New Jersey and Boston markets. To round out the company's extensive expansion plans, a new door shop is coming to Denver, Colorado.
"With the opening of these new stores and manufacturing facilities, we remain strong in our continued prospect for growth," said 84 Lumber President Maggie Hardy. "We value our customers and listen to what is important to them to grow their businesses. As a result, we are growing and expanding in two ways – opening new locations and investing in existing markets."
"I'm immensely proud of the performance of our company over the last several years," said Hardy. "We have the right people, and we are supporting our associates and customers with the necessary resources to take our company to the next level. I'm committed to growing this company the 84 way and continuing to provide more opportunities for our associates."
To keep up with growth, 84 Lumber is looking to hire new associates in stores and manufacturing facilities across the country. To apply, visit 84lumber.com/careers, and to learn more about the company, visit them on Facebook, Instagram or LinkedIn.