84 Lumber Reopens Dayton Facility After Tornado
Originally Published by: LBM Journal — June 10, 2021
SBCA appreciates your input; please email us if you have any comments or corrections to this article.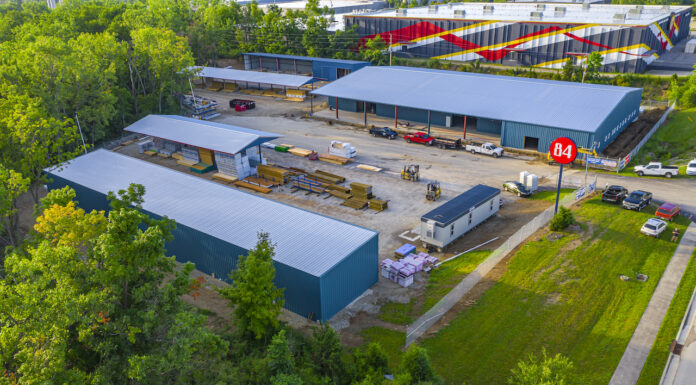 Over the last two years, the Dayton, Ohio 84 Lumber store endured damaging tornadoes in 2019, followed by the pandemic in 2020. Now, exactly two years later, the building materials supplier officially reopened a new facility during the week of Memorial Day, 2021.
The store, located at 6200 Poe Ave., has been serving the Dayton and Cincinnati markets for more than 30 years. When the EF3 tornado hit on Memorial Day in 2019, the facility was heavily damaged along with numerous other homes and local businesses in the area. In order to continue shipping products and serving customers, the company leased a new building for the last year as a temporary location. The new facility is opening doors to a similar footprint as the original building, with new modern touches as well as a larger showroom.
"Some of our associates have been with us for more than 10 years, and our store has become a second home for them," said Todd Casey, general manager of the Dayton 84 Lumber. "It was very devastating for us when the tornadoes hit, but we've stuck together during the rebuilding process, and we couldn't be more excited to finally move back into this new facility."
The Dayton store currently employs 15 associates, and that number will likely increase to 20 when the new showroom opens.
"Our associates in Dayton are resilient, and I couldn't be more proud of them," said Phil Garuccio, divisional vice president for 84 Lumber's Central Region. "Even after the storms, the team worked hard to keep everything on track for our customers and the Dayton community. It's great to now see Dayton recovering and coming back stronger than ever."