Alpine Releases Integrated Project Management Software
Originally Published by: Alpine by Antonia Evans, Alpine Product Owner — May 26, 2023
SBCA appreciates your input; please email us if you have any comments or corrections to this article.
Alpine's iCommand® IntelliSheets takes business management to the next level, saving time with tools created for designers and managers. Originally introduced with IntelliVIEW® 22.02 software release, IntelliSheets creates custom job lists, tracks progress, and shares live reports easily with different users. Select the most relevant fields, set up sophisticated conditional formatting rules, and create filters to view your data in a convenient, actionable format.
Ensure everyone is on the same page—define, create, edit, and share sheets with different views within the team. This ad-hoc reporting tool allows users to separately collect and access job information. The sheet filters by the current user to highlight their assigned jobs.
From job lists, create to-do lists for designers, create revisions, identify jobs scheduled for delivery, or simply balance a design team's workload by assigning a designer a list of jobs. Search by column or find jobs that contain one condition. The enhanced filtering and conditional formatting will highlight jobs that require special processing. The reporting possibilities are endless.
Manipulate data into different views and save to a number of formats (e.g., xlsx, csv, docx, txt, or pdf). Easily export to Microsoft Excel and continue your data analysis. All the filtering, formatting, and summations are exported with the data. This tool provides the ultimate access to data to help you make decisions quickly.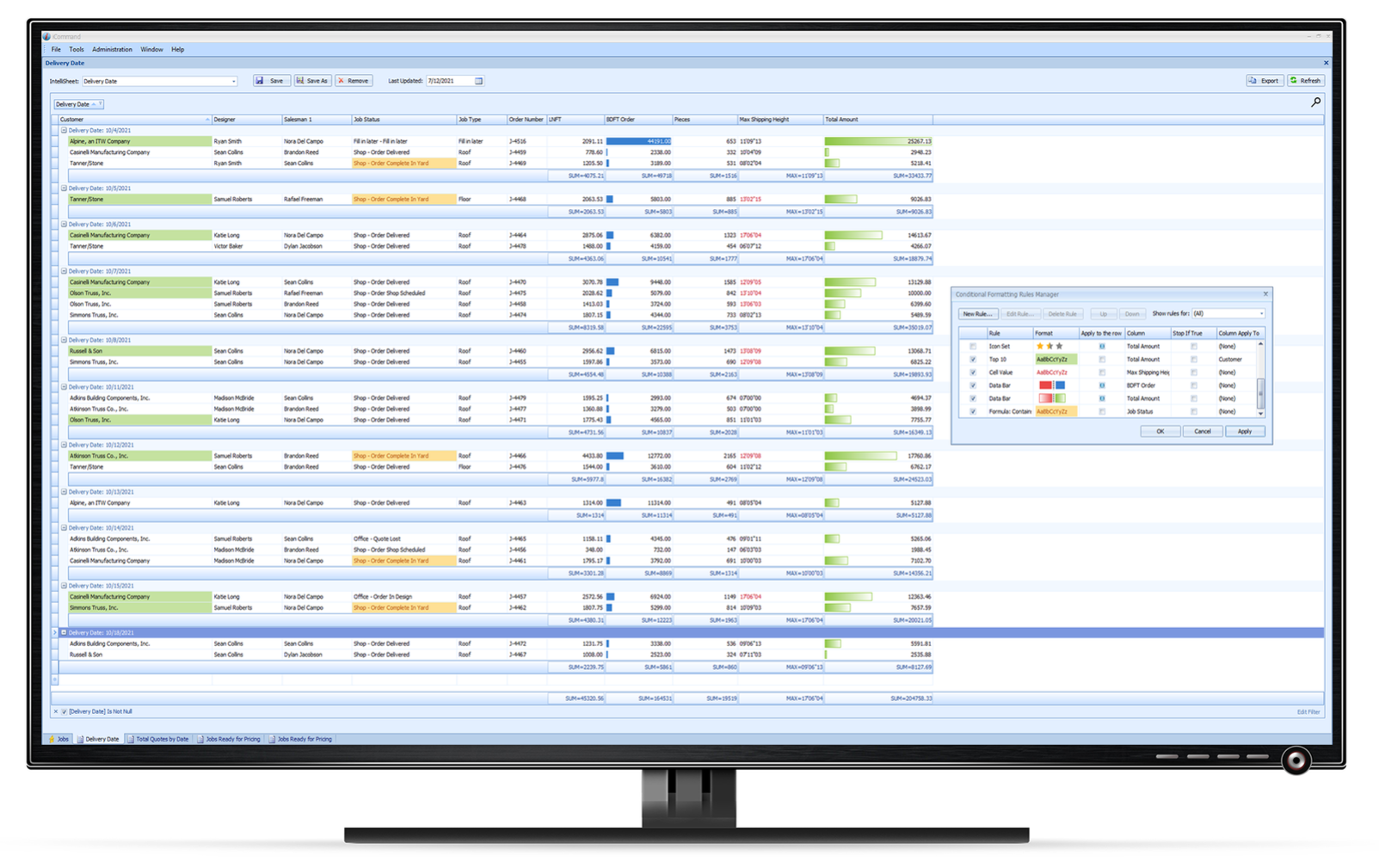 View data in an actionable format with IntelliSheets.
IntelliSheets organizes data into a compelling visual format. At a glance, you will be able to see a job status, delivery date, pricing, and take action. Users can edit many fields, including dates, designer, job status, custom fields and notes.
IntelliSheets enables your team to work better with real-time data, ensuring projects stay on-track. Share to-do lists, jobs scheduled for delivery, and a list of jobs with others for better collaboration. Protect your data and information with enhanced administration controls, allowing users to access sheets while preventing accidental alteration of data. Managers, designers and office admins, can perform their tasks with confidence.
Contact your local Alpine® Sales Representative to discover how these data-enhanced tools improve your business today.