Alpine's Latest IntelliVIEW Suite Release, Innovations, & Products
Date posted
September 6, 2022
Originally Published by: Alpine — September 6, 2022
SBCA appreciates your input; please email us if you have any comments or corrections to this article.
Next week, the Building Component Manufacturers Conference (BCMC) will be kicking-off in Columbus, Ohio and Alpine is pleased to be exhibiting in booth 500. BCMC offers component manufacturers (CMs) a platform to see the latest software and equipment demonstrations, network with industry experts, and explore educational opportunities. Alpine will be showcasing innovative products to help make CMs more competitive and profitable.
"Alpine strives to form value-added partnerships with our customers by providing best-in-class software solutions for management, design, engineering, and manufacturing. We continue to focus on providing new and enhanced software features to maximize productivity and efficiency. With the IntelliVIEW Suite 22.01 and 22.02 Versions, we are thrilled to be unveiling tools such as IntelliSheets and Truss Properties Manager—productivity-enhancers that give you flexible control of your data in ways that work best for your business," said Rick Tilelli, Alpine's Director of Software Development. "This version also includes an exciting Walkthrough Mode in our enhanced 3D Viewer, and a new subcomponent engine to make wall panel design easier."
2D to 3D Seamlessly
STITCHER is an innovative tool which significantly reduces the time a designer must spend entering the building envelope. The automatic selection and measurement tools help analyze the varying styles of a builder's plan, identify the building envelope, and automatically capture the walls, openings, and fixtures.
New Ways to View Your Data
Take business management data to a new level with iCommand IntelliSheets. It's a new, improved tool to create custom job lists, track progress, and share live reports easily with different users – all from within the IntelliVIEW Suite. Select the most relevant columns, setup sophisticated conditional formatting rules, and create summations to view your data in a convenient and actionable format.
Visualize Designs
Step through a building model with the new Walkthrough Mode in the enhanced 3D Viewer. Experience a realistic, first-person perspective from within the model, while analyzing specific trusses, walls, and members. Designers have several different perspectives to select from to help validate the component's design, visually inspecting each component and the interactions to quickly ensure all the pieces are in the right position. An interactive 3D model can also be viewed and shared in the Alpine Portal with key stakeholders.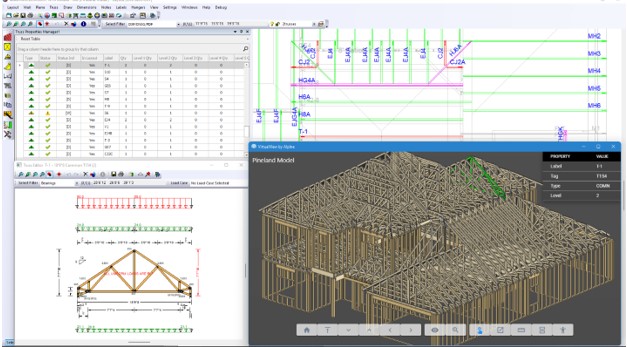 Enhanced 3D Viewer
Wall Panel Productivity
Alpine continues to deliver new iPanel functionality to make panel design easier and more flexible. iPanel 22.02 is no exception. "As our industry increasingly shifts towards offsite construction methods, Alpine has focused on providing our customers with best-in-class software solutions to support this growing trend. Alpine's iPanel software is the result of a continuous partnership with wall panel fabricators and world-class software innovation. iPanel provides powerful, best-in-class tools for wall panel design and fabrication including robust openings management, power editing tools, and our latest features: a subcomponent engine with parametric capabilities and our new banding/bundling module - the Panel Stacker!" added Rick Tilelli.
The new subcomponent engine reduces management and configuration time associated with subcomponents while simplifying the creation and modification process. The Stacker adds a new interface to the bundling process, giving designers all the information they need to group panels efficiently. These tools add to an already robust software package which fits neatly into the Alpine software ecosystem. "iPanel has complete integration with the IntelliVIEW software and eShop, allowing panel and truss designers to collaborate and share information while providing integrated management of the panel fabrication process," said Rick Tilelli.
Alpine Equipment
Alpine is an industry leader in computer-controlled truss cutting and assembly systems. "Our equipment is engineered to guarantee CMs high performance, quality-driven results," stated Vennor Hackshaw, Business Unit Manager at Alpine. "As the industry shifts to automation to improve production capacity and combat labor shortages, we will continue to work with CMs to enhance our technology. This year we'll showcase and provide LIVE demos of the Alpine Linear Saw and AutoSet Plus tables at BCMC."
Alpine Linear Saw (ALS) 4.0
The ALS takes cutting to the next level by reducing labor­-increasing production and the bottom line. No other saw in the market has the same impact on modern truss production. Designed for production efficiency, the ALS 4.0 requires only one sawyer for operation, and features an optional automated infeed system, beveling capability, and wall panel marking. See it in action! Several scheduled demonstrations will be provided.
AutoSet Plus Table
The AutoSet Plus represents the latest in truss table automation-improving production time. With set up in less than 25 seconds, this computer-controlled jigging system is engineered to be efficient and accurate. The automated steel pucks provide workers with the ability to keep a consistent pace throughout the day, with higher accuracy and reduced employee fatigue.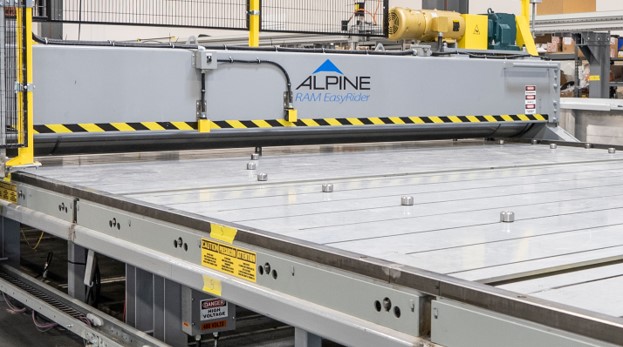 AutoSet Plus
Visit Alpine at BCMC in booth 500 or contact info@alpineitw.com for a private software demonstration.
About Alpine
Recognized for its engineering excellence, productivity-enhancing software and equipment solutions, and the industry's best service, Alpine is a leading provider of building component software, metal connector products, and equipment to component manufacturers. Since 1966, the company has partnered closely with customers to enhance their business and productivity. Alpine is also a leader in delivering software solutions that increase homebuilder productivity and profitability. The company is a division of Illinois Tool Works Inc., a Fortune 200 global diversified manufacturer. For additional information, visit https://alpineitw.com.