Becoming a Convert
Date posted
September 1, 2022
It wasn't difficult for Trussway to exchange its homegrown approach for SBCA's Digital QC.
"At Trussway, we believe that if you can't measure, you can't improve," says Jeff Smith, the company's CEO. "That's one of the reasons why we are strongly committed to the in-plant QC inspection process and third-party QA verification."
Trussway has participated in the SBCA in-plant QC program for years. Beyond the valuable data it provided, it also fulfilled the requirements of Sections 1704.2 and 2303.4 of the International Building Code (IBC) that require third-party QA to ensure conformance with the TPI 1 standard. "We are focused on multifamily construction projects, so the IBC governs most of what we do," says Jeff. "Going all in is a win-win
for us."
Jobsite Scrutiny
"We have always believed that our quality was great, and the in-plant QC and third-party QA helped verify that for us," Jeff goes on to say. "But at some point, building inspectors began taking a much closer look at plate placement and plate embedment. They didn't just look at critical joints, they started looking at every single truss joint on a project." In multifamily jobs, that can quickly add up to thousands and thousands of plated joints. "We knew we needed to do more, so we began developing our own in-house QC program," Jeff continues. "It was a 'light' digital version using mobile tablets that let us collect and store QC data more efficiently. It didn't utilize the camera, so inspections were still conducted manually."
Digital QC 1.0
This home-grown digital QC program worked very well for Trussway. By making the inspections quicker and the data easier to manage, the company could conduct more joint inspections. They were initially very excited when SBCA started developing a fully-digital QC inspection program. However, they ultimately decided not to use the early version.
"The initial program was very promising because, unlike our internal program, it used the camera and digitized the joint analysis," says Pablo Diaz, Trussway's director of quality and continuous improvement. "We already had the tablets in place too. Unfortunately, the program just didn't run fast enough. It didn't really speed up the inspection process for us." Given all they had invested in their own process, Trussway elected to continue to use their program and keep a close eye on SBCA's Digital QC program. Fortunately, their patience paid off.
Digital QC 2.0
"When SBCA announced they had developed a new version of Digital QC, we were initially a little skeptical," Pablo explains. "But as soon as we took a look at it in operation, we knew it made sense to change." Trussway was enthusiastic about a digital QC approach that utilized the camera to analyze each joint. "When we saw how quickly and accurately the new software analyzed a joint, we couldn't move fast enough to incorporate it into our plants."
Now we have the visual evidence through the camera to either support the good work we are doing or point out where we need to retrain.
In hindsight, they admit they may have moved a little too fast. "We didn't have in place all the processes we needed in order to interface our internal data managements systems with SBCA's Digital QC outputs," Pablo concedes. "But we got that up and running quickly, and it's gone really well since then."
Preparation and Training
So far, Trussway has incorporated the Digital QC program at three of their locations. The training of inspectors to use the new software has proven easier than anticipated. "SBCA's staff has offered us many opportunities for support in getting our guys up and running," says Pablo. "But honestly, it was so easy, and the program is so intuitive, we didn't end up needing it."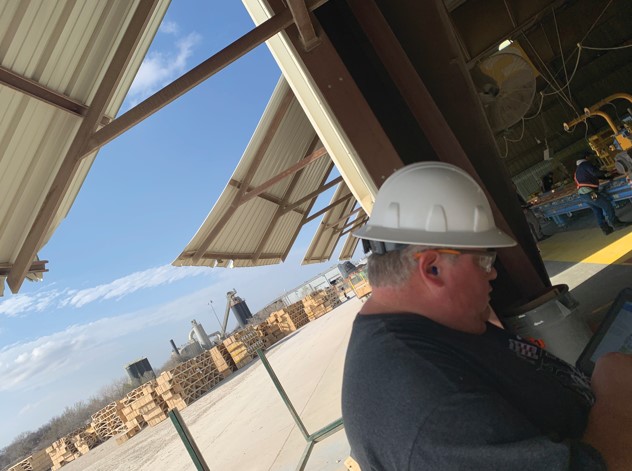 Trussway has one person at each location trained in using the new software. One major lesson they learned was to ensure they had strong WiFi in the area where the inspections took place. "It's just like any other piece of equipment we invest in: we want to do everything we can to ensure it runs at peak efficiency," Pablo explains. While users can download files ahead of time and don't need internet connectivity to conduct an inspection, Trussway wants Digital QC to interact with their existing system in real-time. "For us, it makes sense to have that connection speed as fast as possible." That meant installing a WiFi booster in their finished goods area.
Pablo estimates that to meet the TPI requirements for the number of inspections per line per shift per week, they need to do a minimum of between 60-100 inspections each week. With the new SBCA Digital QC program, every minute saved in conducting an inspection frees up considerable time to inspect additional joints and analyze the data. "Digital QC makes every aspect of the inspection faster, and that makes a big difference."
Visual Manufacturing
Trussway is aware that manufacturing around the globe is evolving at an ever-increasing rate and that leveraging technology is a cornerstone of remaining competitive in the market. "One of the things we really like about Digital QC is that it gets us closer to the visual manufacturing workspace," Pablo goes on to say. "The software is great at using visual cues like red and green to help everyone quickly understand whether something is acceptable or needs improvement."
Trussway already understood that having all their QC data in digital records gave them more immediate feedback on where they could improve, but the SBCA's Digital QC has taken it a step further. "Now we have the visual evidence through the camera to either support the good work we are doing or point out where we need to retrain because it isn't as good as we want it," Pablo concludes.
Checking All the Boxes
"If anyone raises a question about the quality of the product going out the door, we now have verifiable proof," says Jeff. "In addition, it's an effective continuous improvement tool for our team. It's also free - you certainly can't beat that. It checks all the boxes, which we love. You can't ever be afraid to walk away from something you've developed yourself when it's clear there's a better tool available to you."