Chart: January Residential Spending Up 13.4% YOY
Originally Published by: NAHB — March 2, 2022
SBCA appreciates your input; please email us if you have any comments or corrections to this article.
NAHB analysis of Census Construction Spending data shows that total private residential construction spending rose 1.3% in January after an increase of 2.2% in December 2021. Spending stood at a seasonally adjusted annual rate of $829.4 billion. Total private residential construction spending was 13.4% higher than a year ago.
These monthly gains are attributed to the strong growth of spending on single-family construction and improvements, while spending on multifamily construction slipped. Single-family construction spending increased to a $445.1 billion annual pace in January 2022, up by 1.2% over the upwardly revised December estimates. Spending on improvements increase 1.8% in January, after 1.4% up in December. At the same time, multifamily construction spending slipped 0.1%. But it was 4.8% higher than a year ago. Home building is still facing supply chain issues, which means the industry is dealing with rising material costs as well as ongoing labor shortages.
The NAHB construction spending index, which is shown in the graph below (the base is January 2000), illustrates the solid growth in single-family construction and home improvement from the second half of 2019 to February 2020, before the COVID-19 hit the U.S. economy, and the quick rebound since July 2020. New multifamily construction spending has picked up the pace after a slowdown in the second half of 2019. Under the pressure of supply-chain issues, construction spending on single-family, multifamily and improvements slipped down a bit from the third quarter of 2021.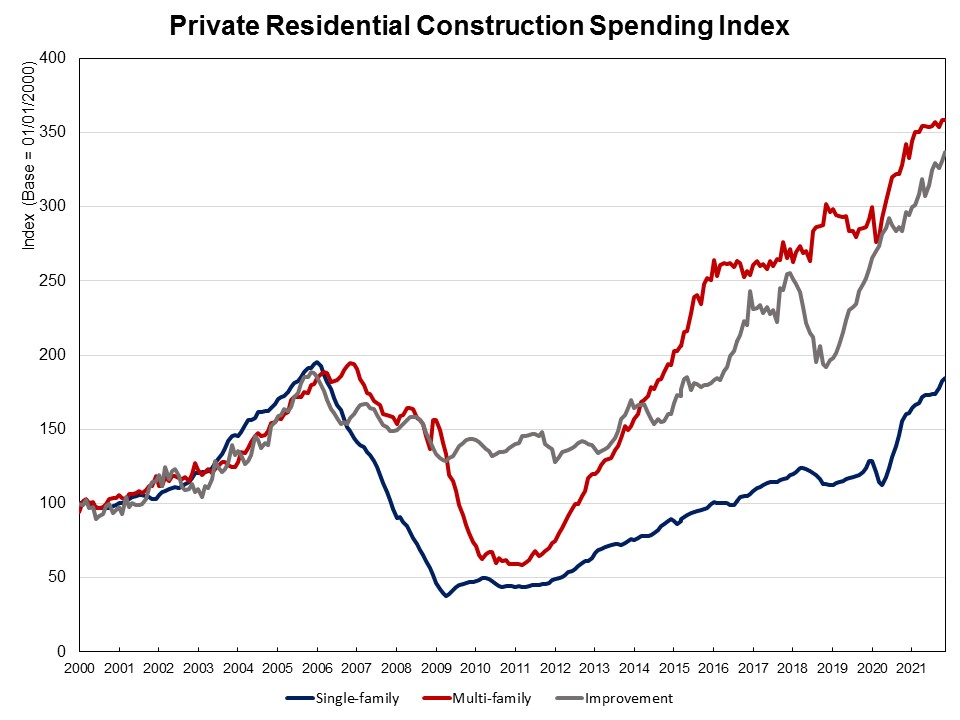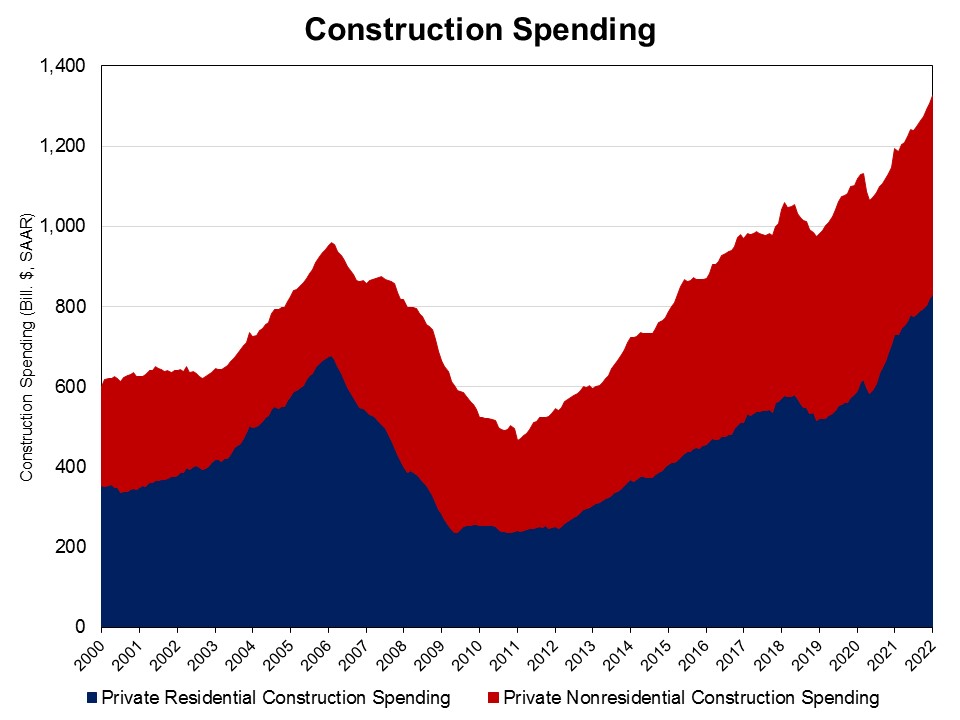 Private nonresidential construction spending edged up to a seasonally adjusted annual rate of $497.2 billion in January, a 1.8% increase from the December estimates. And it was 7.3% higher than a year ago. The largest contribution to this month-over-month nonresidential spending increase was made by the class of manufacturing ($7.3 billion), followed by class of power ($2.8 billion), and class of transportation ($0.2 billion).