Chart: New Home Sales Jump in March, Supply Still Elevated
Originally Published by: NAHB — April 25, 2023
SBCA appreciates your input; please email us if you have any comments or corrections to this article.
Lower mortgage rates and limited existing inventory helped to push new home sales up in March, even as builders continue to grapple with increased construction costs and material supply disruptions. The U.S. Department of Housing and Urban Development and the U.S. Census Bureau estimated sales of newly built, single-family homes in March at a 683,000 seasonally adjusted annual pace, which is a 9.6% increase over a downwardly revised reading of 623,000 in February. This pace is 3.4% below the March 2022 estimate of 707,000.
A new home sale occurs when a sales contract is signed or a deposit is accepted. The home can be in any stage of construction: not yet started, under construction or completed. In addition to adjusting for seasonal effects, the March reading of 683,000 units is the number of homes that would sell if this pace continued for the next 12 months.
New single-family home inventory fell 9.5% in March, however, it remained elevated at a 7.6 months' supply at the current building pace. A measure near a 6 months' supply is considered balanced. Total new home inventory peaked in October at 466,000 and has been declining since that time, with a total inventory of 432,000 available for sale in March.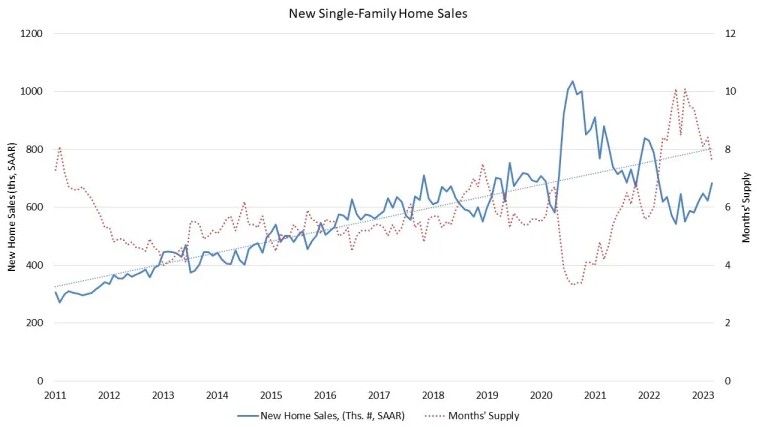 A year ago, there were just 32,000 completed, ready to occupy homes available for sale (not seasonally adjusted). By March 2023, that number increased 119% to 70,000, reflecting flagging demand and more standing inventory due to lower sales. Completed, ready to occupy inventory, however, remains just 17% of total inventory and homes under construction account for 60% of the inventory. Homes that have not started construction when the sales contract is signed account for 24% of new homes sold in March.
The median new home sale price rose 3.8% in March to $449,800 and is up 3.2% compared to a year ago. Elevated costs of construction have contributed to a rise in home prices. The share of entry-level homes priced below $300,000 has been steadily falling in recent years. Only 10% of the homes were priced in this entry-level affordable range while 37% of the homes were priced above $500,000. The majority of homes (52%) were priced between $300,000-$500,000.
Regionally, on a year-to-date basis, new home sales rose 1.7% in the Northeast, but fell 19.6% in the Midwest, 5.8% in the South and 32.2% in the West.