Construction Job Openings Expanded Dramatically in October
Date posted
December 14, 2021
Originally Published by: Hardware & Building Supply — December 10, 2021
SBCA appreciates your input; please email us if you have any comments or corrections to this article.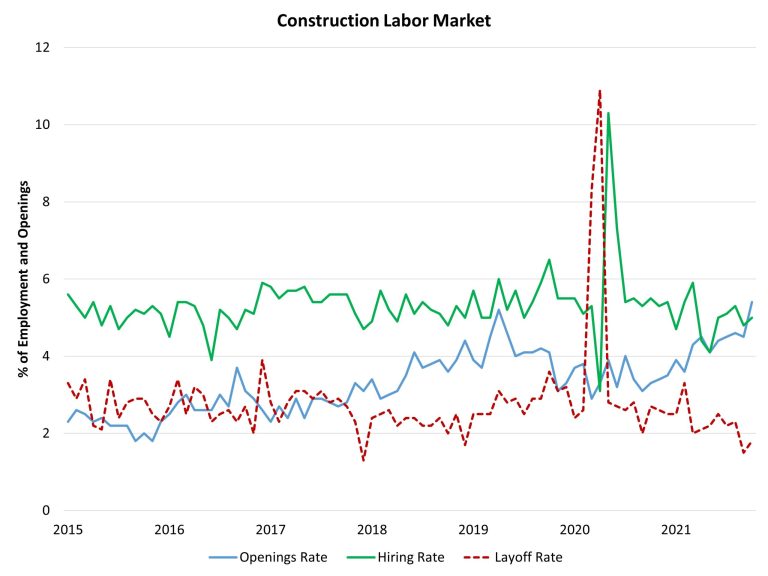 The rate of unfilled construction jobs continues to surge.
Analysis from the National Association of Home Builders (NAHB) shows that open construction jobs increased to 410,000 positions in October. This is the highest rate of the Job Openings and Labor Turnover Survey from the Bureau of Labor Statistics since 2000.
As a result, the housing market continues to be underbuilt due to the need for additional labor, along with materials and lots. And as labor costs in construction rise, so do home prices.
The October figure marked a 4.5% increase in open job construction jobs. The level was at just 253,000 for the same time a year ago.
According to the Bureau of Labor Statistics, construction hiring has been short by 300,000 to 400,000 jobs per month.
NAHB Chief Economist Robert Dietz recently reported that hiring for the sector has exceeded 300,000 per month for 22 of the last 24 months,
Dietz also notes that over the last 12 months, the home building sector has added only 64,000 jobs. Since the point of peak decline of home building employment in 2011, when total job losses for the industry stood at 1.466 million, 125,000 positions have been added to the residential construction sector.
The most recent Employment Situation Report indicated that the construction of buildings and the trade sector added just 23,000 jobs in November.
Data collected from the October survey for the latest NAHB/Wells Fargo Market Index revealed that more than 55% of single-family home builders are facing a shortage of labor. This includes 16 building trades listed in the survey.
About 86% of home builders said they are having trouble finding framing crew personnel and rough carpenters while 85% responded that finding finish carpenters is a problem.
Additionally, 77% reported issues finding plumbers and masons.
The third quarter 2021 NAHB/Royal Building Products Remodeling Market Index (RMI) found bigger labor issues with 89% of respondents saying framing crews are an issue, 94% having problems finding finish carpenters, and 93% experiencing a shortage of rough carpenters.
Subcontractors are even more widespread, the NAHB said.
At least 90% of single-family builders reported a shortage of subcontractors in each of the three categories of carpenters, and 80% to 85% reported a shortage of subcontractors in six other trades.