Lambeau Field, home of the Green Bay Packers.
Affectionately called the "Frozen Tundra," it is the site of many memorable moments in the 100+-year history of the NFL franchise. It is not where one would typically expect a home to be built, and yet that is exactly what happened one brisk morning in February, 2022. While tailgaters wearing foam cheese heads were setting up their grills to fry brats and listen to the pre-game on the radio, Drexel Building Supply framed a two-story house in approximately four hours.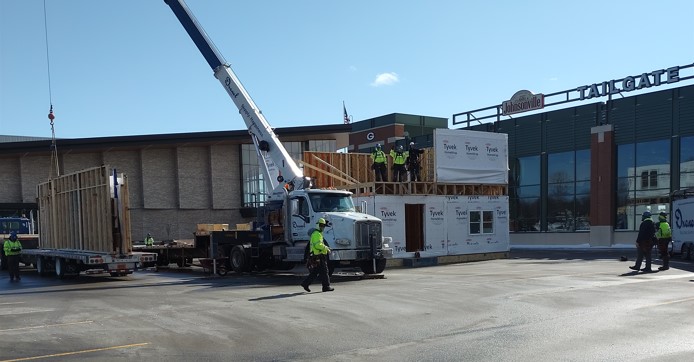 "In 2017, we realized that panelization and offsite construction are where things were going," says Joel Fleischman, president of Drexel Building Supply. "As a large building material distributor, we knew we needed to figure that piece out. In our market, there wasn't a lot of value engineering going on and the increasing demands of our builder customers to provide solutions along those lines were driving us nuts."
Joel knew he had a big opportunity ahead of him. "We had lost the drywall business, we had lost the overhead door business, and we were also losing the roofing business. I knew if we didn't act, we'd likely lose the lumber business as well to the framers and component manufacturers in our market," Joel says.
Drexel's next steps put it on a course to become one of the most advanced component manufacturers in the country. But to understand why they went from 0 to 60 in the offsite construction business, it's important to know who Drexel is and whom they have brought to the table.
It's All About Culture
"We started as Campbellsport Building Supply in Campbellsport, Wisconsin in 1985 with just five people," says Joel. "I left to become a teacher and coach, but came back in 1996 when we had 12 team members. We've grown at least 20% annually since then, and today have over 650 team members at nine locations throughout Wisconsin."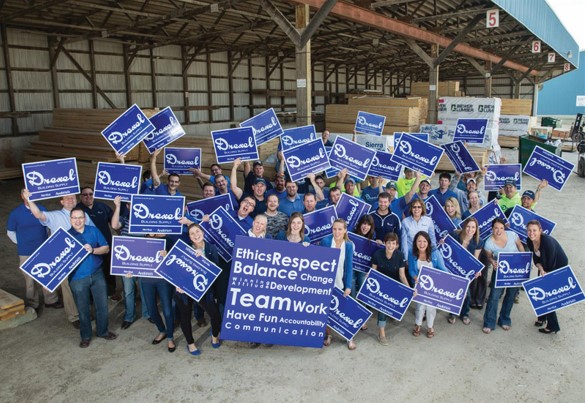 Joel is quick to point out that expansion is not the company's primary goal: "Bigger is not necessarily better. We like to say better is better. We focus on whatever we need to do to provide greater value to our customers. It's not about having more customers, although we'll always welcome more, it's about providing more goods and services to each customer."
Joel believes that Drexel's strength is the culture they have developed to drive every aspect of their business. "We have one mission: Supply. Happiness. There are 11 core values that form the foundation of our company culture. I talk about them every day, and I hope every team member lives them out as well: ethics, respect, balance, winning attitude, communication, development, teamwork, change, having fun, accountability, and connection."
Joel has found that by remaining laser-focused on those elements, Drexel gives everyone a reason to come to work every day. "We treat our team members like gold. We certainly care for our customers, but we always care for our team members first," he explains.
Expansion with a Purpose
There are three primary markets in Wisconsin: Milwaukee, Madison, and the Fox River Valley (which includes Green Bay). "We find we need a lumberyard to do around $10 million in sales annually to be efficient," says Joel. "As we've grown, we've started a few yards from scratch and acquired a few yards that were struggling and looking to sell in order to serve those three areas effectively. Based on experience, starting a new facility with our strong culture is in some ways easier to accomplish."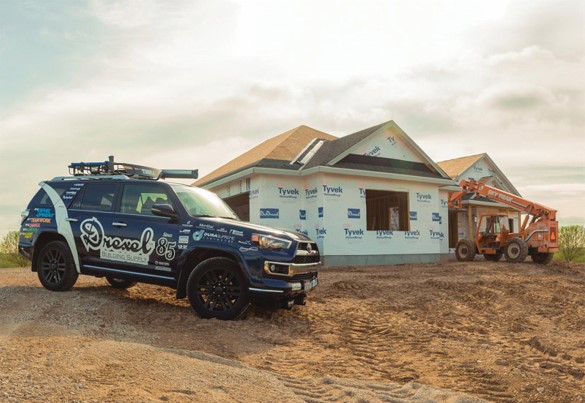 However, when Drexel was looking to enter the offsite construction industry in 2017, starting a truss plant from scratch didn't seem like the best option. "We wanted to bring in someone who already knew what they were doing and had served our core markets," Joel continues. Fortunately, they found a willing partner in Steve Szymanski and his company, Truss Systems, in Little Chute, Wisconsin. Through that acquisition, Drexel entered the world of manufacturing roof and floor trusses and began selling its own products through its retail yards. "Steve is a great asset. He understands every aspect of the business and is well-respected throughout Wisconsin," says Joel.
The next step in Drexel's offsite evolution happened faster than anyone had intended at the outset. "I knew part of the next step was to sit down and talk with Jason Blenker," Joel recalls. "We were competitors at the time, and I wasn't entirely certain he'd take me up on my invitation for coffee. I didn't learn until later that he isn't much of a coffee guy, be he still agreed to meet me!"
Joel and Jason had their initial conversation over coffee, and many subsequent conversations over local craft beer. (Jason has a stake in Central Waters Brewing Company, a well-known Wisconsin brewery in his hometown.) "As I got to know Joel, learned about Drexel's culture, and got exposed to his vision for where the component industry is and where it can go, I realized the two of us were on the same page," Jason tells us.
At the time they first spoke, Jason was the co-owner and president of Blenker Building Systems, part of the family-owned Blenker Companies. "It was clear that Joel, like us, put people before profits. Their culture may have been the biggest reason why we decided to ultimately merge with Drexel," says Jason. "I realized we could grow better together than apart and achieve what we wanted to accomplish faster by being on the same team."
In March, 2020, when Blenker Building Systems merged with Drexel, Jason took on the title, Offsite Solutions Leader. "Our shared vision was a desire to improve the home building industry in Wisconsin," Jason goes on to say. "Who wants to slog around in the mud, rain and cold to frame a building one stick at a time? We have better technology and tools to solve that problem today. That's why offsite isn't a trend; it's the best solution. Now, my job every day is not to figure out payroll or utility bills. It's to spend every day looking at the big picture and finding ways to deliver a complete solution to our customers' problems…Our goal now is to take our amazing people and our strong culture, task them with leveraging all the technology and automation we have at our disposal, and make competing framing approaches irrelevant."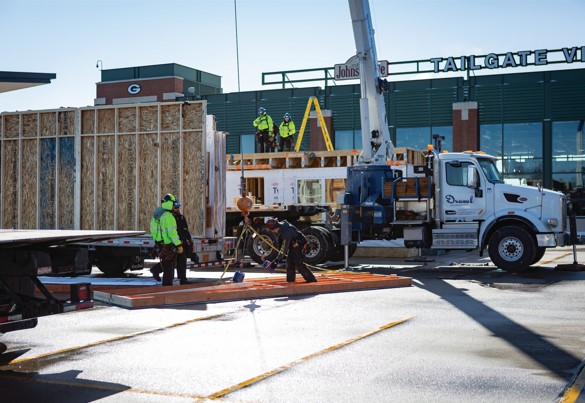 Don't Buy an iPhone 4
Drexel got a lot of attention in May, 2021, when they announced they were investing $27 million in a robotic roof and floor truss manufacturing facility powered by solar energy. "We know we can't transform the market trying to sell a commodity at the lowest price," Joel explains. "We are focused on bringing the greatest value to our customers, each and every one of them."
Investing in a robotic manufacturing facility just makes sense to Joel and Jason. "People used to farm using horses. When they developed the tractor, farmers switched because it was a far better tool," says Jason. "I've watched our industry move from swinging hammers to using pneumatic nail guns. It's just a more efficient way to get a repetitive task accomplished."
"When I was first thinking about getting into component manufacturing, I was told to look at all the automation that was going on in different facilities," says Joel. "But I was shocked as I started walking through plants. Everyone was swinging a hammer and climbing on and off tables. That wasn't the level of automation I expected. When we looked to expand, I asked our team why they would buy an iPhone 4 when they could have an iPhone 13. It felt like we were going backwards if we didn't leverage the best tools for the job."
Ultimately, Jason says their investment is about utilizing their team members for what they are best at doing. "We want to use machines and automation to take care of the heavy labor and repetitive tasks inherent in our manufacturing process and let the people do the thinking, quality control, and the supervising," says Jason. "This new truss plant will allow us to double our production capacity with the same number of people. It will improve not only our product, but also the workplace quality for our team members, which makes both retention and recruitment a lot easier moving forward."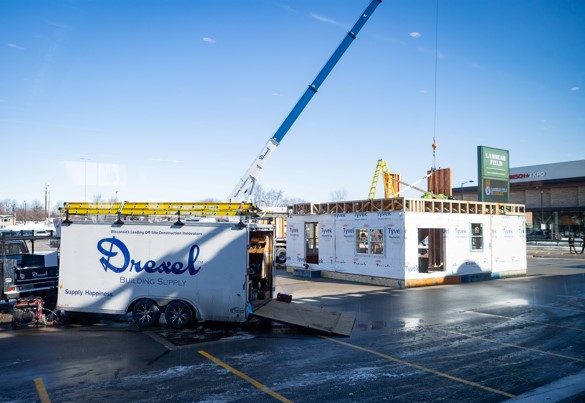 Wow Your Customers
For the past twenty years, Drexel has hosted a bi-annual builder expo for all its customers and vendors, which includes an appreciation night for its team members. Since Drexel purchased Truss Systems and Blenker Building Systems, it wanted to focus on its offsite construction capabilities. "Doing a fully-componentized build seemed to be the perfect way to showcase our products and skill," says Jason. "We wanted to build it on the 50-yard line, but apparently they're a little protective of the turf, so we built it in the parking lot."
The first challenge was finding a house to build. "We didn't want to just make something and then throw it away, so we looked for a house we already had slated to build that was cool, but not ridiculously large," Jason explains. "Fortunately, my brother just happened to have the perfect house." As part of the merger, Blenker Companies retained its construction business and continues to general contract and frame homes using Drexel's roof trusses, wall panels and floor panels.
"Our goal was to show our customers the efficiency of offsite construction, so we used pre-built stairs, wall panels with pre-installed windows, and fully-sheathed floor panels," says Jason. "They started unloading the floor panels around 8:30 am, and by lunch they were finishing up the second floor." After their lunch meeting, the builders had an opportunity to walk through the two-story structure and inspect the quality and precision of the trusses and panels.
It was a very efficient way to impress the nearly 400 customers who showed up for lunch. Next year, Drexel will be able to walk the same customers through its robotic roof and truss manufacturing facility. Those are two significant steps towards illustrating how competing framing methods are truly becoming irrelevant.