Hiring teenagers is one option for solving the labor shortage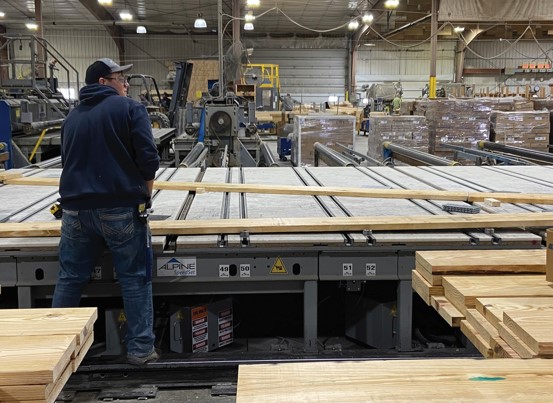 Carson Markmann was a typical highschooler when he received an email from his school about a job opportunity at Cascade Manufacturing Company in Cascade, Iowa.
He had heard of the company and was intrigued, so he applied for the job and succeeded in getting an interview. "I walked around the shop out there, and I knew a couple of other kids that work there. I figured I would try it and I liked it," said the 17-year-old recent graduate. "I worked a couple of months this summer, junior year, and worked after school for the first semester. And now I'm working full time since I graduated early."
Untapped Potential
Cascade wanted to proactively tap into the pool of underage 18 workers in its community. Since laws governing the employment of minors vary by state, it was imperative for them to do their due diligence and understand how to comply in order to legally hire youths like Carson.
"I contacted someone [at the state] to inquire about the child labor laws in the State of Iowa and at the federal level," said Will Noonan, PHR, human resource manager at Cascade. "When I reached out, I said we were interested because of the tight labor market, and explained that we typically put new hires in [roles such as] team assembler, catcher, and, potentially, stacker. I gave a brief description of the position, and what tools and equipment they would be likely be operating. We came up with the idea of having them come out to take a look."
Prepare Your Facility
"It's not too often you invite OSHA to your plant," said Tim Noonan, president of Cascade. "They took a tour on a Thursday morning and got back that afternoon with a list of what minor employees are and aren't allowed to do. For example, they cannot operate the roller gantry press or pneumatic staple guns. There are also limits on using saws. They can use the linear saw, because it's enclosed and has a higher level of safety, but not the component saw, even though they are built with safety measures such as trip wires and lasers. It's almost impossible get hurt, but we weren't going to argue."
The leadership at Cascade wanted to ensure that the jobs were in compliance and that any equipment operated by teens was both legal and safe for them to use. Employers who haven't hired 16- and 17-year-olds in the past should check out OSHA's website: https://www.osha.gov/young-workers/employer-responsibilities, which also offers resources for teens and their parents.
Like Cascade, employers can take such measures as clearly labeling equipment that young workers are not allowed to operate, which has the added benefit of keeping the dos and don'ts a top priority for everyone in the plant. It's also important to provide training for teen-aged employees on safety issues and potential hazards.
Win-Win with Schools
Tim Noonan said because their facility has a long history in the area, young people have historically opted to work there, but as times and laws have changed over the decades, the review was helpful because it related specifically to 16- and 17-year-old workers as opposed to those who are 18 and older.
Having relationships with the educators in the tech classes, the Future Farmers of America, and the guidance counselor's office at the local high schools has allowed Cascade to tap into a pool of young talent in the 16- and 17-year-old age group who want summer or after-school work.
"We don't necessarily expect the students will make this a career, but by getting them in at 16 or 17, we get 4 or 5 summers out of them," said Tim Noonan. "And when they come back the following year, the learning curve is nil or drastically reduced." Some of them may also eventually become full-time employees after graduation.
Hiring younger workers for an afterschool job or during summer is a great way for teens to earn extra money and learn important values such hard work and responsibility. "There are perks for the employer, but it's also what the students are getting out of it," said Will Noonan. "They are being exposed to a potentially high-demand job. Everyone in manufacturing is looking for help right now. The kids gain valuable experience that is related to those job and they are also learning soft skills that will help them get any job in the future: reporting to work on time, learning how to take instruction, listening, asking questions when they aren't sure."
It may be beneficial to implement a mentorship program for new teenage workers, in which an experienced adult is available to help answer questions as the young person learns the new job. Companies should also make sure managers are trained to work with teen employees so they are appropriately supervised.
As for Markmann, the opportunity to work has given him options as he plans for his future. "I haven't made up my mind," he said. "Right now, I'm just working and saving money and trying to decide if I want to go to college or do an apprenticeship, a trade. This job gives me the option to save money while I decide."
Leveraging Established Programs
Engineered Building Design in Washington, Iowa participates in an On Job Training (OJT) program with its local high schools. "It's school, so they have a first block, and a second block. They work at one of our locations for an assigned block, which is a period during their school day," said Larry Northway, production manager with Engineered Building Design. "I would say 90 percent also end up working for me full-time in the summer."
During the school year, the company offers flexible scheduling to accommodate the young workers' academic and afterschool activities. "School comes first," said Northway. "And we're very flexible when it comes to sports. We treat them like seasonal part-time employees."
The OJT program is also treated like class time. While the students are paid, they also earn school credits. "They bring in evaluation forms that I have to fill out and grade, and identify weaknesses and strengths. Hopefully they learn from their experience here as they go on to other jobs," said Northway. "I have written references for a few when they apply somewhere else as well."
Think Globally, Act Locally
Employers should also meet with representatives of their local public school system, as well as their state education and state workforce institutions. Many of them already offer programs for young workers. These programs are a great way for businesses to help train the next generation of workers.
A-1 Industries of Florida participates in several programs that focus on future talent, including a St. Lucie Public Schools' pre-apprenticeship program, and the CareerSource Research Coast Career Connect Conference 2022.
The pre-apprenticeship's goal is not to hire, but "to give students an opportunity to understand what their options are if they don't want to go to college," said Jeremy Tichenor, director of design at A-1 Industries. "We were a host of the Career Connect Conference this year, where we showed the kids what we do and what truss design is, to whet their appetite about the industry. A lot of young people don't know about this industry. We're just getting out there in the high schools for kids that don't want to go to college."
A-1 Industries also participates in the State of Florida Apprentice program. "It's a truss design apprentice program," said Tichenor. "We get reimbursed for a lot of things from the state. It's a two-year program. We take people with no experience in AutoCAD. We do a couple of assessments to make sure they are capable. We use the Predictive Index, and we have a math test with some spatial recognition sections to identify candidates."
The program includes a 13-week course in learning the basics, after which the participants are paired with a mentor for a total 2-year commitment. "It's a great opportunity for guys who never thought they could get out into a different work environment and be really successful," said Tichenor.
The Bottom Line
The labor shortage is severe, and will continue to be a challenge for component manufacturers who are competing with many similar employers in their communities. One option is to tap into 16- and 17-year-old high school students for afterschool and seasonal employment. However, if you haven't previously employed minors, you have some homework to do to ensure you comply with state and federal labor laws.
Dolly Penland, President & CEO of Business Results, a PI® and CATIL® Certified Partner and Talent Optimization consultancy, works with organizations to help them hire and manage their talent to their highest potential. She specializes in multiple areas including business sales growth, turnover reduction, and leadership development.