DOC Cuts Lumber Tariffs in Half, Canada Will Sue
Date posted
August 9, 2022
Originally Published by: HBS Dealer — August 5, 2022
SBCA appreciates your input; please email us if you have any comments or corrections to this article.
Tariffs against Canadian softwood lumber imports are not going away anytime soon.
On Aug. 4, the U.S. Department of Commerce issued a final determination in the third annual review of imports from Canada and has set the duty rate at 8.59%.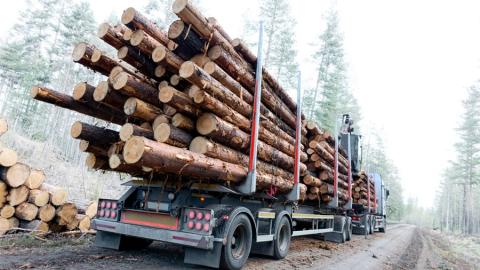 While industry associations, including the National Lumber and Building Material Dealers Association (NLBMDA) and National Association of Home Builders (NAHB) have argued that the tariffs either need to disappear or see a dramatic decrease to support an increase in affordable housing, not everyone sees the issue the same way.
"The trade laws duties announced today by the Commerce Department will help offset Canada's unfair trade practices," said Andrew Miller, chairman of the U.S. Lumber Coalition and CEO of Stimson Lumber. "The benefit of the trade cases against Canada are clear."
The U.S. Lumber Coalition is an alliance of large and small softwood lumber producers from around the country.
"Trade law enforcement boosts American manufacturing and results in more U.S. lumber being produced by U.S. workers to build U.S. homes," Miller added.
According to the coalition, U.S. sawmills have invested heavily to expand capacity since the trade cases were filed in 2016. The domestic industry has produced an additional 15 billion board feet of lumber through 2021, averaging 3 billion a year of additional output.
This is enough lumber to build over 1 million single-family homes, the coalition said.
Across the border, there is no joy in the Department of Commerce's ruling.
Mary Ng, Canadian Minister of International Trade, Export Promotion, Small Business, and Economic Development, released the following statement following the decision:
"Canada is disappointed that the United States continues to impose unwarranted and unfair duties on Canadian softwood lumber. While the duty rates will decrease from the current levels for the majority of exporters, the only truly fair outcome would be for the United States to cease applying baseless duties to Canadian softwood lumber."
"These duties have caused unjustified harm to the Canadian industry and its workers. They also amount to a tax on U.S. consumers, exacerbating housing unaffordability at a time of increased supply challenges and inflationary pressures."
"Canada intends to challenge the final results of the third administrative reviews, including through launching a dispute settlement process under Chapter 10 of the Canada-United States-Mexico Agreement ("CUSMA")."
"Canada's forestry sector is supporting hundreds of thousands of good, middle-class jobs for Canadians across the country, and we will continue to vigorously defend their interests through all available avenues, including litigation under NAFTA and CUSMA, as well as at the WTO. International tribunals have consistently found the U.S. duties to be unjustified, and we believe this will again be the case."
"Canada is a long-standing and reliable partner to the United States. Canadian lumber products have long met needs in the United States for high-quality, sustainable and innovative building materials."
"Canada has always been willing to work with the United States to explore ideas that could allow for a return to predictable cross-border trade in softwood lumber. We remain confident that a negotiated solution to this long-standing trade issue is in the best interests of both our countries, and we welcome an open dialogue with the United States to this end."
But the U.S. Lumber Coalition said in a prepared statement that it will "continue to support the continued enforcement of the U.S. trade laws to strengthen domestic supply chains by allowing American companies to invest and increase the overall supply of made-in-America lumber and will continue to aggressively pursue the enforcement of the trade laws."
"The U.S. industry remains open to a new U.S.–Canada softwood lumber trade agreement if and when Canada can demonstrate that it is serious about negotiations for an agreement that addresses Canada's unfair trade practices which are harming U.S. producers, workers, and timberland holders," the coalition said.
The U.S. Lumber Coalition's website says it represents about 500 U.S. lumber manufacturing facilities that support approximately 750,000 employees.
Earlier this year, the U.S. Department of Commerce reduced duties on Canadian softwood lumber imports from 17.9% to 11.64%.
In June, U.S. Trade Representative Katherine Tai testified at a hearing before the U.S. Senate Committee on Appropriations Subcommittee on Commerce, Justice, Science, and Related Agencies regarding the Biden Administration's trade priorities for fiscal year 2023.
Tai said that the administration was "open and interested" in negotiating a new Softwood Lumber Agreement with Canada to replace the previous agreement which expired in 2015. But on the same day, Treasury Secretary Janet Yellen said the Biden administration will not cut tariffs on Canadian lumber to fight inflation.
Yellen's remarks, reported by Reuters, were made while speaking with reporters during a visit Rosebud Sioux Tribe reservation in South Dakota.
Here's what NAHB Chairman Jerry Konter had to say about the lumber tariff situation earlier this summer:
"NAHB is extremely disappointed that the Biden administration is turning a blind eye to America's housing affordability crisis by refusing to eliminate tariffs on Canadian lumber at the same time it is considering rescinding tariffs on a wide range of Chinese goods to curb inflation. Tariffs act as a tax on American consumers and the lumber tariff is particularly onerous, given that it has contributed to unprecedented lumber price volatility that has sharply raised the cost of housing at a time when housing affordability is already at a more than 10-year low."
"Lumber tariffs affect millions of American home buyers and home owners. If the administration is truly interested in providing U.S. citizens relief from high inflation by removing costly tariffs, it should ensure that Canadian lumber is among the tariffs it targets for elimination."