Drexel to Build $27M Solar Robotic Truss Plant
Originally Published by: Drexel Building Supply — May 27, 2021
SBCA appreciates your input; please email us if you have any comments or corrections to this article.
In a small fox valley town, an employee owned building material retailer is set to build a $27 million dollar facility to build roof and floor trusses using only robots powered by solar energy.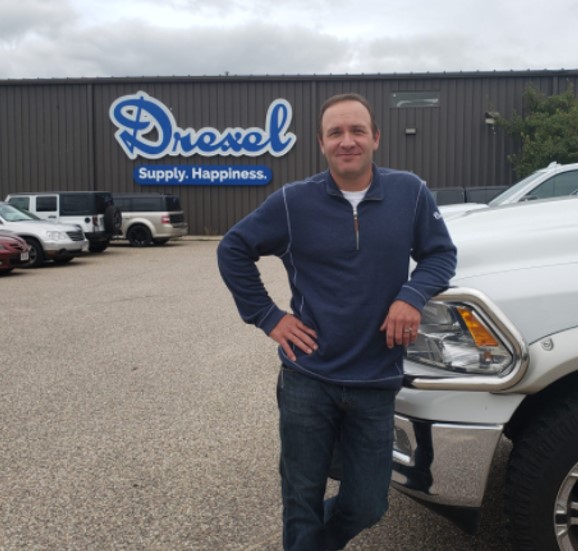 Does this story sound like a Netflix documentary or a Willy Wonka remake? It might sound that way, but Drexel Building supply is making this story a reality. Drexel Building Supply an employee owned company headquartered in Campbellsport, Wisconsin is set to launch just such an endeavour in Wrightstown, WI.
Jason Blenker, leader of the systems manufacturing side of Drexel works with his 200 people daily on this new adventure. "It will be something that Wisconsin has never seen before, and one of the few in our fine country. A solar run robot operated truss plant. We will be able manufacture over double our capacity with the same work force we have now. Costs and lead times will come down to our contractors. Just as important, quality will be measured in smaller increments, down to an ⅛". This is a really big deal to the builders currently working with us. It will give them a competitive edge."
In 2020, Jason's family sold their Blenker Building Systems division to Drexel Building Supply. It was a decision based on the love affair both companies have for the future of offsite construction. "Building everything from start to finish on site will be a thing of the past someday. We wanted to be on the forefront of that," states Andy Rettler, leader of Drexel Building Supply. "With a robotic factory we can tie in our design, to estimate, to build in a matter of a few days. Currently that may take months in our industry. This is the first of several moves to make offsite construction normal operating procedures for many builders."
Wrightstown was selected as the building site based on several key factors. "The Village of Wrightstown has been a fantastic partner to help us finalize our plans. They are pro-business and understand the importance of planning, developing and growing the right way while protecting their home town feel. It felt right to Drexel. It is also easy on and easy off the highway and centralized for our 6 building supply locations. Lastly, we will be going through roughly 6 rail cars of high quality lumber, mostly from Wisconsin and Canada every week. The railroad in Wrightstown is really needed for us," stated Ross Harter, plant leader of Drexel systems in Little Chute and Amherst.
Drexel will be relocating the team members in Little Chute to Wrightstown upon completion of the new factory. The people will not be eliminated but re-trained in how to use the robots. Drexel anticipates it will create opportunities for team members to grow in their careers.
"We have been all over the country looking at the best way to build roof and floor trusses. We have the best designers in the world ready to design complicated truss and floor designs in this factory. Our mission is to supply happiness, to somehow change the world. We think this will be something we can look back on, and say, yeah, we helped change the world for the better. Our excitement is very contagious on this project," proclaims Ross.
Drexel Building Supply plans to break ground sometime in 2021 on this project. Started with 4 people in 1985 and one location, Drexel now has over 600 people in 9 total facilities. Their mission to supply happiness has helped many in the community. For more information, you can contact the president of the company Joel Fleischman at joel.fleischman@drexelteam.com or his personal cell phone number: 920-979-4045.