Florida Custom Home Builder Acquires Truss Manufacturer
Originally Published by: Neal Communities — March 24, 2022
SBCA appreciates your input; please email us if you have any comments or corrections to this article.
Neal Communities, Southwest Florida's premier, private homebuilder, has acquired truss company HITEK.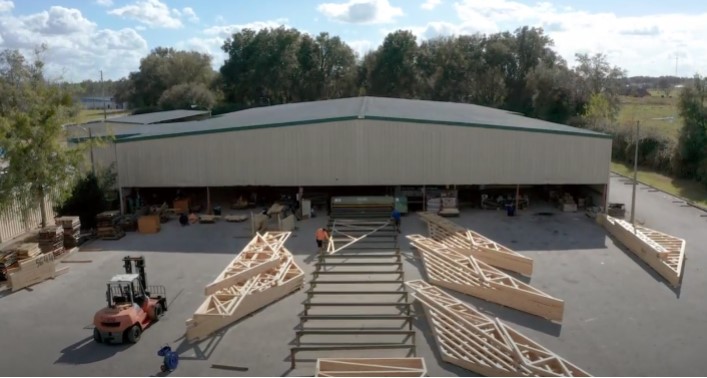 Based in Brooksville, Fla., HITEK was founded in 2004 by four custom homebuilders to supply high-quality trusses at a reasonable price in a timely manner. The company manufactures structurally engineered roof, floor and custom trusses made from the most dependable and durable lumber.
Neal Communities made this move due to the unprecedented level of supply chain and labor constraints impacting the housing market. Almost every component utilized in the construction of new homes has been affected, from windows and trusses to appliances. The availability of experienced labor has also become a challenge. These industry-wide issues have led to rising costs and reduced building capacity, all while homebuilders are facing record consumer demand.
"Given the current supply constraints in the building industry, this acquisition is a step toward alleviating the difficulties in the supply chain that we are experiencing," said Pat Neal, founder and chairman of Neal Communities. "The goal is to continue to improve the homebuyer's experience by building quality homes and delivering them on time. Acquiring HITEK will help us reduce delays for an important part of the building process."
The purchase was finalized in February 2022 with HITEK owner Derrick Rushnell, who purchased the company one and a half years ago. Rushnell will continue to manage the company, which will retain most of its current customer base and is adept in building a wide range of trusses. HITEK currently serves counties from the west coast to the east coast of Florida, as far north as Alachua County and as far south as Charlotte County.
Rushnell is from the Bradenton area and has known of Neal Communities and the company's dedication to quality for decades. "I know Pat and his high level of integrity," said Rushnell. "Pat asked if I would consider selling, and we reached an agreement quickly. It was easy to work with him and come together on the sale and purchase, and it feels like a decision where everyone wins."
This is not the first step that Neal Communities has taken in vertical integration. The Neal Family of Companies also includes Waterscapes Pools & Spas, Charlene Neal PureStyle Interior Design, Neal Communities Funding, Neal Signature Homes and Allegiant Title Professionals.