Hispanic Heritage Month: 84 Lumber Celebrates Truss Plant Manager
Date posted
September 26, 2023
Originally Published by: HBS Dealer — September 19, 2023
SBCA appreciates your input; please email us if you have any comments or corrections to this article.
Hispanic Heritage Month began on Sept. 15 and runs through mid-October.
The month recognizes and celebrates the contributions, diverse cultures, and histories of people of Latin American heritage living in the United States.
84 Lumber has shined the spotlight on one of its "outstanding associates" of different backgrounds — Jepherson Manuel Silva Gutierrez — who has achieved success and helps continue to push the industry and the 84 Lumber company forward. Gutierrez is the plant manager at 84 Lumber's Dunn, North Carolina facility.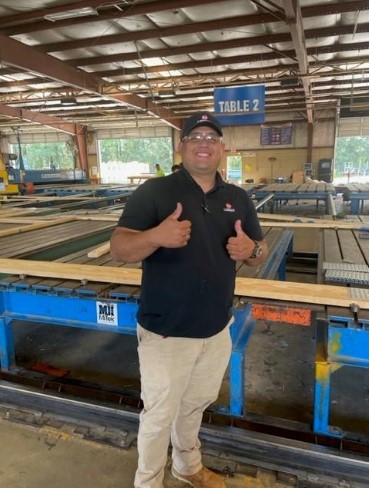 84 Lumber plant manager Jepherson Manuel Silva Gutierrez.
How has your Hispanic heritage influenced you?
Gutierrez: I am from Caracas, the capital and largest city of Venezuela. I was raised with good values ​​at home, good discipline through sports, and a focus on education, which provided a foundation of determination and respect. From an early age, I understood the importance of putting your whole self into everything you do. My background also cultivated a willingness to help anyone who needs it, and an eagerness to listen, learn, and understand the importance of teamwork. 84 Lumber's passion for people aligns perfectly with my values, and that is what makes me proud of being a part of this company.
What do you appreciate most about your Hispanic heritage?
Guiterrez: My Hispanic heritage shaped me in my upbringing and continues to influence my professional and personal life. When my family and I made a decision that was going to change the course of our lives drastically, not by choice, but by a need to temporarily distance ourselves from the political and civil unrest in my country, these values gave us strength and patience. We knew this country was full of opportunities, but we had to earn it. This journey began over eight years ago, and that is when my love for this industry and for this career began.
What is your proudest achievement?
Gutierrez: My greatest academic achievement so far has been earning a degree in public accounting, allowing me to practice this profession for three years in the city of San Felipe, the capital city of Yaracuy, Venezuela. I graduated from high school at 16 years of age, after which my parents also sent me to London to learn English, which has helped me in my life and profession here in the United States. But my greatest achievement to date has been being a part of the 84 Lumber team in Dunn, North Carolina.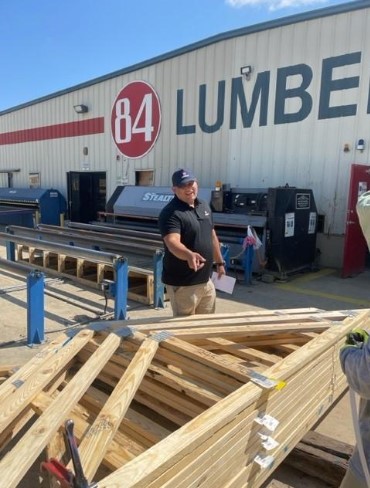 Gutierrez at the manufacturing facility he manages in Dunn, North Carolina.
How did you get into the construction industry?
Gutierrez: My first job in the U.S. was in Groveland, Florida, within the construction industry. That gave me the opportunity and support to start this great career. I had no experience and started as a stacker, but thanks to the values instilled in me years before, little by little, I was able to learn various positions such as floor assistant, table leader, quality control, area supervisor, production manager, foreman, and others. I was always advancing with the support of colleagues and superiors. I moved on to other jobs where I learned new skills and learned more about the opportunities this industry affords. I am the type of person who thinks that opportunities are always there – you just need to know when to take them. 84 Lumber was one of those opportunities.
What is your current role at 84 Lumber?
Guiterrez: I have been a plant manager in Dunn, North Carolina, for about a year and a half and am responsible for all aspects of component manufacturing and the management of associates employed within the plant. Maintaining safety is a top priority, as is determining the type of materials, supplies, machinery, equipment, tools, and techniques needed to complete each project. I am preparing myself to become the next general manager at one of 84 Lumber's locations. My culture instilled in me the respect and patience I needed to succeed; therefore, I am a proud Venezuelan, who, little by little, with effort and dedication, and with the support of family, aspires to go further and further – to grow more and learn more.
What advice might you have for others interested in a career in construction?Guiterrez: Be willing to learn. There is no better approach to construction work than a willingness to gain knowledge and experience through hands-on work. You can achieve your objectives. While there are challenges and opportunities that an immigrant encounters, you must persevere – always with a smile and the desire to be better every day. It is important to listen. Patience is one of the values that is important to have in this career. My other advice: If you are looking for an opportunity for a lifelong, fulfilling career at a company that supports family values, stability, and the idea that "nothing is impossible," then I recommend looking at 84 Lumber.
What has your immigrant experience shown you?
Guiterrez: Even through difficulties, stay positive. The challenging times our people have faced make it possible for us to approach every day with renewed optimism and perseverance. We believe that hard work and dedication are the keys to forging a better future, and we do not take opportunities and good fortune for granted.
Founded in 1956 and headquartered in Eighty Four, Pennsylvania, 84 Lumber Co. operates 310 facilities which include stores, component manufacturing plants, custom door shops and engineered wood product centers in 35 states.
84 Lumber also offers turnkey installation services for a variety of products, including framing, insulation, siding, windows, roofing, decking and drywall.
The prodealer is a certified national women's business enterprise owned by Maggie Hardy.