LBM M&A Activity Remains Strong Despite Lack of Big Players
Date posted
September 26, 2023
Originally Published by: Webb Analytics — September 12, 2023
SBCA appreciates your input; please email us if you have any comments or corrections to this article.
LBM facilities acquired (blue pins), opened (green), or closed (red), YTD 2023. Not shown: One opening and one deal in Alaska, two acquisitions in Hawaii. Source; Webb Analytics
The start of September saw a small upturn in construction supply acquisitions and openings, but the rise wasn't enough to disrupt three trends we've seen so far this year compared with 2022: 1) Roughly the same number of facilities are changing hands in deals; 2) The number of greenfield openings continues to rise, and; 3) Where have the big lumberyard deals gone?
Through Sept. 13, we've seen 315 construction supply facilities--eight more than on 2022's same date--acquired in 96 deals involving 62 buyers. Meanwhile, the number of openings year-to-date has shot up to 183 vs. 135 by this time last year.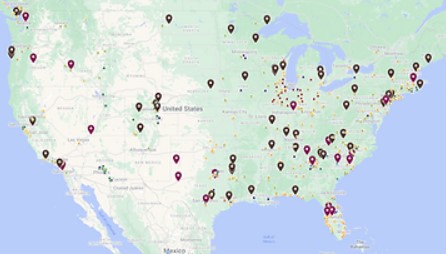 Lumberyard facilities (black pins) and components plants (red) acquired or opened YTD 2023. Source: Webb Analytics
Forty-three of this year's acquired facilities were lumberyards and component plants, and they were purchased in 30 transactions. That works out to 1.4 locations per deal. In contrast, for all 2022 the average in the lumberyard/component space was 2.5 facilities per deal. Last year saw US LBM buy Foxworth-Galbraith's 40 locations and Builders FirstSource take over the 18 facilities of New England's National Lumber. This year, no deal in the lumberyard/components space exceeded the five yards that changed hands when BFS bought Noltex Truss and when US LBM sold five Direct Cabinet Sales stores.
Among recent actions involving all types of dealers:
Spahn & Rose expanded to Alabama for the first time by acquiring CIty Lumber of Huntsville.

Nation's Best Holdings bought Adams Building Supplies, which has yards in Toccoa and Hartwell, GA.

The Building Center, based near Charlotte, NC, bought Mountain Lumber of Boone, NC.

84 Lumber's new components plant in Winter Haven, FL, is expected to open any time now.

Westfield (NJ) Lumber & Home Center is slated to debut on Sept. 30.

SRS Distribution's Heritage Landscape Supply Group bought Urban Farmer Store, a landscaping/irrigation specialist with three outlets in Northern California and one in Hawaii.
SiteOne Landscape Supply made construction supply's biggest acquisition, taking over the 36 Pioneer Landscape Centers in Colorado and Arizona. SiteOne also purchased New England Silica of South Windsor, CT; Timothy's Center for Gardening, based in Robbinsville Township, NJ; and Regal Chemical, a manufacturer of products used in lawn care.

Beacon bought S&H Building Materials of Medford, NY, and opened a branch in Grand Haven, NY, while Beacon unit Dealers Choice Distribution set up shop in Joplin, MO.

ABC Supply opened branches in Bloomington, IL; Kokomo, IN; Reno, NV; and Bonita Springs, FL.