Home Builders Continue to Lobby Congress on Affordability
Date posted
September 20, 2022
Originally Published by: NAHB — September 15, 2022
SBCA appreciates your input; please email us if you have any comments or corrections to this article.
NAHB First Vice Chairman Alicia Huey today participated in the New Democrat Coalition's Housing Roundtable and outlined headwinds facing the housing industry as well as urging lawmakers to enact specific policy solutions to ease the nation's housing affordability woes.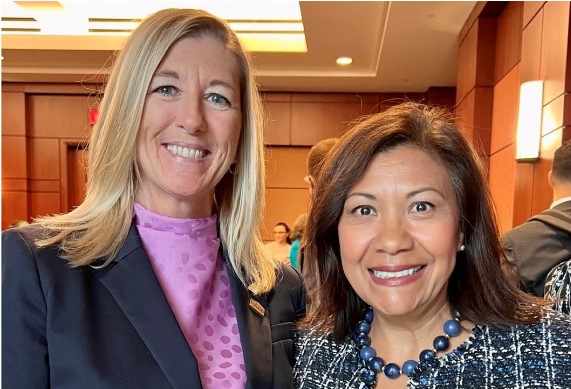 NAHB First Vice Chairman Alicia Huey with Rep. Norma Torres (D-Calif.)
Huey cited a number of factors that have considerably slowed home building since the start of the pandemic:
Building material prices have jumped more than 35% since January 2020, and 80% of that increase has occurred since January 2021. For example, steel mill prices are twice their January 2021 level, gypsum is up 22% and exterior paint is up 50%.
Skilled trade labor shortages are making housing more expensive and increase the time it takes to build a home.
Rents are on the rise due to a lack of housing supply, and higher interest rates have pushed the average mortgage rate to 5.9%, the highest level since 2008.
"In fact, housing affordability has fallen to a decade low," Huey told lawmakers. "The July median home sales price is $428,700, an increase of $58,900 from just a year ago. And seven out of 10 households cannot afford a new, median-priced home."
To combat the growing housing affordability crisis, Huey urged the New Democrat Coalition to call on the Biden administration to suspend tariffs on Canadian lumber and immediately enter into negotiations with Canada on a new softwood lumber agreement.
Huey also called on Congress to play an important role on the labor supply issue by ensuring that vocational training opportunities stand on the same footing as a four-year college path.
NAHB has also been working closely with lawmakers to highlight how building material production bottlenecks and rising lumber prices are harming home builders and home buyers. Huey specifically noted the efforts of Rep. Norma Torres (D-Calif.), who has consistently cited the urgent need to resolve America's housing affordability challenges.
"Rep. Torres, I want to thank you for the many times you have spoken out on lumber costs and their impact on housing affordability, especially the numerous times you have appeared on the House floor to speak on our behalf," said Huey.