'Idea House' Experience Underscores Material Challenges
Date posted
September 28, 2021
Originally Published by: Builder Online — September 7, 2021
SBCA appreciates your input; please email us if you have any comments or corrections to this article.
Significant progress has been made on the Ultimate Idea House. The project is now approaching the rough-in phase of construction. However, unrelenting pandemic-related shortages in materials and labor continue to lengthen the construction schedule. Despite suggestions to build the home with less stringent criteria in order to make up for delays, the house will be built according to the quality standards originally planned. Developed in accordance with Residential Energy Services Network (RESNET) criteria, the house will be well-insulated, air-sealed, blower door–tested, HERS-rated, and presented at RESNET's Building Performance Conference.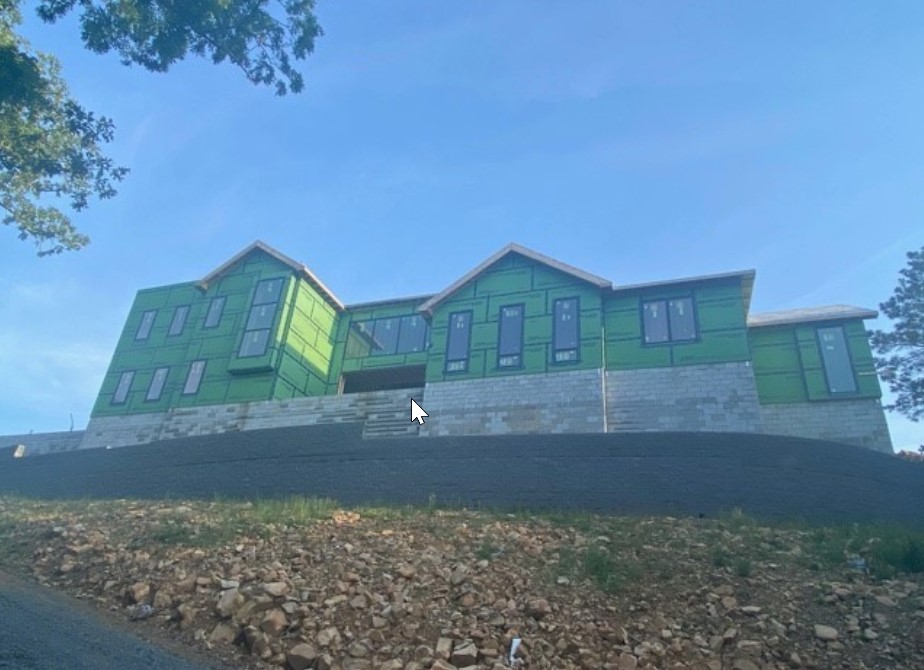 Courtesy BYHYU
Since the last update, the home's frame has been completed and the windows and roof installed. Framing took longer than anticipated because of back-ordered framing members, including out-of-stock engineered wood beams specified by the project's structural engineer. Three-and-a-half months into the wait for those beams, a decision was made to cancel the order and tweak the design to include more readily available steel framing components.
Steel beams were delivered about two weeks after they were ordered. Ironically, at the very same time, from the very same delivery truck, the originally ordered wood beams were also dropped off at the jobsite. The short-staffed supplier had failed to cancel the initial wood beam request.
Not only has engineered wood been hard to come by, but almost all other categories of building materials are back-ordered, including plumbing fixtures, especially toilets; custom cabinets; fireplaces; insulation; architectural stone; lath material for stone veneer and stucco application; HVAC equipment; hardwood flooring; gypsum board; roofing materials; and kitchen appliances. An additional two weeks to five months in turnaround time is now common for most construction materials.
The Energy Star windows for the house were ordered at the end of 2020, so they were manufactured and waiting in the warehouse before they were actually needed this summer. There was, however, one small mistake. Windows with jamb extensions were mistakenly ordered when the specifications called for windows with drywall returns. Thankfully, the jamb extensions could be easily removed from the windows before installation.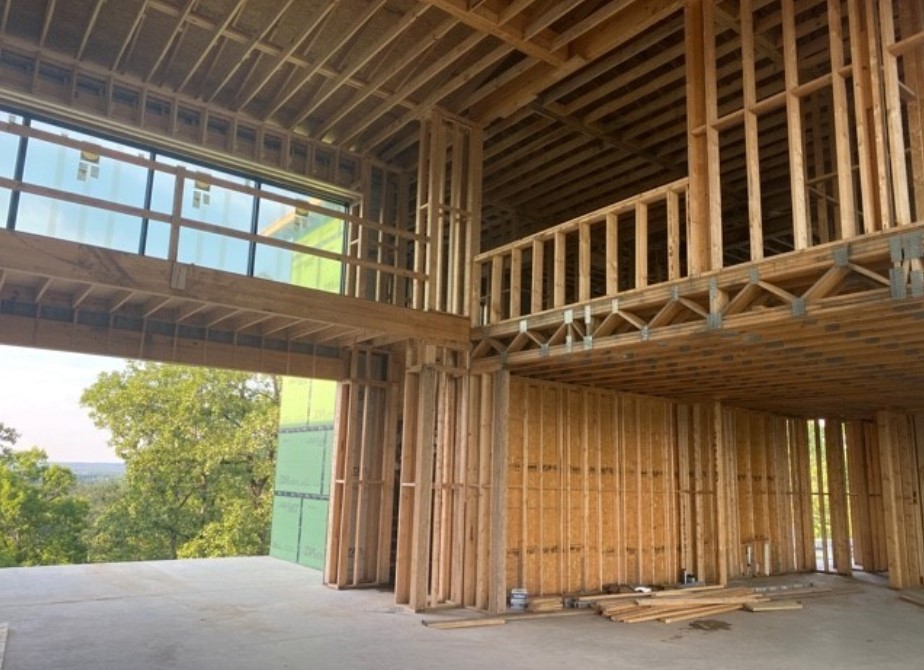 Courtesy BYHYU
Although framing carpenters often install windows in residential projects, the window manufacturer's dedicated, local installation crew was hired because of all the specialty windows in this home. There is a 14-foot feature window in the stairwell. Oversized picture windows are included in the primary bathroom and kitchen banquette area. And posing the greatest possible challenges were the two sets of 20-foot by 10-foot multi-slide patio doors that pocket the north and south walls of the great room.
Hiring the dedicated window installation crew was more expensive than having the framers install the windows. However, that decision decreases risks of potential problems. First, because a brand's dedicated window installers have more experience with and fewer questions about their company's products. And second, because with any window failures that might arise, only the manufacturer is responsible for repairs and replacements. Proverbial finger pointing is completely avoided when only one entity is responsible for a product.
The main drawback to hiring the dedicated window installation crew was having to wait for an opening in their schedule. It took more than six weeks to get the installers on-site. Because residential construction is booming, laborers of all kinds are in short supply. The problem is seemingly worse in smaller cities like Little Rock, Arkansas.
Personnel shortages are so prominent that the owner of one of the local lumber yards has reportedly been doing the physical labor of filling orders. That owner said he can't find people to work. Too few workers have made it difficult to even get pricing for materials.
It took three-and-a-half weeks and multiple phone calls to local hearth stores to get a couple of quotes for fireplaces. And a request for a second HVAC bid was met with a surprising, but polite "thank you, but at this time, we don't have the staff to take on any more new construction jobs."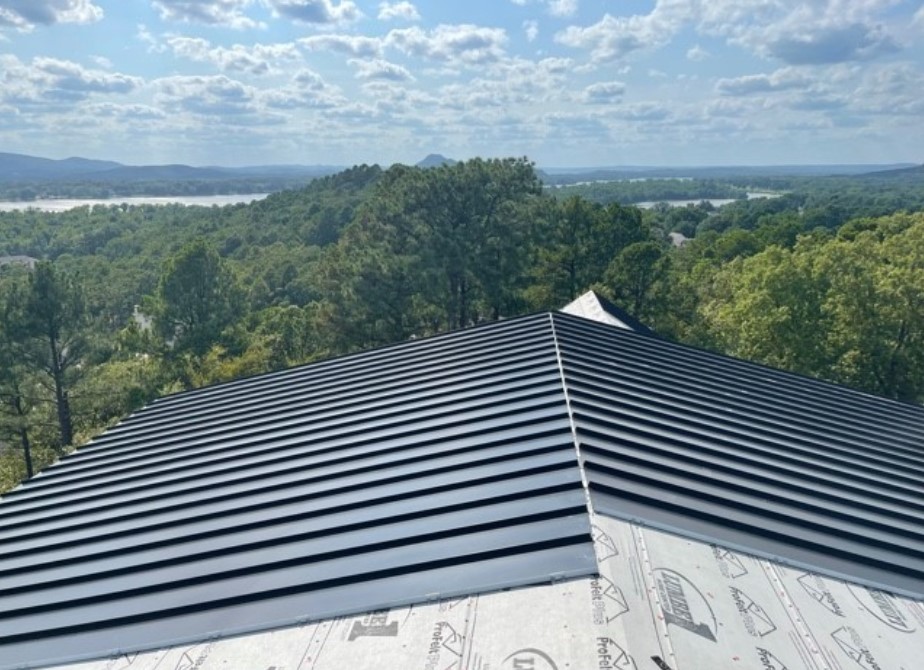 Courtesy BYHYU
In addition to COVID infections and quarantines temporarily taking people out of the workforce, some argue that COVID-related stimulus checks and enhanced unemployment payments have demotivated potential laborers. The home building workforce is suffering even more than usual. The Ultimate Idea House's roofing contractor, for example, had three workers quit just before they were to start on the project. As a result, installation of the home's standing seam metal roof has taken about twice as long as originally planned. The energy efficiency and longevity of a metal roof make the selection worth the wait, though. A quality metal roof can last over 50 years.
Another resilient metal element included the home's design is wood grain aluminum cladding. Natural wood is beautiful, but it can be high maintenance. To get the beauty and warmth of wood without the maintenance, graying, and deterioration that are more intense in warm, rainy climates like Central Arkansas, Royal Building Product's Cedar Renditions will be used. This realistic-looking, wood grain aluminum cladding will go on feature windows and soffits. It is a perfect solution for the home's aesthetic and sustainability goals.
Other products chosen for their low maintenance and sustainable characteristics are the glass pivot entry door and an aluminum and glass garage door. These glass products won't warp or deteriorate in the region's humid climate. Because of the home's tight building envelope, not just any exterior doors would do. A high-performance Red Horse Pivot Door was selected because of its energy-efficient glass and its resistance to air infiltration. And a glass and aluminum Overhead Door garage door with weather barrier vinyl seals will adorn the garage. These doors will add to the home's contemporary style and resistance to the elements.
As construction continues, future updates of this case study project will highlight lessons learned and solutions to problems. Perhaps the greatest lesson so far has been that during this unprecedented time of shortages and unpredictable schedules, patience and flexibility are imperative. To learn more about the house and follow its progress, look for project updates at Builderonline.com, BYHYU.com/ultimateideahouse, or on Instagram @ultimateideahouse.