Industry Mourns Loss of Pioneer Koss Kinser
Date posted
August 30, 2022
Originally Published by: Legacy — August 29, 2022
SBCA appreciates your input; please email us if you have any comments or corrections to this article.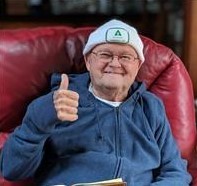 Koss Edward Kinser, loving husband, father, grandfather, brother and uncle, passed away on the evening of Aug. 20, 2022, of complications from chronic kidney and heart disease. Born Oct. 10, 1935, in Buckner, Ky., he was a long-time resident of Pewee Valley and a lifetime resident of Oldham County. He was a man of deep Catholic faith and an active member of St. Aloysius Church for over 60 years. He was deeply engaged with the community through his involvement for over 45 years with the South Oldham Lions Club Service Organization and over 30 years with the Pewee Valley Volunteer Fire Department, Firefighter 1968-2002 / Assistant Chief 1971-1988 / 1st Treasurer of the Oldham County Fire District Board 1974. Professionally, he was a past president of the Wood Truss Council of America (WTCA) and founded Kintec Wood Truss Manufacturing Inc. in 1976 with his wife, Mary Jane, and ran it as President and CEO for over 40 years.
Koss was preceded in death by his parents, Lillian and George Kinser, and six brothers.
He is survived by his loving wife of 60 years, Mary Jane; his children, Keith (Renee) Kinser, Daniel (Stephanie) Kinser, Annette (Pat) Klanac, and Kevin Kinser (Julie Urban); his grandchildren, Madeline, Kyle and Michael Kinser, Phoebe and Calista Kinser, Samuel, Margaret and Robert Klanac; and his two sisters and three brothers, Mary Jane Miller, Joyce Carpenter, John Kinser, Bobby Kinser and Larry Kinser.
Visitation will be held at Stoess Funeral Home Wednesday, Aug. 24 between 4-8 p.m. Visitation will also be held on Thursday, Aug. 25 between 10-11 a.m. at St. Aloysius Catholic Church in Pewee Valley, Ky. followed immediately by the Funeral services at 11 a.m. Koss will be laid to rest in St. Aloysius Cemetery. Condolences may be made at www.stoessfuneralhome.com.
In lieu of flowers, the family asks that a donation be made in Koss' name to St. Aloysius or South Oldham Lions Club / Lions Club International.
Donate to St. Aloysius - https://membership.faithdirect.net/KY904
Donate to South Oldham Lions Club - http://www.southoldhamlions.club/contact-us.html
Donate to Lions Club International - https://www.lionsclubs.org/en/donate