Lenny Sylk: An Industry Champion
Date posted
March 15, 2023
Founding Fathers of the Truss Industry, Part 4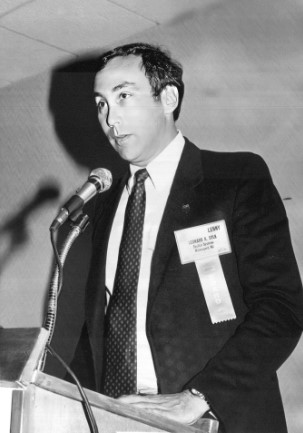 From his start in 1967, Lenny Sylk raised the stature of the structural building components industry. Over the next 30 years, he did it by relentlessly improving design and production systems, creating a strong trade association with his peers, and being its tireless advocate. He also did it by proving the measurable value of componentized floors, walls, and roofs. Lenny celebrated the value of all those structural framing systems by renaming his company "Shelter Systems." Yet, he started in a very inauspicious way.
Early Entry into the Truss Business
Lenny got involved with the truss business with no prior experience, but with sterling credentials, including degrees from Penn's Wharton Business School and an MBA from Columbia University. Rather than seeking work at one of New York's or Philadelphia's prestigious firms, he decided to start his own, like his father had done building a successful chain of drug stores. He and a school colleague began by taking over a small shop that built ping pong tables, and then a second venture that made wood furniture. Finally, they checked out a nearby lumberyard that was building roof trusses.
Shortly thereafter, Lenny attended the annual National Association of Homebuilders Show (now called the International Builders Show, or IBS) in Chicago to learn more. He connected with Hydro-Air's machinery and services, which had gained popularity in many northeastern lumberyards, and returned home to construct a building to house his new equipment.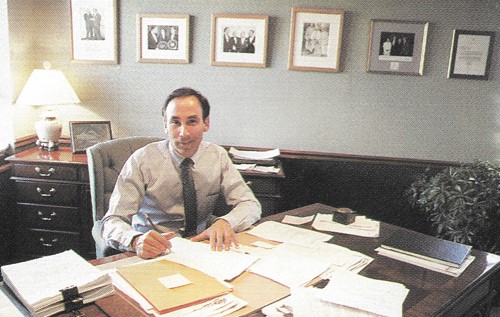 Lenny Sylk, 1989
Constructing that building nearly ended in disaster, when a forklift accident caused the trusses to collapse on Lenny. Fortunately, by diving under the frame of a DeWalt saw, Lenny escaped near certain death. But the rest of the project went smoothly, and soon Lenny launched his roof truss operation, which he named Material Fabrication Corporation (MFC). He quickly ramped up production and was just beginning to reach his stride when lightning struck the building, burning it to the ground. Undaunted, he acquired a much larger tract of land with a rail siding to lower freight costs, in Hainesport, New Jersey, which had excellent access to all major transportation arteries.
Innovating to Overcome Early-Adoption Obstacles
At the time, the Philadelphia metro area was growing by 40,000 residents per year, and housing construction was robust, especially in the southern New Jersey suburbs surrounding Lenny's plant. However, he faced stiff resistance from the carpenters' union, requiring him to reach out to surrounding markets to increase sales. But nearly every new jurisdiction required special engineering, and all New Jersey orders required that truss drawings be certified with a raised, embossed engineering seal.
Lenny also confronted the strict requirements of the building departments in areas around New York City and Baltimore, which required his staff to contact Hydro-Air by phone for each project, describe its parameters and the shape of each truss, then wait several days for results to be returned over the phone, and then wait even longer for the sealed drawings to arrive in the mail. Because the cutting had to be determined by referring to Smoley's tables and reformatted to match saw configurations, he had to hire a large drafting and design staff. He quickly realized he had to bring all estimating and engineering in house, and automate processes with an eye toward future computerization.
"Others came up with the ideas, but I put them into action," said Lenny during a recent conversation. When future Hall-of-Famer (HOF) Dave Chambers brought John Houlihan into his Chicago facility, Lenny hired a local time and motion study expert to establish MFC production standards.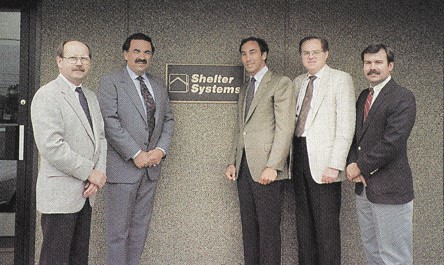 Shelter's management team , 1989, including (L to R) Dennis Foss, Dwight Hikel, Lenny Sylk, Ed Maul, and Tom Harvey
Lenny then made several forward-thinking changes to expedite production, including a car wash-type chain conveyor over the length of his building to move lumber into jig stations and completed trusses out of the building. He replaced Hydro-Air's electro-magnets with permanent ones to eliminate fault-prone electrical connections. Overhead cranes were hung over truss jigs, enabling trusses to be stacked by a single person. On-table splicing jigs were installed on floor truss tables. A rough opening assembly station, stocking cart, and a unique slide were installed on the wall panel line. A homemade Holtec-like bunk-cutter was installed to eliminate "drops" at the component saw. The saw was retrofitted with cameras so the operator could monitor blade settings without moving to the opposite end of the saw, a time-consuming effort necessitated by its design.
However, these improvements dwarfed in comparison to those made in the back office, where detailed estimating and plant management systems, which would ultimately be automated, were being developed. After honing his internal processes and shop floor operations to a high degree of efficiency over his first decade, Lenny then embarked upon an unprecedented business expansion.
Expanding Operations and Influence
In 1976, Lenny's first new venture was a 14,000 sq. ft. truss plant located northwest of Baltimore, where he partnered with Chris Ditzel and future SBCA Hall of Fame (HOF) member Dwight Hikel. The following year, Lenny went further south to open a facility in Fredericksburg, Virginia, completing his encirclement of the fast-growing Washington, DC region. After both those operations were running well, Lenny ventured into the booming oil patch around Houston, Texas, relocating a young go-getter named Jack Dermer, another future SBCA president and HOF member.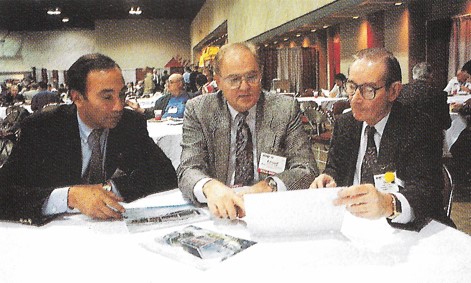 Looking over renderings and floor plans of homes exported by Shelter Systems of New Jersey, 1994,
(L to R) Lenny Sylk, Ed Maul, and Don O. Carlson.
1979 proved to be a pivotal year for Lenny, as he launched two highly consequential initiatives. First, he renamed his business Shelter Systems, focusing on the value of a fully-componentized home. Second, he formed a new company, Forest Products Industries (FPI), dedicated to making truss plants self-sufficient in estimating, engineering, and cutting capabilities, and featuring the first in-house computer workstation. This offering was usually bundled with truss plate sales and sealed engineering services, and included several Hainesport production programs. After ten years of painstaking development, Lenny finally achieved his goal of expediting his back office, so that, as his marketing materials stated, "What took several days could now be done in 90 seconds."
When Lenny ascended to the presidency of the Truss Plate Institute's (TPI) Component Manufacturers Council (CMC), he guided the members towards his longtime goal of independence from suppliers. In 1983, Lenny, along with twelve of his peers, created the Wood Truss Council of America (WTCA), which was later renamed the Structural Building Components Association (SBCA), dedicated to the advancement of the component manufacturing industry.
In 1985, Lenny highlighted the value of his products in the first demonstration of its kind. In his "Great American Build-Off," two identical 1200 sq. ft. houses were erected side-by-side on his property, one framed with components and the other stick framed. The componentized house was framed 3-1/2 times faster than the stick framed house, proving the efficiency of engineered components. The value of this demonstration was evident not only to the 300 attendees of the event, but also to countless others through his subsequent sales and marketing efforts. The "Build-Off" was so successful that, five years later, it was replicated by WTCA at the annual NAHB Show, with equally impressive results that were viewed by a greatly expanded audience of home builders. It was rechristened "Framing the American Dream."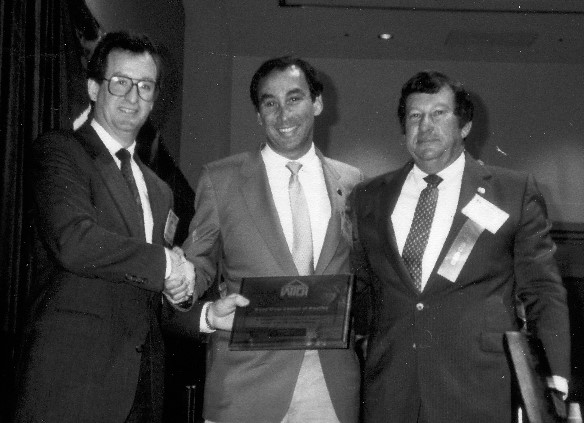 Inducted into SBCA's Hall of Fame in 1990 (L to R) John Herring, Lenny Sylk, Staton Douthit.
In the mid-1980's, Lenny also took the Shelter System technology west to St. Louis and Denver, attracting two future SBCA HOF members, Dick Marriott and Mike Ruede, and, in 1988, to the west coast by purchasing Trus-Com of Northern California. As a result, Lenny topped the Automated Builder list of top CMs with $46 million in sales (approximately $120 million in 2022) and was elected president of SBCA.
Under his leadership, SBCA made huge financial commitments to promoting the industry to architects and builders, including publishing a second edition of the Metal Plate Connected Wood Truss Handbook. Lenny continued his advocacy for the independence of association, saying, "When the time is right, we will attain our proper and destined position as industry spokesman and the primary source of industry-related promotional, technical and informational data, as in every other industry association." Today's Digital QC initiative is just one example of his prescience.
In the late 1980s, Lenny launched another unprecedented initiative, the 30-Year Structural Home Warranty. This not only reassured builders and their customers, but also clearly illustrated Lenny's unshakeable confidence in his product.
By 1990, Lenny came to the realization that most of his FPI software users were in markets that competed with his own plants, leading him to remove FPI from the market. Not long afterwards, his associated truss plate business was puchased by MiTek. Lenny then began to focus on managing his nationwide network of plants that had expanded 40% in just three years. That same year, Lenny became an SBCA HOF member. He was also selected for a presidential mission to the soon-to-become Russian Republic, assisting in the development of a private housing sector and meeting with President Gorbachev and the presidents of the newly formed Russian republics.


Shelter's 20th anniversary celebration included the "Great American Build-Off," erecting duplicate 1,200 sq. ft. homes, one with two men and components and one built with five men and sticks.
Overseas Success and Succession
In the early 1990s, as U.S. housing hit a 50-year low and Texas Shelter Systems had to be closed, Lenny turned his attention to gaining more overseas work, capitalizing on opportunities he uncovered during his leadership with NAHB. Once again, he had to overcome skepticism, this time on the efficacy of wood wall framing over masonry construction. Shelter personnel took a group of Germans to a 15-year-old apartment project, removed some drywall, and showed them the "like new" condition of the studs, thereby securing their order.
With the logistics and contract expertise gained from this and prior projects, Shelter was able to amass over $10 million in profitable sales to Israel, Russia, and other remote destinations, just as a competitor, Crestmanor Homes, was bankrupted by the challenges of doing business abroad. And even when foreign business became less crucial due to the rebound of U.S. housing, Shelter's mastery of long distance shipping became a lasting benefit.
Throughout the 1990s, while continuing to grow his business, Lenny remained the most influential spokesman at industry events, and frequently hosted tours at his plants. When two of the most celebrated CMs in the Carolinas, Gifford Shaw and the late Calvin Hall, visited Hainesport, Gifford remarked, "We better hope Lenny doesn't come to the Carolinas because he'll kick our rear!"
As the new millennium arrived, the task of overseeing the intricate Shelter Systems operations across the country was no longer palatable to Lenny. He negotiated with his local partners to take over his plants and carry on the legacy of his operational excellence.
Few have been as dedicated as or made a more lasting impression on the truss industry than Lenny Sylk. And no one else has nurtured more SBCA HOF members and business owners, or been as dedicated to the independence of the association.
About the Author: Joe Kannapell began his career in the truss industry with Hydro-Air Engineering over 50 years ago. His final promotion to Senior VP of Sales at MiTek reflected his life-long commitment to serving component manufacturers and bettering the industry. In retirement, Joe isn't slowing down. One of his passions is to record and preserve the history of our industry. This article is the third installment in his series on some of the industry's founding fathers that he knew well. If you'd like to contribute to this effort, please reach out to us at media@sbcacomponents.com.