Lumber Capacity Slow to Grow Despite Current Market
Originally Published by: Wall Street Journal — May 17, 2021
SBCA appreciates your input; please email us if you have any comments or corrections to this article.
North America's sawmills can't keep up with demand, which has sent wood prices on a meteoric rise. Don't expect new mills to start popping up though.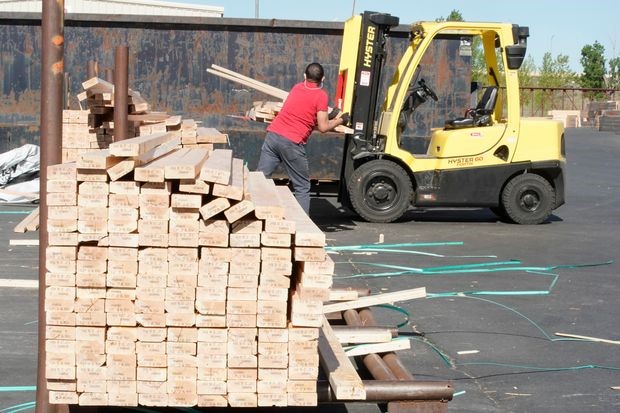 Executives in the cyclical business of sawing logs into lumber said they are content to rake in cash while lumber prices are sky-high and aren't racing out to build new mills, which can cost hundreds of millions dollars and take two years to build from the ground up.
In doing so they are breaking with conventional wisdom in the commodities business, which states that the cure for high prices is high prices. Usually when prices for raw materials rise, refineries and smelters ramp up, farmers plant larger crops, wells are drilled, mines dug. New supplies flood into the market and prices retreat.
Home buyers and do-it-yourself-ers, who are paying more than four times the normal price for lumber, would like for that to happen. But they are flush thanks to historically low borrowing costs, rising home values and government stimulus. Demand has been unbowed by escalating prices.
Lumber futures have fallen from last week's all-time highs, when two-by-fours for May delivery hit $1,711.20 per thousand board feet. Yet with July futures ending Monday at $1,327.00, they remain more than twice the pre-pandemic record. Meanwhile, cash prices for framing lumber and structural panels reached new highs, according to pricing service Random Lengths.
Mill companies including Weyerhaeuser Co. and West Fraser Timber Co. have set nine-figure budgets to boost efficiency and output at their existing mills, particularly in the South where there is a glut of cheap pine timber. Some forest-products executives said they are considering acquisitions with their fast-accumulating cash. But there aren't many new mills on the drawing board for North America.
Demand for lumber has skyrocketed during the pandemic, sending prices to all-time highs. This video explains what's driving the lumber boom, who's profiting, and why those growing the trees aren't reaping the benefits. Illustration: Liz Ornitz/WSJ
"We are going to be ultra cautious on what we do in those regards," Canfor Corp. Chief Executive Don Kayne told investors last month when the company reported record quarterly profits. "We don't mind at all having a little extra cash around for sure, considering what this industry goes through."
U.S. lumber-making capacity has risen about 11% over the past five years, according to Forest Economic Advisors LLC. New mills in the pine belt between Georgia and east Texas have helped offset closures that have shrunk Canada's capacity, but there isn't much coming behind them. Idled facilities are restarting in Florida and Mississippi. A couple small mills are under construction out West. Four bigger mills have been announced but not begun in the South, the firm said.
Chad Hesters, who advises forest-product executives and investors as managing partner in the Houston office of consulting firm Korn Ferry, said the lumber boom has prompted clients to ask about building mills. He said he tells them they are too late.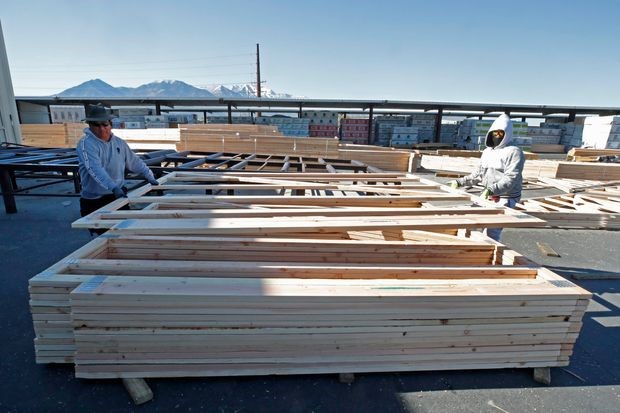 Companies that buy wood from mills have been limiting orders for fear of getting stuck with inventory. A truss manufacturer in Spanish Fork, Utah, last week. PHOTO: GEORGE FREY/GETTY IMAGES
Besides the time and money it takes to build a modern mill, equipment, from microprocessors to heavy machinery, is in short supply. So are the sort of workers needed to operate a computerized mill, especially in the rural places where timber is abundant, Mr. Hesters said.
"Trying to build capacity and make investments that have a lot of lead time at the top of a cycle is historically a good way to lose money," Mr. Hesters said.
U.S. wood-product manufacturing peaked in January 2006, according to the Federal Reserve. A sharp decline that year foreshadowed the housing market's collapse. The least efficient mills shut down while others were consolidated. Big Canadian sawyers West Fraser, Canfor and Interfor Corp. have spent billions of dollars modernizing mills in the Southern pinelands ever since.
An example is in Summerville, S.C., where Interfor is boosting output at a lumber mill that it bought in March from a cardboard maker. The lumber boom has pushed up asking prices for mills, though, which may impede deals like that, forest-product executives said.
Meanwhile, stock analysts are advocating for mill companies to return cash to shareholders. BMO Capital Markets analyst Mark Wilde said it is hard to see how mill companies can spend their windfalls without destroying value, given the frothy market.
"It's a lot of sailors hitting the town with a lot of money in their pocket, so silly things can happen," he said on Canfor's earnings call. He applauded Interfor's move Wednesday to pay a special dividend of $1.65 a share.
Added shifts and new equipment should increase output on the margins, but mill executives expect supplies to remain tight and for prices to remain high into next year.
"Even if there was an opportunity to build inventories, distribution channels would be reluctant at current market prices," said Bart Bender, Interfor's head of sales and marketing.
Companies that buy wood from mills to distribute to builders, manufacturers and retailers have been limiting orders to exactly what customers need for fear of getting stuck with high-price inventory and falling prices, said Michael Goodman, whose family owns and operates Sherwood Lumber Corp.
The Melville, N.Y., company annually sells about a billion board feet of framing lumber to truss manufacturers, building-supply companies and shipping-crate makers. The firm doesn't expect additional supplies before late next year or even 2023 and has been trying to manage its risk in the white-knuckle market by taking positions in the futures market.
"This is our job," Mr. Goodman said. "We're a middleman. We can't not have stuff on the shelf."