Lumber Prices Recover on Stronger-Than-Expected Starts
Date posted
March 22, 2023
Originally Published by: Markets Insider — March 16, 2023
SBCA appreciates your input; please email us if you have any comments or corrections to this article.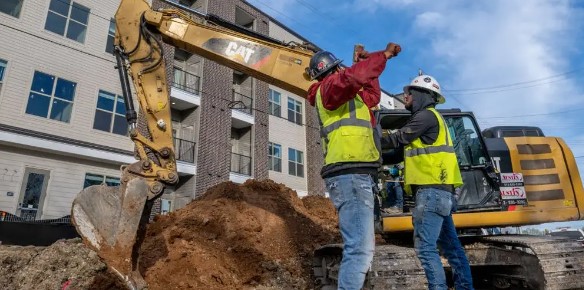 Construction work on a new apartment building in Austin, Texas. Brandon Bell/Getty Images
US housing starts surged in February, with the upside surprise boosted by falling lumber prices in the month.
Construction projects pushed through a period of rising mortgage rates.
Lumber prices climbed Thursday to trade above $400 per thousand board feet Thursday.
Data for February showed that new housing construction spiked unexpectedly in February, aided by falling lumber prices during the month while mortgage rates continued to tick higher.
Lumber prices jumped Thursday following data showing housing starts on single-family and multi-family homes surged 9.8% last month to 1.45 million units on a seasonally adjusted annual rate, according to data from the Census Bureau.
The result overshot median projections of 1.31 million units in a Bloomberg survey of economists.
Lumber prices rose 5.8% to $438.60 per thousand board feet.
The government's report showed a 24% rise in starts for multi-family units, or apartment buildings, to 620,000 fronted February's gain in housing starts.
"New residential construction reflected improving builder optimism and declining lumber costs in February, even during a month of rising mortgage rates," George Ratiu, senior economist at Realtor.com, wrote Thursday.
"Lumber prices have returned to pre-pandemic territory, hovering around $400 per thousand board feet over the past few months, a noticeable decline from last year," he wrote.
Lumber prices plunged more than 60% year over year from February 2022 when futures contracts for the building product commanded more than $1,000 per thousand board feet. Rising mortgage rates and recession fears have dragged prices nearly 70% lower in the last year.
Mortgage rates were kicked higher throughout February as a blow-out January jobs report and hotter-than-anticipated monthly data on consumer prices underpinned expectations the Federal Reserve would continue raising interest rates.
The 30-year fixed-rate averaged 6.65% at the end of February from just above 6% at the start of it, according to Freddie Mac data.
Starts on single-family homes in February rose by a modest 1.1% to 830,000 units from January. That amount, however, was higher than the level implied by single-family building permits in January, Kieran Clancy, senior US economist at Pantheon Macroeconomics, wrote in a note.
"This continues the outperformance of single-family starts relative to permits over the past three months, which likely reflects stabilizing construction costs, prompting some developers to push ahead with previously-approved projects," Clancy wrote.
"That said, we maintain that a sustained recovery in housing construction is out of the question, for now," Clancy said. "Mortgage applications nudged higher in January, but plunged by 13% in February as rates shot higher and are on course to dip again in March. This points to a drop in single-family building permits in the months ahead."
The US needs more than 2 million new units to match the number of new households formed in the last 10 years, "a noticeable gap in the market which continues to drive the price imbalance," said Ratiu.