Map: 4.5Bbft SYP Production Investment Update
Originally Published by: Forisk Consulting — June 22, 2022
SBCA appreciates your input; please email us if you have any comments or corrections to this article.
Building products firms continue to add and acquire capacity, and firms are looking forward to the next phase of investment to put additional capital (from higher lumber and plywood prices) to work. Much of the sawmill capacity increases in North America are happening in the U.S. South due to low wood costs and ample timber supplies and regional proximity to end markets. In total, firms announced 4.5 BBFT in additional capacity to come online by 2024, which is an increase of 17% above current capacity in the region. This includes seven (7) new sawmills and two (2) reopenings. Most firms plan to add capacity by expanding existing infrastructure: 26 mill projects will add capacity to existing mills, making up 2.2 BBFT (50%) of the announced capacity.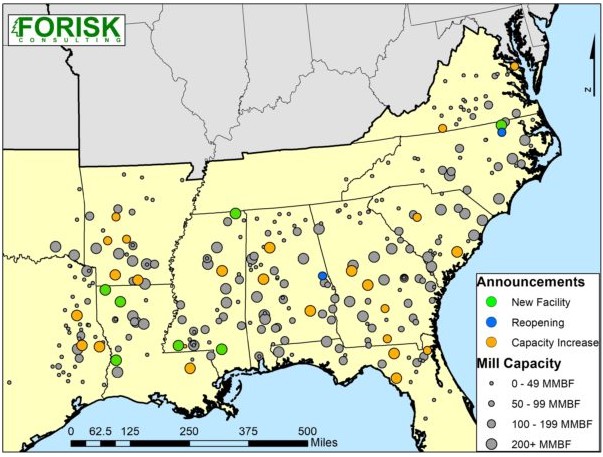 Existing and Announced Softwood Lumber Mills in the U.S. South. Source: Forisk North American Forest Industry Capacity Database.
PotlatchDeltic in Waldo, AR and Westervelt in Moundville, AL announced upgrades and expansions. DR Johnson announced the reopening of the mill in Prairie City, OR this summer. We are also watching CLAW Forestry and their plans for a new 250 MMBF sawmill in Gloster, MS to startup in 2024, along with the news that Boise Cascade reached an agreement to acquire Coastal Forest Resources plywood mills in Havana, FL and Chapman, AL. Roseburg broke ground on the Weldon, NC sawmill in late May.