Editor's Message: An Unexpected Trajectory
You never know where a conversation will lead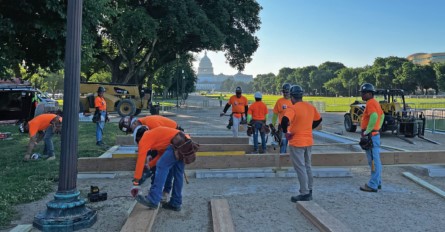 We went from foundation (image 1) to a completely framed house (image 2) in only nine hours.
Last January, I reached out to Devin Perry, executive director of the NAHB's Building Systems Councils (BSC), and had a brief conversation about organizational goals. We had worked together in the past, but it was clear we had only been scratching the surface of how our associations (and members) could benefit from a more active and collaborative relationship. Devin and I talked regularly over subsequent months and one thing that emerged out of those discussions was an opportunity to provide education programming to builders in the BSC's Lounge at the 2022 International Builder's Show (IBS). This led to the BSC Lounge becoming a home base of sorts for SBCA staff while we attended IBS.
One of the rare moments when both Devin and I found ourselves in the Lounge not engaged in separate conversation, Devin mentioned he wanted to introduce me to Mike Blanford, a research engineer at the U.S. Department of Housing and Urban Development (HUD), who might be eager to help our industry find a way to convert more sticks to components. During my discussion with Mike, he mentioned HUD was considering bringing back a high-profile, housing-focused event in Washington, DC, that they had launched in 2019 to great fanfare, but scuttled in 2020 due to the COVID pandemic.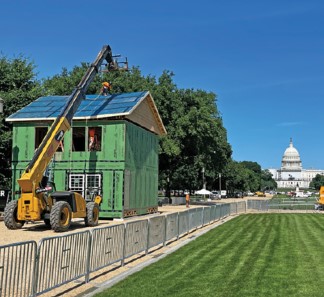 Fast forward a few months, and I find myself on the phone with Mike and representatives from NAHB talking about their 2022 Innovative Housing Showcase (IHS) on the National Mall. They expressed in very bold terms how much they wanted our industry to be a part of this event, which would feature the latest innovations in residential construction. As someone who has built a career on trying to make builders, government, and the public more aware of the capabilities and benefits of manufactured components, it was, frankly, an uplifting conversation.
Part of me wondered, "why didn't we have this conversation in 2019 when you were planning the inaugural event?" But I realized it was because SBCA simply wasn't on their radar when they started planning. It wasn't that they didn't know about trusses, it was that they didn't think of us as a partner who could help them drive home messages about resiliency, sustainability, energy-efficiency, and affordability. For those of us in the industry it's so obvious how our products do these things, but it's clearly not as obvious to everyone else. SBCA's outreach efforts give us opportunities like the IHS to communicate the incredible value we bring to the construction supply chain from a very large stage.
For the 2022 IHS, SBCA partnered with the National Framers Council (NFC) to fully frame and dry in a two-story house in less than two days (see photo). It was a truly remarkable effort given the restrictions governing activity on the National Mall and transportation logistics near the U.S. Capitol. Since it was our first time participating in the event, we relied heavily on the assistance of a handful of local SBCA and NFC members to dig deep and donate a lot of time, energy, materials, and labor to this event. I would be remiss if I didn't recognize them here:
Components:
Gene Frogale and Rhonda Leppert, Annandale Millwork & Allied Systems
Joe Hikel and Tony Acampa, Shelter Systems Limited
Framing Labor:
Chris Breedlove and Randy Daniels, Ace Carpentry
Jason Valis and Jacob Knott, Bruce L Jones Contracting
Scott Stevens, Modu-Tech
Plans:
Shawn Kelley, Moment Engineering + Design
Jason Blenker, Drexel Building Supply
Building Materials:
Ken Kucera and Chris Darby, 84 Lumber
Greg Griggs and Zach Smith, Builders FirstSource
Mike Callahan, SENCO
Mike Wolf, Simpson Strong-Tie
Marketing Materials:
Kim Ten Clay and Katie Kormann, MiTek
The build itself generated media attention and the IHS brought thousands of government officials, members of Congress, home builders, and members of the general public through our structure, giving them an up-close look at something many of them don't think about too much: a home's framework. It gave our industry a chance to shine and generated some healthy discussion and interest around our capabilities and technological know-how.
Will this project change the trajectory of our industry? Probably not. But then again, you never know where a conversation at this event will lead.
About the Author: Sean D. Shields, Managing Editor