President's Message: Give a Lot to Get a Lot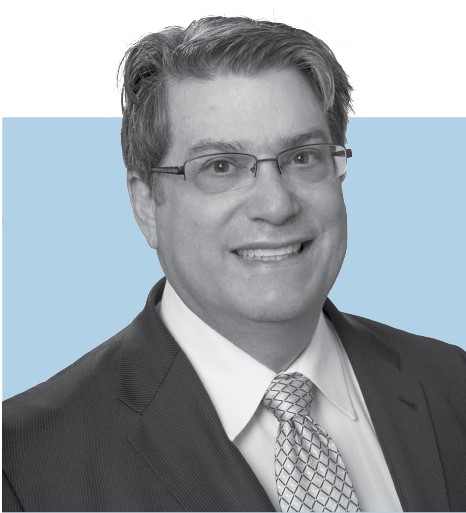 SBCA is a good vehicle to bigger things
Membership in organizations like SBCA and your local homebuilder's group can provide a lot of value to you and your company. The more you put in them the more you typically get out, and sometimes these groups give you a chance to do something you wouldn't otherwise be able to do. The 2022 Innovative Housing Showcase (IHS) put on by HUD and NAHB in June is a great example.
The IHS is a big deal. It's on the National Mall, surrounded by the nation's Capitol Building and the Washington Monument, not to mention all the Smithsonian museums. Each day, tens of thousands of people swarm all over the Mall taking in a spectacular part of American history. For three days last month, the showcase put housing front and center for everyone to see, touch, and learn more about.
Now HUD and NAHB would never come to our company and ask us to participate. We're really good at what we do, but we're not big enough. Plus, we sell into the DC market so it would likely look a bit self-serving.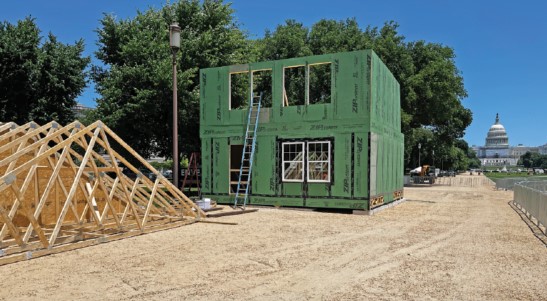 Panelizing the floor trusses, wall panels, and roof trusses allowed us to build this house onsite using a telescoping forklift in just nine hours.
Conversely, SBCA is the perfect vehicle to host an exhibit on behalf of our industry. They can represent all the component manufacturers across the U.S. simultaneously, which has a great appeal to HUD. But SBCA doesn't make trusses and panels, it had to rely on us, its members, to supply all the materials and labor to build the exhibit for the showcase.
I can tell you, it was a lot of work. A handful of companies (see page 6) put in considerable time and effort in just a few short weeks to pull it all off. Collectively, we put a lot into the event and the association. But we got a lot out of it too.
Members of Congress and government officials from HUD, the Department of Energy, the Department of Labor, and the Department of Defense, walked through our two-story house exhibit and learned a lot about what offsite manufactured roof trusses, wall panels (see photo), and floor trusses can offer to solve many of the headwinds facing the residential construction market. Hundreds of large- and medium-sized regional home builders from across the country also walked through our house, which had to have opened a few eyes to the possibilities they are missing out on.
In addition, members of the press and thousands of people walked through our exhibit and learned our industry supplies innovative framing products to every community in the U.S. Anyone can use our products when they build their next home, it doesn't matter where they live.
In many ways, the IHS felt similar to the annual golf outing hosted by the Capital Area Chapter of SBCA. We put in a lot of work, pooled our resources, and did something that was greater than ourselves and our individual companies. I want to personally thank everyone who participated in this event, it felt good all pulling in the same direction.
If you want to get involved in next year's showcase, or have an idea for a collaborative industry event or activity in your area, please reach out to SBCA and let us know.
About the Author: Gene Frogale, SBCA President