Map: How Long are Home Construction Times Near You?
Originally Published by: NAHB — June 25, 2021
SBCA appreciates your input; please email us if you have any comments or corrections to this article.
The 2020 Survey of Construction (SOC) from the Census Bureau shows that the average completion time of a single-family house is around 7.8 months, which usually includes a little over a month from authorization to start and another 6.8 months to finish the construction. Moreover, tt took around 10 days less in 2020 than in 2019, pausing the upward trend started in 2014. The time from authorization to completion varies across the nation and depends on the geographic location, and whether the house is built for sale or custom-built. The data make it clear that builders stepped up the pace of construction to meet rising demand in 2020. However, based on NAHB surveys, we expect this time to expand for 2021 completions given ongoing supply-chain issues.
Among all single-family houses completed in 2020, houses built for sale took the shortest amount of time, 6.9 months from obtaining building permits to completion, while houses built by owners (custom builds) required the longest time, 13 months. Homes built by hired contractors normally needed around 9.7 months, and homes built-for-rent took about 10.6 months from authorization to completion.
Single-family homes built-for-rent began construction within the same month after obtaining building authorizations. The other types, including custom homes built for sale, built by owners serving as general contractors and built by contractors on owner's land, had one month or a little over one-month lag between obtaining permits and the start of construction.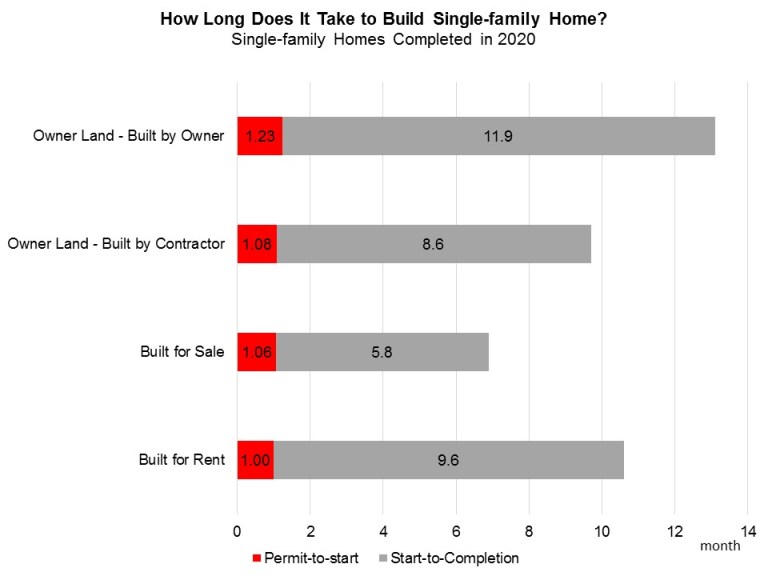 The average time from authorization to completion also varies across divisions. The division with the longest duration was the Middle Atlantic (11.6 months), followed by New England (11.6 months), the Pacific (10.0 months), and the East South Central (9.1 months) in 2020. These four divisions had average time from permit to completion exceeding the nation's average (7.8 months). The shortest period, 6.6 months, is registered in the South Atlantic division. The average waiting period from permit to construction start varies from the shortest time of 20 days in the Mountain to the longest one of 49 days in Pacific.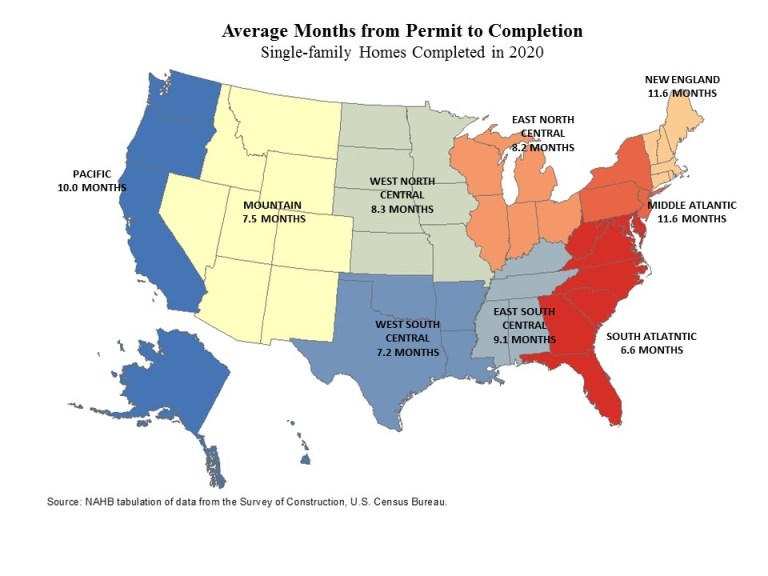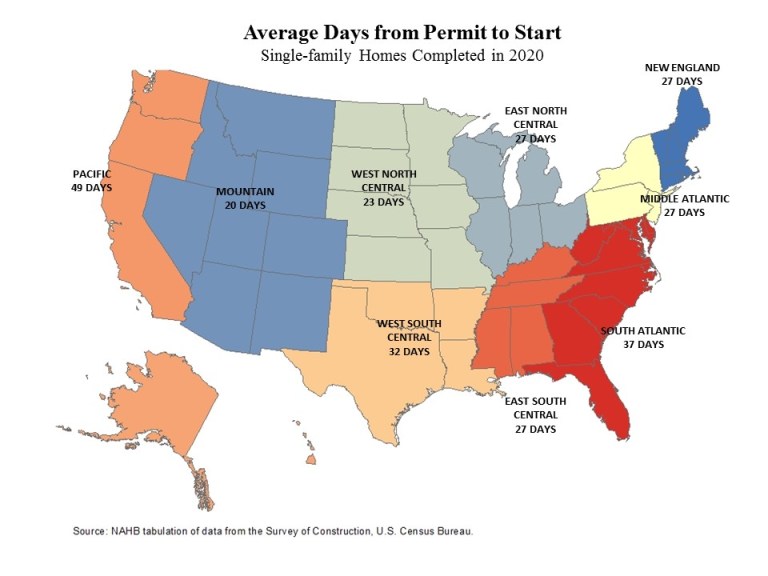 The SOC also collects sale information for houses built for sale, including a sale date when buyers sign sale contracts or make a deposit. Looking at single-family homes built for sale and completed in 2020, 27.6% were sold before construction started, 38% sold while under construction, 14.8% sold during the month of completion, and 17.7 % sold after completion. The share of completed houses remaining unsold was 1.9%.