New Family-Owned Truss Plant Open in Rural Indiana
Originally Published by: Washington Times Herald — June 11, 2021
SBCA appreciates your input; please email us if you have any comments or corrections to this article.
Murphy Truss, LLC, a 9,600 square foot factory at 1516 E. 150 S., Washington, celebrated a ribbon cutting, open house, lunch and prayer of dedication on Friday.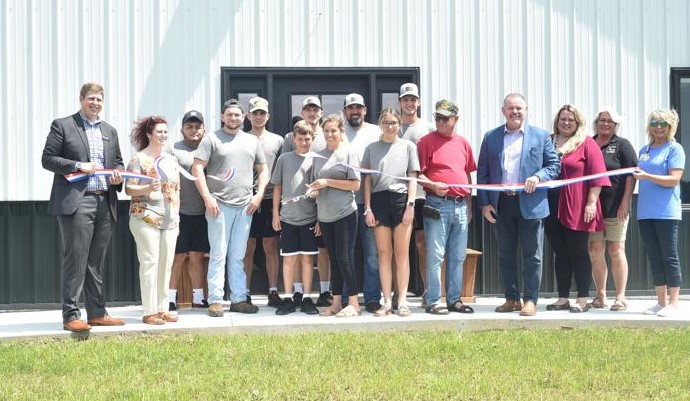 A ribbon cutting was held Friday at Murphy Truss just off SR 257. Pictured are: Bryant Niehoff, Samantha Bobbitt, Noah Bradley, Brady Wagler, Shirley Wagler, Shakira Wagler, Larry Knepp, Joe Morris, Shelly Shake, Jennifer Lantaff and Angie Steiner. Back row: Daniel Cardona, Ryland Wagler, Logan Knepp, Dean Wagler and Tyson Knepp. Mike Grant | Times Herald
With 10 employees and making trusses since late April, the new manufacturer in rural Daviess County specializes in custom-made, custom-sized trusses, delivering up to a 100-mile radius.
As a family, the owners Dean and Shirley Wagler knew they wanted to change lanes for the family's long-time business, but they weren't sure where God would lead them.
For seven years they prayed over what direction their next industry venture would take, and in God's perfect timing, He started opening doors.
"We were praying about it, and the Lord just started opening doors," co-owner Shirley Wagler says.
Dean said, "We fought the idea at first, but got confirmation after confirmation, and we just started walking through doors."
After being in the construction business since 2002 as Wagler's Concrete and Construction, Murphy Truss LLC, a new truss manufacturing facility south of Washington, IN, was built. Because they passionately believe in the three F's – Faith, Family and Friends – the new company took on its name of their family nickname, "Murphy."
Dean's father, the late Lester K. "Murphy" Wagler, passed away April 19 just a few days before the first trusses left the plant. Lester had managed one of Daviess County's first Amish construction crews, and he was a true entrepreneur. It was Lester's idea to name the new manufacturing business after the family's nickname, "Murphy." Lester quipped the name late one night, called Dean the next morning, and asked, "Is this Murphy Truss?" Dean agreed, and their venture had a name. Dean has certainly inherited his father's innovative spirit and love for family.
First and foremost, the Waglers give honor and praise to the Lord for making their plans a reality.
The company also offers floor trusses and I-joist and has plans someday to make whole frame packages.
As with everything they do, Murphy Truss LLC takes pride in making your vision and building plans a reality, and they would love to be part of your next building project.
Dean and Shirley Wagler make their home in rural Washington, IN. They have two children, Shakira, 15, and Brady, 12, a sophomore and sixth grader at Barr-Reeve.