President's Message: Looking Forward While Celebrating the Past
Date posted
January 5, 2023
2023 has a lot going on that you should know about
As we begin a new year, I am excited to share some of the activities we have on the go at SBCA.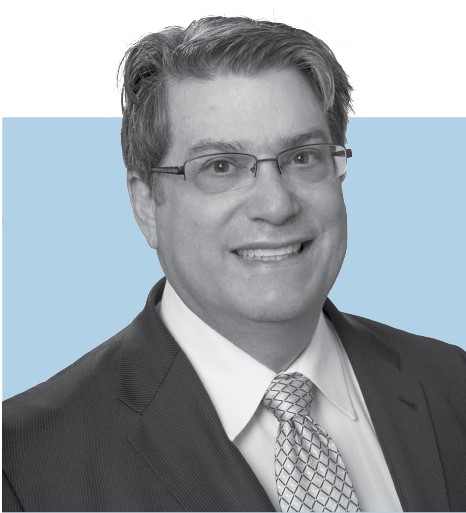 First, I want to announce the rebirth of the SBCA Foundation and Endowment. This will be a great way for everyone in our industry to channel charitable resources back into our communities. The Foundation's mission is, "Giving back to our community through philanthropic avenues to improve housing-related opportunities for the disadvantaged."
Examples of how this money may be used include scholarship programs and curriculum development aimed at youth and schools who would benefit from greater exposure to building trades like component manufacturing and framing. Similarly, funds from the Foundation could be used to help develop training and apprenticeship programs focused on our industry. The Foundation will also contribute financial resources towards housing-related charitable endeavors such as Operation Finally Home and Habitat for Humanity. Finally, funds could go towards efforts such as planting trees to support and promote the sustainability of our industry.

The SBCA Foundation will enable SBCA Chapters, companies, and individuals to give back to the industry. It is a standalone 501(c)(3) organization that is wholly owned by SBCA, which means financial resources donated to the SBCA Foundation are considered charitable for federal income tax purposes and are tax deductible for both companies and individuals. This is a big change from past donations to SBCA, a 501(c)(6) organization, which were not tax deductible. The goal is to create a sufficiently large endowment that will allow the Foundation to annually contribute funds from the income made from investments, allowing the principal to continue to grow through ongoing donations.
I want to thank Joe Hikel for leading the charge on this initiative, both through his leadership and his generosity as a founding contributor. I also want to thank the rest of the SBCA Finance Committee that has been working diligently behind the scenes to get it off the ground: Jeff Taake, Kendall Hoyd, and Ben Hershey. The Foundation is currently operational and accepting donations, and there are several very generous donors who have pledged significant resources to establish a large initial fund principal. If you would like to contribute to the SBCA Foundation, you can find a link to the pledge form on the SBCA homepage at sbcacomponents.com.
Second, I'm excited about celebrating SBCA's 40-year anniversary in 2023. The SBCA Past Presidents Committee is helping staff plan various ways to recognize how SBCA and its engaged members have helped unite the industry since 1983. This year-long celebration will culminate at BCMC in Indianapolis in September with a dinner gala open to anyone attending the show.
It will be a year filled with the stories and personalities that helped shape our industry and the association as we take a look at all we have accomplished over four decades. We can't tell the industry's, and the organization's, story on our own. If you have a story about someone in the industry who has deeply influenced you, or a way SBCA has helped guide you or your business, we would love to hear from you. Please reach out to us at editor@sbcacomponents.com - we want to capture your perspective, and share and celebrate it with others.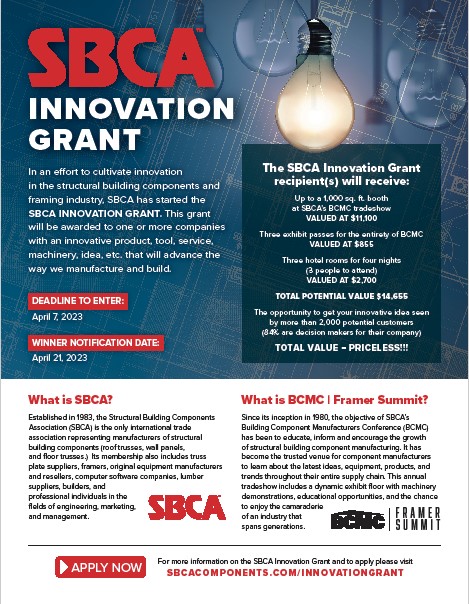 Finally, I would like future generations to look back at 2023 as the year we started an innovation revolution in the structural framing industry. I'm pleased to announce the creation of the SBCA Innovation Grant (sbcacomponents.com/innovationgrant), which we hope will motivate not only our current supplier partners, but also those outside our industry, to contribute new ideas. This grant will be awarded to one or more companies with an innovative product, tool, service, machinery, idea, etc., that will advance the way in which we manufacture and build.
SBCA Innovation Grant recipients will receive up to a 1000-sq.-ft. booth at SBCA's BCMC show in 2023, as well as three exhibitor passes and hotel rooms for three company representatives to attend the show. The value of each grant is worth almost $15,000, but it's a small price to pay to spur ingenuity and creativity throughout our supply chain!
About the Author: Gene Frogale, SBCA President