SBCA and NFC Build Another House on the National Mall
Originally Published by: SBCA Magazine — June 6, 2023
SBCA appreciates your input; please email us if you have any comments or corrections to this article.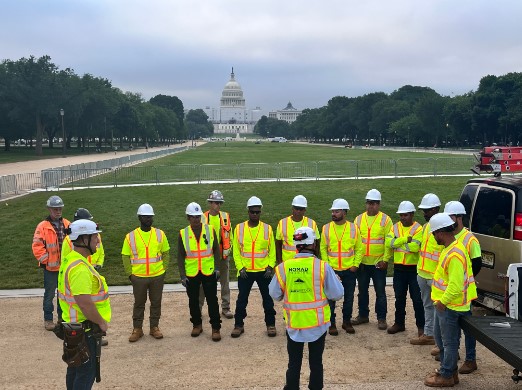 Today, SBCA and NFC will complete construction of another two-story house on the National Mall as part of the 2023 Innovative Housing Showcase put on by the U.S. Department of Housing and Urban Development (HUD) and the National Association of Home Builders. The event starts this Friday, June 9, and runs through Sunday, June 11, showcasing the latest innovations in housing construction methods and materials. The SBCA/NFC entry seeks to promote the benefits of today's offsite manufactured roof trusses, wall panels, and floor trusses, and how these products save time, labor, and materials for today's builders.
If you are in the Washington, D.C. area, you are cordially invited to visit the house we've constructed on the National Mall and see how we are promoting the industry to home builders, lawmakers, regulators, and the general public. SBCA staff will be on hand to discuss the benefits of structural building components throughout the event.
HUD Secretary Marica Fudge recently promoted the event using timelapse taken from SBCA/NFC's build last year. You can check it out here. Here are some photos from the first day of the home build:
This structure would not have been possible without the generosity of several SBCA members:
Components
Shelter Systems Limited
Annandale Millwork & Allied Systems
Windows, Doors, Hardware, and Material
84 Lumber
Builders FirstSource
Simpson Strong-Tie
Huber Engineered Wood
LMC
Modu-Tech
Morse Lumber Company
SENCO
US LBM
Framing Labor
Ace Carpentry
Nomad Framing
Plans
Apex
Belit
True Design Studios
Marketing Support
Financial Support
American Truss
Dynamic Construction
Dixie Component Systems
Louws Truss
TrussWorks LLC
Whelan Advisory