Single-Family Starts Recovering, Overall Starts Up 9.8%
Date posted
March 21, 2023
Originally Published by: NAHB — March 16, 2023
SBCA appreciates your input; please email us if you have any comments or corrections to this article.
Single-family production remained at an anemic pace in February as builders continue to wrestle with elevated mortgage rates, high construction costs and tightening credit conditions that threaten to be exacerbated by recent turmoil in the banking system.
Led by gains in apartment construction, overall housing starts in February increased 9.8% to a seasonally adjusted annual rate of 1.45 million units, according to a report from the U.S. Department of Housing and Urban Development and the U.S. Census Bureau.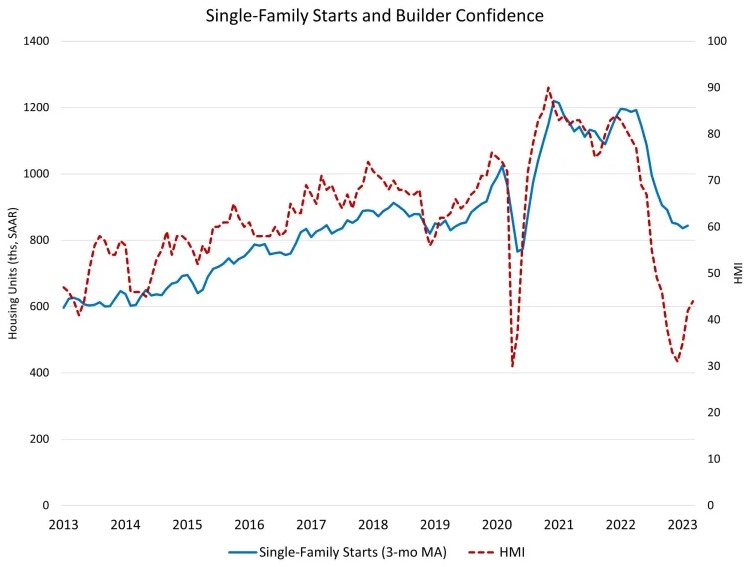 The February reading of 1.45 million starts is the number of housing units builders would begin if development kept this pace for the next 12 months. Within this overall number, single-family starts increased 1.1% to an 830,000 seasonally adjusted annual rate. However, this remains 31.6% lower than a year ago. The multifamily sector, which includes apartment buildings and condos, increased 24% to an annualized 620,000 pace.
Despite persistent supply-side challenges, rising builder confidence is signaling a turning point for home building later in 2023. A significant amount of housing demand exists on the sidelines and resale inventory is limited. Starts were up in February given a limited pullback for interest rates. We expect volatility in the months ahead as ongoing challenges related to construction material costs and availability continue to act as headwinds on the housing sector. However, interest rates are expected to stabilize and move lower in the coming months, and this should lead to a sustained rebound for single-family starts in the latter part of 2023.
On a regional basis compared to the previous month, combined single-family and multifamily starts were 16.5% lower in the Northeast, 70.3% higher in the Midwest, 2.2% higher in the South and 16.8% higher in the West.
Overall permits increased 13.8% to a 1.52 million unit annualized rate in February. Single-family permits increased 7.6% to a 777,000 unit rate. Multifamily permits increased 21.1% to an annualized 747,000 pace.
Looking at regional permit data compared to the previous month, permits were 2.8% lower in the Northeast, 9.6% higher in the Midwest, 10.9% higher in the South and 30.0% higher in the West.
The number of single-family units under construction is 734,000 homes. This is down 11.4% from May 2022, the cycle peak. The number of apartments under construction is 957,000. This is the highest total since Nov 1973.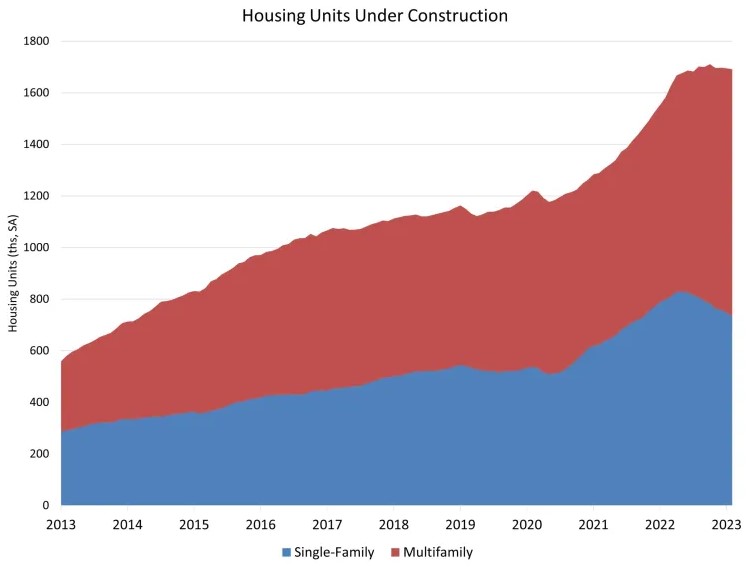 Given the declining pace for single-family starts in 2022, more homes are being completed than starting construction. In February, 58,600 single-family homes started construction. However, 77,100 completed construction. This difference is responsible for the ongoing decline in the number of single-family units under construction, as displayed in the chart above.