Stay Ahead of the Curve
Date posted
November 3, 2022
Building a strong safety culture is a continual process
'"One straightforward way to know where your safety culture is at is to walk your production floor," says Joel Sanchez, director of safety for Trussway, a division of Builders FirstSource. "Pay attention to how closely your supervisors are enforcing your PPE and other safety policies. If people are walking around without the proper eye, ear, hand, and foot protection, you know you have room for improvement."
Put a group of veteran safety experts in the industry on a panel and they'll quickly agree on one thing: your work is never done when it comes to ensuring a safe and healthy work environment. "Even if you think you have a strong safety culture, there is always room to improve," advises Manny Juarez, safety director for Zytech Building Systems-DFW. Manny and Joel have spent the last several years focusing on developing strong safety cultures in their facilities to maintain very low accident and injury incident rates.
Both men agree the best way to gauge your current safety culture is by simply talking with your employees. "If you aren't doing this already as a regular thing, now is a great time to start," Joel explains. "If they tell you production throughput is the only thing that management really cares about, that should be a wake up call that your safety culture is not strong enough."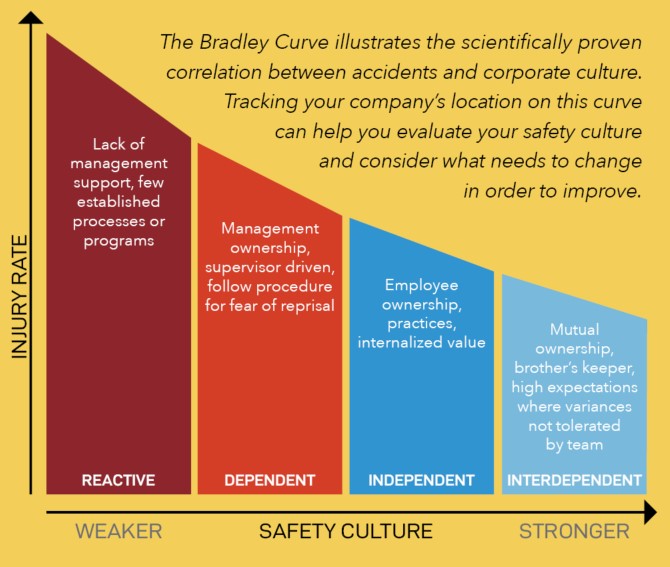 If, after interviewing your employees, you find your company is in the "dependent" segment of the Bradley Curve (see graph), it's time to have a conversation with your supervisors and line foremen. "These are the people who need to be coaching employees on how to act safely. They are your frontline mentors who are essential in developing employee buy-in and enabling individuals to take ownership of the company's safety culture," says Joel.
"Employee ownership starts with how you emphasize safety during the interview and onboarding process," adds Manny. "You need to take a close look at the information you are providing new hires to ensure they understand not only the risks associated with their job responsibilities, but also how the company expects them to minimize those risks through safety best practices."
Joel believes another powerful tool to foster employee ownership is through the creation and empowerment of a safety committee. "Safety Committees allow employees to actively participate and buy into the safety culture transformation," he explains. "The best ideas on how to promote safety will come from employees, and these committees are an effective conduit to gather and implement those ideas."
Both Joel and Manny also point to the visual cues that should exist throughout your facility. Is PPE readily available and clearly used throughout the plant? Are new hires given a different shirt or vest to indicate mentorship opportunities? Is there signage throughout your facility to remind everyone of safety best practices and the company's safety policies? "Visual reminders are an effective way to keep safety on their minds," Manny says. "It's difficult to think the company doesn't care about safety if reminders can be found everywhere. It's also more difficult to ignore company policy."
If you think of company policy, messaging, and mentoring as one leg of the stool, and channels to foster employee buy-in as another leg, the third leg of the stool is training. "One important way to bring about change in employee attitudes and behaviors is through offering regular training on safety related topics," Joel suggests. "Continually providing information and guidance on things like hazard identification, at-risk behaviors, and OSHA compliance issues, will give employees opportunities to think about these things and consider how they can approach their job responsibilities in a safer manner."
"The bottom line is if you are continually talking about safety improvement, and putting visual safety reminders everywhere, your employees will internalize it and value it," Joel concludes. "Your goal is to have both the company and the individual constantly working together to find ways to create a safer working environment."
It's the collaboration and mutual ownership of safety that lead to lower incident rates, less serious injuries, and lower worker's compensation premiums. In addition, a strong safety culture increases retention as employees gain confidence that their physical health and well-being are being prioritized and protected by the company.
SBCA is currently developing a new, industry-specific safety training program from scratch. If you are interested in assisting in this program's development, please contact Molly Butz (molly@sbcacomponents.com).