True House Acquires NC's Service Offsite Solutions
Date posted
September 26, 2023
Originally Published by: BeLit — September 26, 2023
SBCA appreciates your input; please email us if you have any comments or corrections to this article.
True House Inc. recently acquired Service Offsite Solutions (SOS), a forward-thinking component manufacturing facility located 40 miles southwest of Raleigh, NC. With over 50 years of combined experience in homebuilding and supply, the company has a strong reputation as an innovator in the home building industry.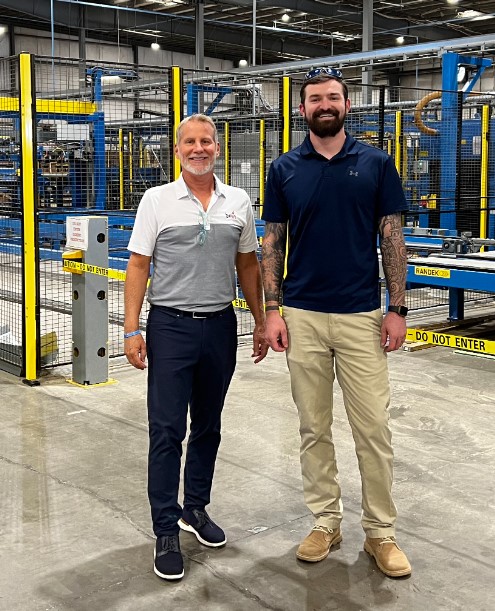 BeLit CEO Barry Dixon (left) and SOS VP of Operations Bradford Bowen (right) inside Service Offsite Solutions' 75,000 sq. ft., state-of-the art manufacturing facility in Sanford, NC.
"Adding SOS to our family of companies allows us entry into one of the top five fastest growing markets in the country," says Barry Dixon, CEO of BeLit, Inc., True House's parent company. "The plant is top notch with state-of-the-art manufacturing equipment, a fully-trained staff, and solid customer base. The services we already provide through our collaborative design process will enhance their offerings in the market and allow us to better serve our existing clients in the region."
SOS currently manufactures wall panels and floor cassettes using fully-automated Randek production lines. They also provide turnkey installation services with just-in-time delivery to help their customers improve cycle times, increase quality, and reduce costs.
True House President Jesse Sites says this is a "good, strategic combination" and is excited about the potential this expansion affords the company as a whole. "SOS's high-tech manufacturing capabilities and installation services really complete us, putting True House and the BeLit family in a full-circle position to serve our customers like never before," he explains. "I think the only thing better than the equipment in this plant are the people. I'm really excited about the SOS team. I know we will make each other stronger as we get to know each other and hone our processes, which in turn will benefit our customers."
SOS VP of Operations Bradford Bowen is also excited about the synergies he sees with the BeLit family companies. With 12 years of experience in the construction industry, he joined SOS in 2021 as their Director of Construction. He says what he loves most about working for SOS is what their team brings to the community and to homebuilders. "We deliver quality, repeatability, optimization, and savings, all built on solid customer relationships that are at the heart of everything we do," he explains. "I'm passionate about construction – both the people and the process – and I think this was the perfect timing for SOS to gain the support of BeLit's resources and experience. It's a win-win, and I can't wait to see where it takes us!"
"I believe SOS is a perfect fit for our culture and vision," says Dixon. "We are looking forward to a successful future with this bright, eager group as we welcome them into the BeLit family."