US LBM Featured in Veteran's Career Television Show
Date posted
April 18, 2023
Originally Published by: US LBM — April 12, 2023
SBCA appreciates your input; please email us if you have any comments or corrections to this article.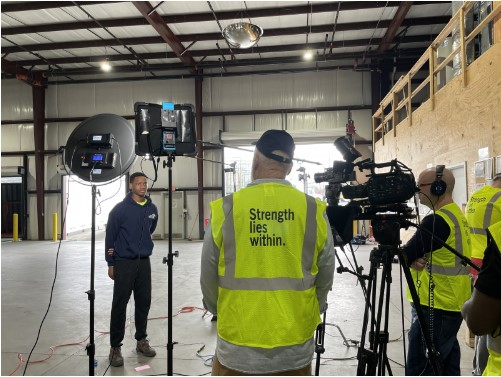 US LBM, a leading distributor of specialty building materials in the United States, will be featured on an upcoming episode of Military Makeover: Operation Career®, a television series that highlights employers that provide rewarding career opportunities for veterans of the armed forces. The full episode spotlights US LBM, featuring five company associates who are representative of US LBM's veteran population:
U.S. Army National Guard Veteran and Regional Vice President Dan Schau

U.S. Marine Corps Veteran and Cybersecurity Manager Frank Ruiz

U.S. Marine Corps Veteran and Driver Megan Rodig

U.S. Air Force Veteran and Truss Plant Manager Dennis Sasser

U.S. Army Veteran and Inventory Controller Zamar Wright
In the episode, each associate shares their military background, the skills and values they took from that experience, and the ways that their careers at US LBM reward their military experience and align with those values and skills.
"For transitioning military personnel, this organization has an incredible culture. The sense of family that I felt when I joined, the challenges that I've been given since joining, have been incredible," said Cybersecurity Manager and Chairman of US LBM's Veteran Associate Resource Group Frank Ruiz. The Veteran Resource Group is a veteran-led group whose mission is to advance US LBM's veteran associates through offering personal and professional development, focused recruitment and retention, and community involvement and engagement efforts.
"From the start, I never thought I'd be in this position I'm currently in," said Army Veteran and Inventory Controller Zamar Wright. "In the next two to three years, I see myself continuing to learn and grow because there is always plenty to learn here."
US LBM offers a variety of positions that span across 35 states and many functional areas.
"I'm fascinated that we have so many opportunities and careers here," said Marine Corps Veteran and Driver Megan Rodig. "You can be a truck driver like me, you can be a loader, a salesperson, an assistant manager, a manager."
US LBM's commitment to veterans extends beyond providing fulfilling career opportunities. Through the US LBM Foundation, a registered 501(c)(3) nonprofit, the company provides in-kind and financial donations to organizations that support veterans, such the Gary Sinise Foundation's RISE program, which provides specially adapted, mortgage-free smart homes to wounded veterans.
"Veterans are great team members who share our values of teamwork and empowerment, and we're honored to have them as part of the US LBM family," said US LBM President and CEO L.T. Gibson. "As a distribution company with a network of locations across the country, the discipline and skills veterans bring in the areas of problem solving, communication and being a team player help us provide the high quality of service our customers rely on to get the job done."
Hosted by veteran Montel Williams, Military Makeover: Operation Career travels the country capturing the stories of military veterans and profiles the caring organizations offering educational and employment opportunities to help veterans successfully transition to civilian life. US LBM will be highlighted in the episode of Military Makeover: Operation Career airing on Lifetime TV on Friday, April 14 at 7:30 a.m. ET/ 6:30 a.m. CT and 7:30 a.m. PT/6:30 a.m. MT, with an encore on Thursday, April 20 at 7:30 a.m. ET/6:30 a.m. CT and 7:30 a.m. PT/6:30 a.m. MT (check local listings).
To learn about veterans at US LBM and career opportunities for veterans, please visit uslbm.com/veterans. Follow the company on LinkedIn and Instagram to learn more about our culture and life at US LBM.