Video: Component Manufacturer Survey Indicates Slowdown
Date posted
August 30, 2022
Our 2Q22 survey of structural building component manufacturers paints a consistent picture of slowing demand. Near-term growth expectations posted the sharpest declines as weaker housing market conditions weigh on the industry's growth outlook. The survey ran from July 11–July 25, so responses, commentary and sentiment capture timely market shifts.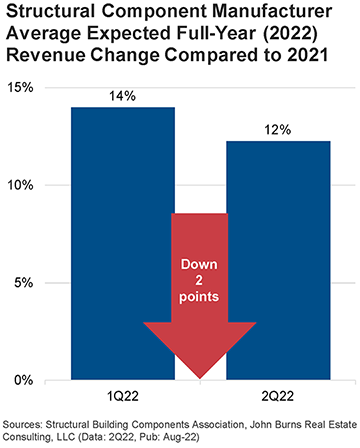 The deceleration of full-year 2022 revenue growth expectations is a consequence of slowing demand from builders, as indicated by industry professionals in this quarter's survey.
Full-year 2022 revenue growth expectations are moderating.
Structural component manufacturers now anticipate 12% revenue growth in 2022, decelerating from their prior estimate of 14% growth reported in 1Q22.

Pricing power is waning, with the ability to raise prices in the next 30 days without losing sales diminishing.

The outlook on future business conditions in the upcoming quarter (3Q22 in this case) are noticeably down from last quarter's survey.

Future conditions currently rate 65.2, down from 84.8 in the prior quarter (0 to 100 scale).
Easing demand and capacity additions are improving cycle times.
Only 14% of structural component manufacturers report that most of their pipeline was behind schedule.

Better material availability and capacity additions led to an improvement in cycle times vs. 1Q22.
Diversification into multifamily is helping sustain growth.
As single-family new construction slowed, component manufacturers expanded into the multifamily segment, which has helped diversify revenue.
Builders have a positive longer-term outlook as they continue simplifying home designs to control input costs and improve productivity.
These adaptations support growth for structural component manufacturers.
The Structural Building Components Index (SBCI) rated 78.9 out of 100 in 2Q22, compared to the prior quarter reading of 90.0. This is a diffusion index, where ratings above 50 indicate industry growth, while ratings below 50 indicate slowing activity.
Of the three subcomponents of the index, the Next Quarter Expected Revenue subcomponent showed the sharpest decline, down 19.6 points to 65.2. This is consistent with an inflection towards lower future growth expectations.