What Does a Japanese-Made Home on U.S. Soil Tell Us?
Originally Published by: Builder Online by John McManus — January 2, 2020
SBCA appreciates your input; please email us if you have any comments or corrections to this article.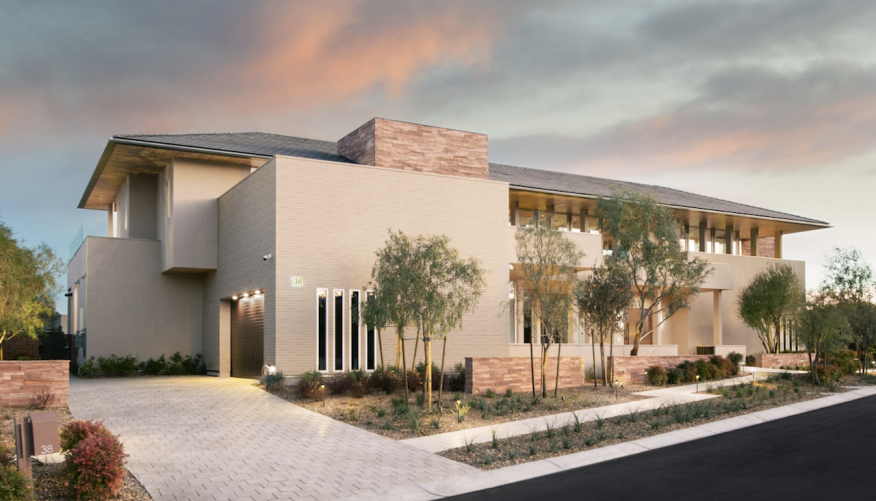 The BUILDER Chōwa Concept Home brings together an international design, development, and construction team from Japan-based Sekisui House and its wholly-owned home building company Woodside Homes.
A white Toyota Corolla FX16—the first Toyota car built on American soil--rolled off the production line at Fremont, Calif.-based New United Motor Manufacturing on Oct. 7, 1986.
The rest, as they say, is history.
Today, that very same facility—resurrecting from disuse, and retooled in October of 2010--produces Teslas.
What's more, all that we now understand about the business of producing cars, the role of manufacturing in America, the notions of best practices in management and leadership, and, more broadly, transportation economics itself have changed profoundly. In the 33-years since the momentous occasion Toyota produced its first vehicle in America, everything changed.
And, here we are. No fewer than four Japan-based companies have—through acquisition of privately-operated home building firms in the past half-decade or so—established vibrant beachheads in North America. The market here has plenty of room for growth, whereas Japan's new residential construction dynamics have been losing steam, and at best, holding steady.
One firm, Osaka, Japan-based Sekisui House, Ltd., the world's most prolific player in residential construction and development, has taken its ownership of and partnership with Salt Lake City-based Woodside Homes a step further than the rest.
In a bright-line moment in its 60-year history, Sekisui House and Woodside are teaming up to explore whether the latest, most-advanced building technologies, and most future-forward approaches to semi-custom production home design can play successfully Stateside.
Chōwa—designed, engineered, and largely pre-fabricated to millimeter precision in Sekisui House's Japanese factories—has been assembled by U.S. crews on its site in the Las Vegas-area master plan community of Summerlin, in a neighborhood called Talon Ridge. The home—which you can learn from and engage with here—is part of Sekisui House's practice of kaizen, or constant improvement—in its goal to make home "the happiest place in the world."
Three aspects set this project apart from demonstration homes of past years, and illustrate why the initiative matters so much in the American housing market right now:
Chōwa—through its integration of design and building into a mass-customization, precision-crafted operational model--shows American builders a real-world proven new and different approach to putting the consumer, home buyer, resident at the very top of the chain of value, in design, in construction, and in ownership experience, and livability and well-being.
Chōwa illustrates a real-world example of high-quality construction and aspirational design that can be achieved with less skilled labor, more quickly than site-built homes.
The Chōwa home performance—in sustainability, resilience, and livability—eclipses what American high-volume home builders have ever before been able to produce at scale.
For these three reasons, the Sekisui House-Woodside Homes partnership on the BUILDER Concept Chōwa home could mark the beginning of an era in home building in North America, not so very different than that day Toyota produced its first U.S.-made Corolla.
Sekisui House, Ltd. President Yoshihiro Nakai encapsulates the 60-year history of the company in two timeless values that have run core to Sekisui House strategy and management from Day One through the present:
"One value that has been continuous across those 60 years is a fundamental corporate philosophy of 'love of humanity,'" says Nakai. "This principle ensures that people, customers, our residents are the core of everything that we do. Secondly, our focus on quality and superior technology. We have always led the industry in our technology. We always strive to exceed both code and customer expectations in our homes' performance and quality. Local and national standards typically follow what we set as our own standards."
Of course, the challenges are stiff.
One to contend with first is American home construction's well-known, deep-seated resistance to change. A litany of oft-repeated reasons account for why that is: lenders don't like heightened risk, local officials demand a "sea of sameness," construction trades balk at new processes, initial costs of innovation pressure margin, warranty risk increases, etc.
As a result, building cycle workflows, materials, etc. remain dysfunctional, wasting time, materials, labor, and other resources to a value stream glutted with hand-offs and obscured "ownership" of the process.
Says Woodside Homes CEO Joel Shine of the opportunity to team with its Sekisui House mothership on the game-changing Chowa initiative: "The American housing market has not been the fastest at adapting to new technology. We're thrilled to now be part of Sekisui House, and have available to us a portfolio of technologies that the American market has not seen at this level before. It will allow us to respond to the growing consensus that we really need to become more environmentally sensitive."
Shine notes that the collaborative process—developing a Japanese-designed home to "fly" in Las Vegas's Summerlin community, with its own rigorous set of design and building performance guidelines—has been a complex, multi-month, global work-stream. He notes:
"We have representatives of multiple disciplines from both companies who are working together regularly both in the U.S. and Japan, and on late-night phone calls from the U.S. to Japan to figure out what the best way is to do this. Because while the technology that is being used by Sekisui House in Japan is truly impressive, we also have to deal with the issue of what can we actually get a building permit to build, and going through the mechanics. So, I believe it's a critical project…. I'm glad we're going to be at the forefront of it."
As Woodside CEO Shine notes, advanced technologies—some of them at the very leading edge of structural engineering, home systems, and livability design—come with the territory when it is Sekisui House that's a partner. What also becomes evident as part of Sekisui House's business birthright is its long-term thinking when it comes to investing, particularly in discovery and learning. The firm's President Nakai notes:
"From the learning perspective, we're putting a lot of thought into how we, together with Woodside, can research and understand the North American market as best we can."
This speaks to the second, and most important challenge Sekisui House must address and overcome as it explores both the risks and the opportunities of a residential design, development, and construction investment at an escalated level.
"Whether it's earthquake resistance, or thermal insulation that's showcased in our net-Zero Energy Homes, fire resistance, resistance to external impacts--no matter which technology we focus on--we are No. 1 in Japan," says Nakai. "We're proud of that leadership. But, will those same areas of design and engineering leadership strike the same chord in America? We're honored and proud to be able to work with Joel and his team to leverage their market insight and learn which of those technologies American home buyers will embrace."
One can relate to Nakai's dilemma over whether what plays in Japan will "play in Peoria." Especially with regards to homes, in the head-rush of focus on Internet of Things devices and applications, we sometimes forget something fundamental, unchanging. That which is timeless, a value around what is basic to human needs at home. Sekisui House calls this approach to its home technologies "Slow and Smart," to capture the sense of what we value as humans, and what we expect will be ever-changing and responsive.
"One day in the future you might be able to push one button on the fridge and it will prepare dinner for you," says Sekisui House President Nakai. "Technology's getting smarter, and will continue to do so. That's inevitable. But, are we not losing touch with the 'slow,' the eternally unalterable. You can have the most advanced technology, but if it's fine outside, and you have a nice breeze blowing, you want to open a window. You want to make sure that those human desires, and those human needs are valued."
No one would argue, the differences between October 1986, when Toyota rolled its first American-built vehicle off its Fremont, Calif., production line and a single new home in a trillion-dollar industry of new residential construction are huge.
However, no one smart would dismiss the possibility that Sekisui House's work with Woodside Homes to introduce—and learn from—Chōwa to the U.S. marketplace may be as transformational in its way.
We shall see.