4Ward Enhances 3D Modeling Service
Date posted
September 21, 2021
Originally Published by: 4Ward Solutions Group — September 20, 2021
SBCA appreciates your input; please email us if you have any comments or corrections to this article.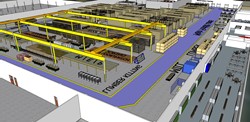 4Ward Solutions Group of Stanwood, WA recently enhanced their 4Ward 3D Process Modeling service to include a full array of services utilizing the latest technology and software. Our in-house team of veteran experts can map your entire facility to allow you to visualize your operation in a whole new way. A 4Ward Field Technician will arrive at your facility to take 3D pictures and measurements so that our on-staff 4Ward Modelers can create your building, equipment, and processes in three-dimensional space.
Some of the features you can take advantage of are:
Create a 3D database of all your current manufacturing operations to map your current equipment, processes, and material flow.
Identify bottlenecks and other traffic flow areas. After identifying these issues, you can move equipment in our 3D program to see the affect before spending the money to physically reorganize your facility.
Create your value stream map, identify work cells, and create a job workflow.
Plan for future equipment by looking at current efficiency and then what the effect on the operation will be by adding new equipment. This can all be done before you make the physical change.
Provide best practice videos for training, current state/future state for lean training and much more.
The 4Ward 3D Process has saved companies a lot of money by mapping before they make costly changes. Whether those changes be with equipment or processes, our 3D mapping service is tailor made for your needs. With the technology we use, this 3D visualization allows you to animate and see material flow, takt times, safety concerns, and much more. "The 3D Modeling Service 4Ward is implementing will revolutionize the way manufacturing is visualized. See your facility layout in whole new way without having to move anything; this is value that can't be found elsewhere. Our team of industry experts compliment this service by being able to create the most ideal space for your virtual facility so that you can then benefit from it in your physical facility." says Owen Eldridge, GM of LBM & Component Solutions for 4Ward Solutions Group, "This is just another phenomenal service to add to our 4Ward Tool Kit when clients come to us looking for solutions."
To find out more, contact the 4Ward team at info@4WardConsult.com or stop by Booth #619 at the BCMC Show in Omaha, NE October 5-7.