AWC Promotes Solutions to the Lumber Shortage
Originally Published by: HBS Dealer — June 24, 2021
SBCA appreciates your input; please email us if you have any comments or corrections to this article.
The American Wood Council (AWC) has released a two-page document outlining a variety of issues that have spurred an imbalance between lumber supply and demand, and more importantly, what can be done about it.
Sawmill capacity increased by 1.4 billion board feet in the last year and Forisk recently announced that it expects another 1.6 billion board feet in expanded capacity in the second half of this year.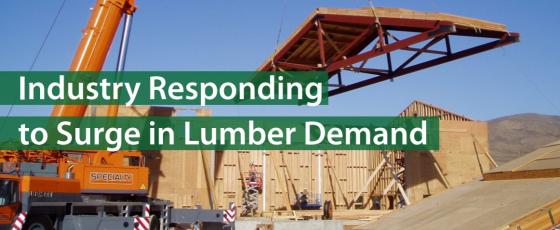 Click here to read the American Wood Council's report on lumber supply and demand.
Forest Economic Advisors tracks announcements from mills either expanding current capacity or adding new mills – a new OSB mill just was announced but will take an expected two years to get operational.
Federal Reserve Chairman Jerome Powell was quoted recently saying that the recent fall in lumber prices is an indicator that high-inflation readings "will start to abate. Prices that have moved up really quickly because of the shortages and bottlenecks and the like, they should stop going up. And at some point, they, in some cases, should actually go down. And we did see that in the case of lumber."
The most meaningful opportunity to address constraints to lumber supply is to focus on transportation and workforce limitations, the AWC said, noting that these challenges were present before the pandemic and have exacerbated the current situation.
There are a number of important government policies that should be revisited to open up broader opportunities for the workforce and facilitate more efficient transportation.
For example, proposed bipartisan legislation such as the DRIVE Safe Act provides a framework from which young drivers can safely enter the transportation industry.
Legislation that addresses this issue is the bipartisan Safe Routes Act provisions that provide for safer and more efficient transportation of logs, pulpwood, wood chips and biomass.
The bipartisan bill Promoting Women in Trucking Workforce Act would require the Federal Motor Carrier Safety Administration to establish an advisory board charged with identifying barriers to entry for women in the trucking industry and help identify and establish training and mentorship programs for women.
The AWC's full lumber supply and demand document is available here.